Best Sword Tattoo Designs And Idea For Men And Women
Sword Tattoos: There are many tattoo designs that represent special meaning and show the culture and nature of the person having that tattoo. Sword is one of these designs which represents a unique meaning. Sword tattoo designs are one of the oldest which are famous all the time. Sword tattoo shows that person who is having this is full of confidence and brave.
Tattoo artists have lots of ideas that can be tattooed with sword tattoo designs, there are so many designs available for swords. There are sword-like Excalibur, Katana, Celtic and many more which are very famous, which are famous around the world.
A sword tattoo can be as simple or complex as you like it to be. While some sword tattoo features intricate design work and symbolism, others are more minimalistic in their appearance. A sword tattoo can even be just the outline of the sword, which makes it easy to combine with other designs you may want to be inked on your body. Here are 8+ sword tattoo designs and ideas to help inspire your next ink project
What does a sword tattoo symbolize?
In every culture, sword tattoo designs are associated with different meanings. In Buddhism, it represents that a blade can vanish ignorance. In Christianity, a sword tattoo is a symbol of a force of justice. Sword is associated with honor, freedom, power, and strength.
Sword tattoos are having designs for both men and women. Guys mostly like to have Excalibur and Katana sword tattoo designs on their body parts, because of their popularity. Sword tattoo can be done on any body part whether it is arm, forearm, chest, leg, back, or any part. There are sizes and designs available for every part. These tattoos can be done with quotes, roses, angels, shields,s and many more.
Sword tattoos can be done small-large and medium in size. These designs can be done with many variations if anyone wants to do with them. So if you are thinking about sword tattoos then you will definitely get some designs from our gallery.
Best Sword tattoo designs and Ideas
A sword tattoo can come in many different designs and styles, from the elaborate and colorful to the simple and monochromatic, but it's not just the design that matters – the meaning behind the sword tattoo can be equally important. The sword in art has always been a symbol of power, courage, strength, honor, and even justice, which are all qualities that are fitting for a good tattoo design to represent. In this post, we'll look at eight different types of sword tattoos and what they mean to people who get them.
8+ Most Popular Sword Tattoos Designs and Ideas for Men and Women
A sword tattoo can symbolize many different things, and it can be one of the most versatile designs that you could ever get inked onto your body. If you're looking for something with power and strength, this type of tattoo is definitely a good choice, since swords have been symbols of both throughout history. If you're interested in getting one of these tattoos but aren't sure which design to choose, here are 8+ sword tattoos that you will love!
1) The Traditional Sword
If you're looking to get a sword tattoo design, look no further than traditional artwork. Swords can be found in almost any culture. It's become a symbol of power, courage, strength and is a must-have accessory for those who want to feel invincible. The length of the sword used in traditional tattoos is anywhere from six inches up to five feet long. They are often done with scrollwork. some have detailed lines or flowers around them, while others have bold color schemes on their handles or blades.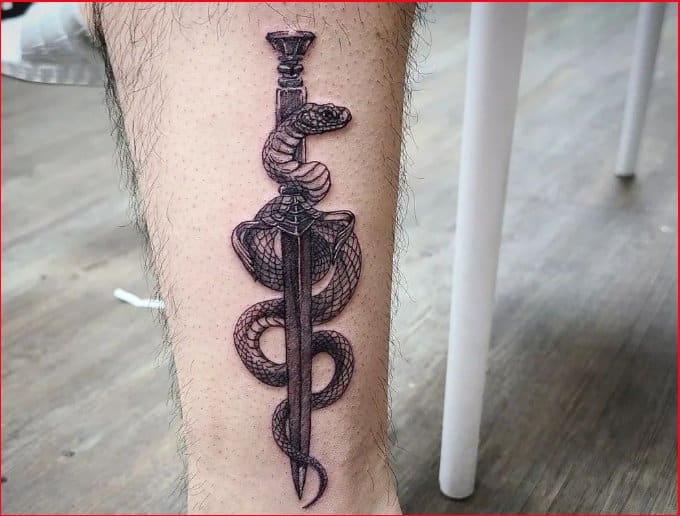 2) The Samurai Sword
The Samurai sword is possibly one of the most iconic weapons in history. In Japan, swordplay was a huge part of the culture. Men would traditionally wear a katana around their waist, but even women (who weren't allowed to fight) wore short swords. This is why many designs feature some form of a sword, whether it be in handle or design. The sword is also representative of strength and power, which makes it a perfect tattoo for men.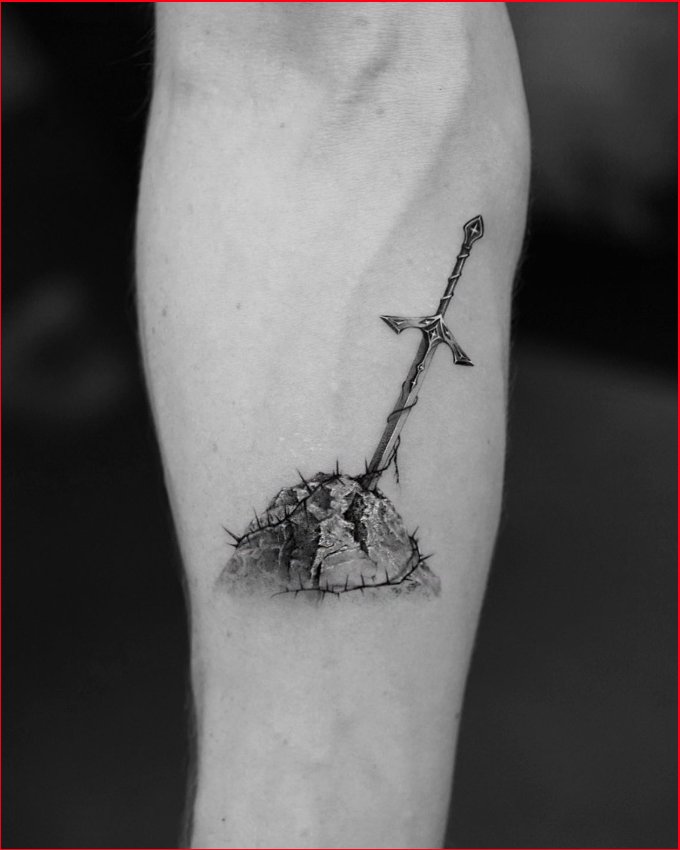 3) Swords in a Circle
A sword encircled by another sword is considered a symbol of unity. It represents a need to take on challenges together. This can also be referred to as sword in sheath or shield sword tattoos.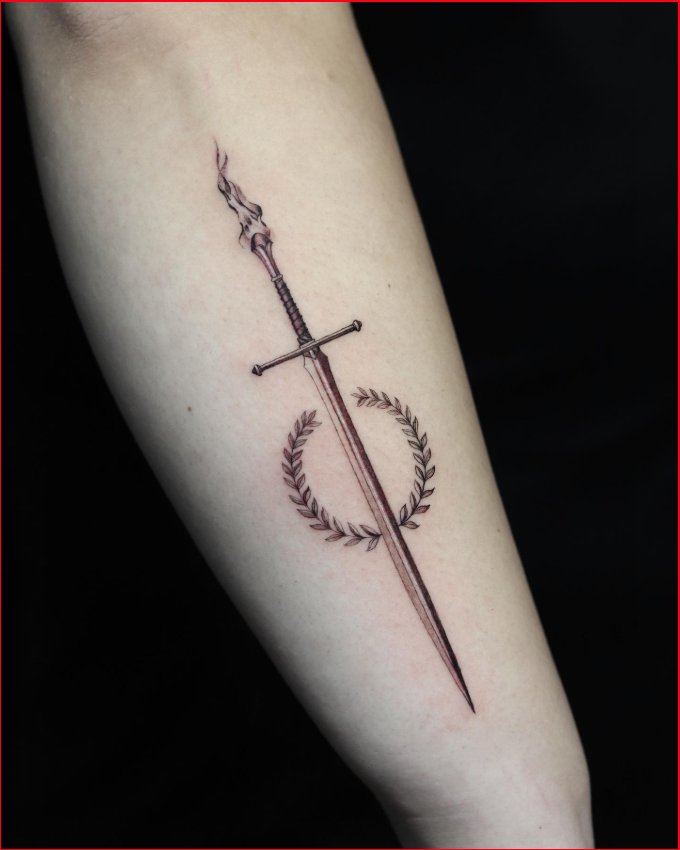 4) Watercolor Sword Tattoo
Watercolor tattoo art is not just popular because of its distinctive style. Also, it looks beautiful on different body parts. You can have one done on your arm, leg, chest, or back. They also look great on both men and women. For a Watercolor sword, tattoo design idea look no further than these pictures below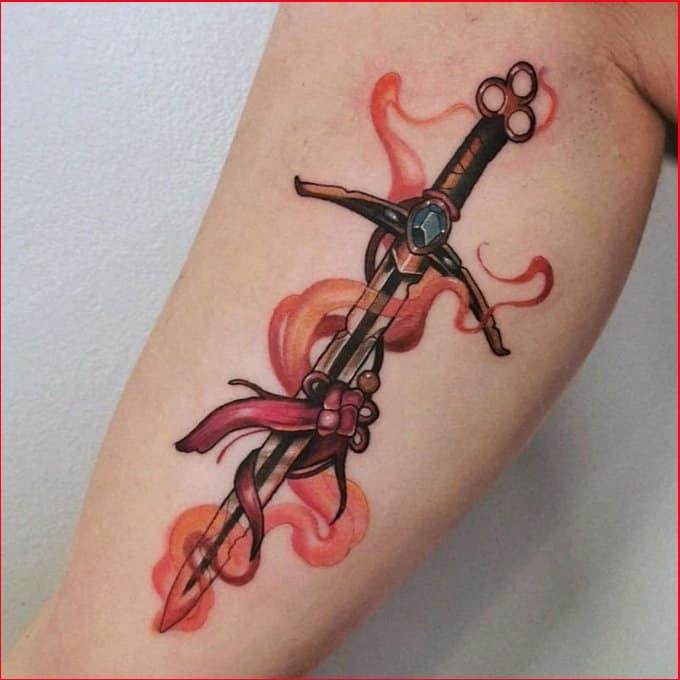 5) A Father's Love
The symbol of sword tattoos represents a man's courageousness, valor, bravery, and strength. For men who love their daughters or daughters-in-law, having a sword tattoo means that he is willing to protect his family from any danger even at the cost of his life. And when it comes to sons having a sword tattoo on their body, it can represent their father's protection and care for them. The design of sword tattoos has evolved over time. Nowadays it is considered one of the classic tattoo designs.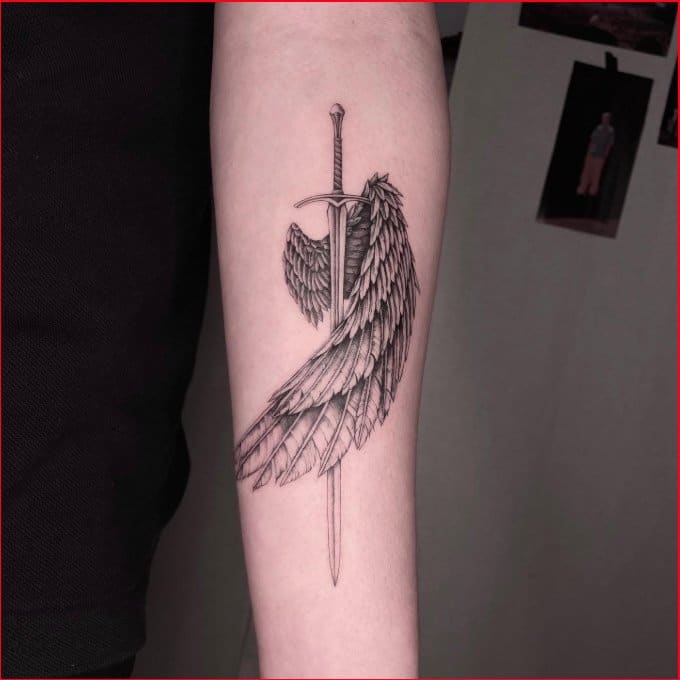 6) Celtic Sword Tattoo
The Celtic sword tattoo design is a stunningly beautiful piece that any man or woman can wear. Featuring knotwork and other designs, a sword of any sort creates a very masculine design that many men prefer to look at. The Celtic sword tattoo also comes in two-tone varieties, making it more feminine in its color scheme.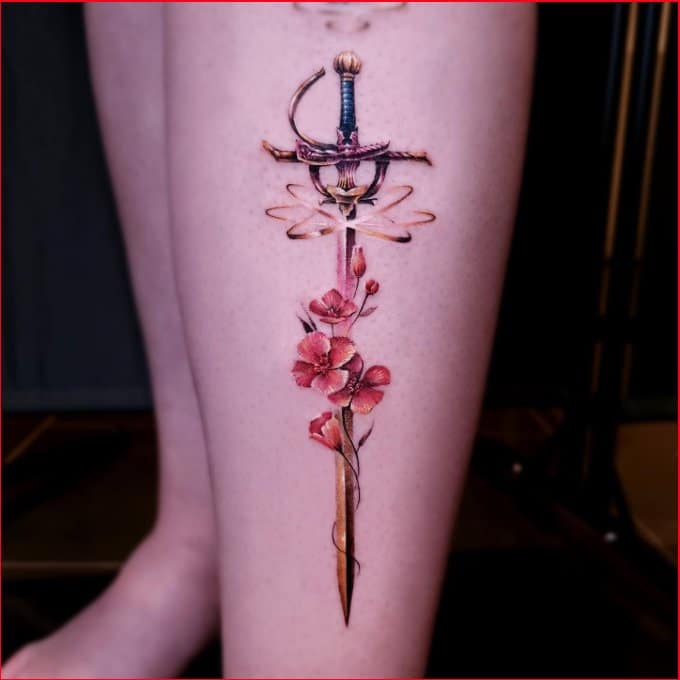 7) Meaningful Images of Swords inked on the Body
Sword tattoos generally signify bravery, courage, fighting, defense, protection, and freedom. However, there are different meanings associated with swords in different cultures or religions. You can choose sword tattoo designs based on their symbolism to communicate your personality traits to others or just because you like its design. Swords have been regarded as powerful weapons that not only symbolize physical strength but also the moral integrity of warriors. Here are some meaningful images of swords inked on people's bodies that you can find inspiration from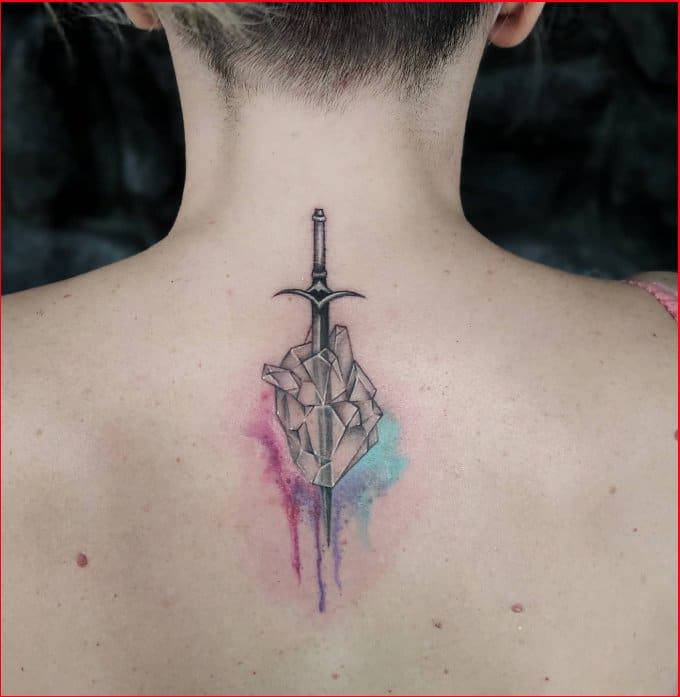 8) Representing Strength in The Face of Adversity
People who get sword tattoos often do so because they want to represent strength in their life. It's an ancient weapon that symbolizes power, bravery, and confidence. But sword tattoos aren't just used to show off your strengths—they can also be used to help you overcome your weaknesses. If you have some inner demons or struggling with self-confidence, getting a sword tattoo might be a great way to put a positive spin on it all. Read more about sword here.
How big should the blade be in order to have a good sword tattoo?
This is a difficult question to answer, as the size of the blade will largely depend on the artist and the design being tattooed. However, a good rule of thumb is to make sure that the blade is at least half the width of the tattoo. If you are unsure of what size to get, then it is best to consult with an experienced tattoo artist.
How much does it cost to get a decent-looking sword tattoo done, and how long will it take for me to see results from the work that was done on my body by this particular artist?
Getting a sword tattoo is a popular choice for those who want to show their allegiance to a certain faction or culture or simply want to look badass. However, unlike other tattoos, sword tattoos can be quite pricey and may take a long time for you to see any real results.
First of all, the cost of a sword tattoo will vary depending on the size, complexity, and design of the tattoo. Plus, there is usually a fee for the artist's time as well. Typically, a small sword tattoo might take about two hours to complete, while a larger, more intricate tattoo may take up to eight hours. After the tattoo is completed, you may need to visit the artist regularly for touch-ups and maintenance. So, if you're looking for a quick and easy way to show your badass side, sword tattoos may not be the best option for you.
What does a sword tattoo symbolize?
There is no one definitive answer to this question, as the symbolism associated with a sword tattoo can vary greatly depending on the individual. Some people believe that a sword tattoo symbolizes power and courage, while others may see it as a sign of protection or domination. As with all tattoos, it is important to consult with a professional before getting a sword tattoo in order to ensure that the symbolism is appropriate for you and your personality.
What does a katana tattoo mean?
A katana tattoo may symbolize the wearer's dedication to the martial arts or it might represent their love for Japan and its culture. In some cases, a katana tattoo may also be a tribute to a loved one who is a sword enthusiast or martial artist.
What does a rose and sword tattoo mean?
A rose and sword tattoo can represent love, strength, and protection. The rose symbolizes purity and love, while the sword represents strength and defense. Together, they represent the union of love and war. This tattoo is typically used as a symbol of love and protection, or for those who wish to represent these concepts in their tattoos.
Here we have collected the best sword tattoos which can be your first choice for your tattoo. Hope you will like these designs. Please give your feedback by commenting below.
1. Excalibur Sword Tattoo design for the upper half sleeve for men.
2. Excalibur Sword Tattoo on the forearm.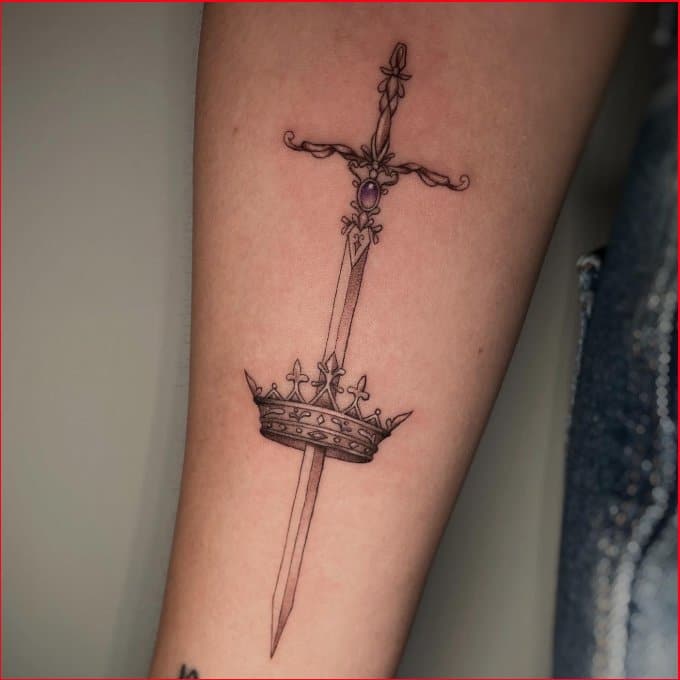 3. Sword with half-moon & rose tattoos on the ribcage.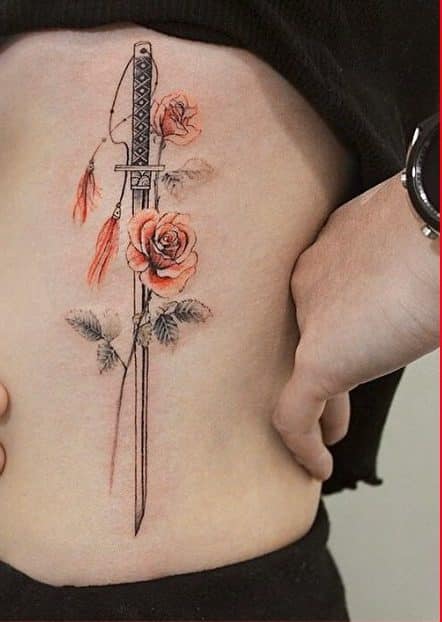 4. Excalibur Sword Tattoo on neck's back for men & women.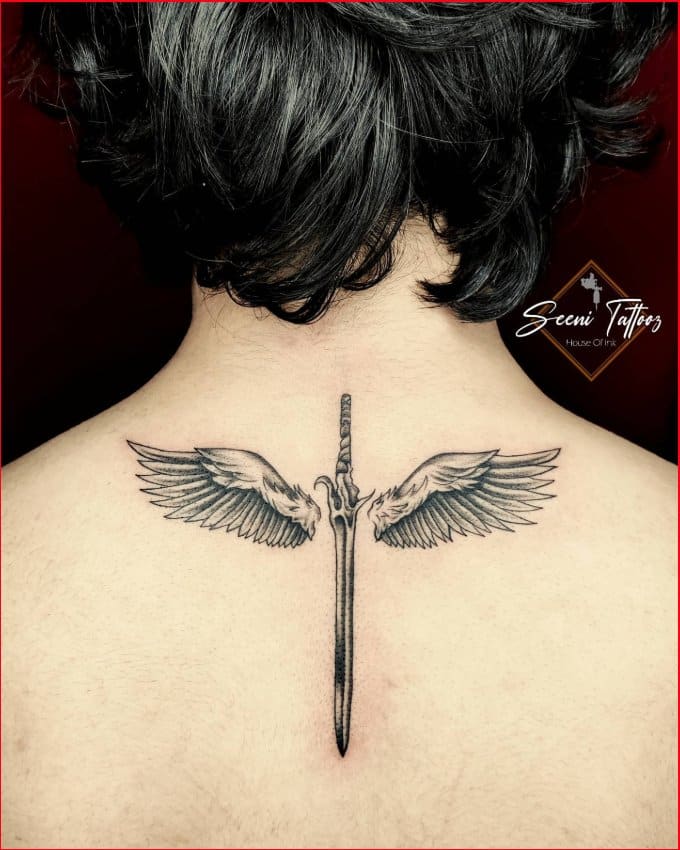 5. Sword with butterfly Tattoos on the side rib cage for girls.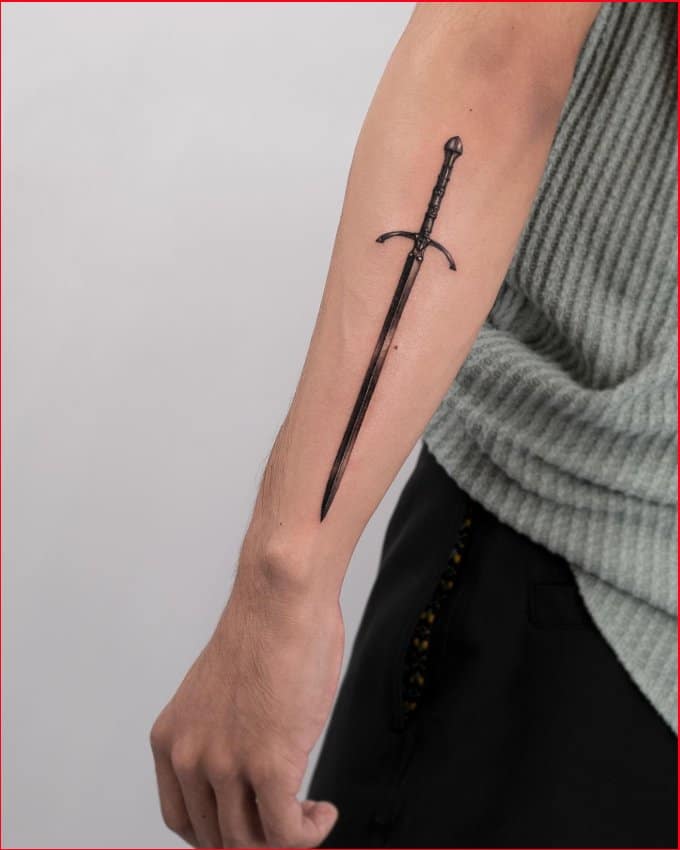 6. Celtic Sword Tattoo designs for men with skull tattoos.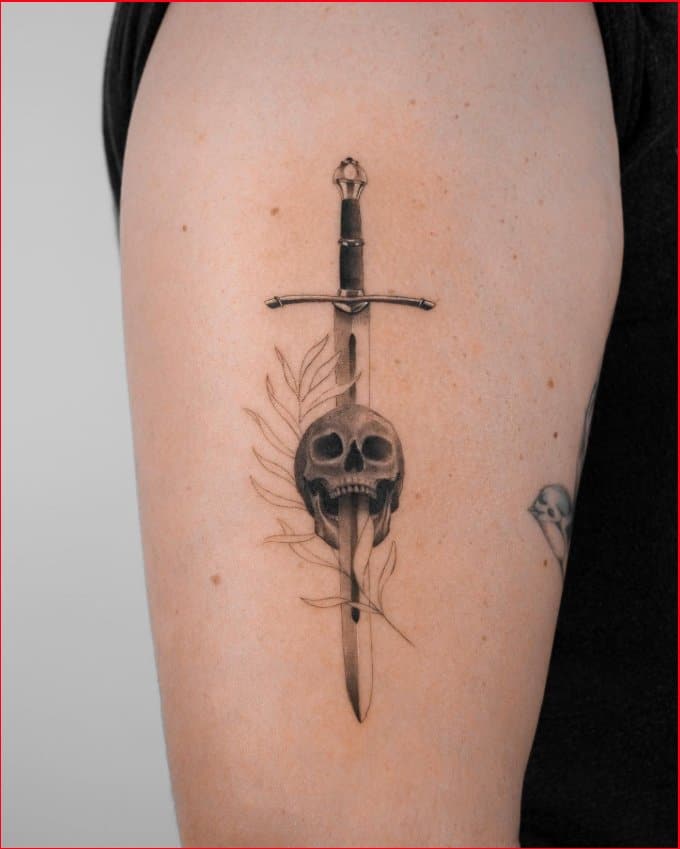 What does a snake around a sword tattoo mean?
If you see a snake around a sword tattoo, it could indicate that the person wearing it is a defender or protector. This could be because of the animal's reputation for being quick, agile, and deadly with its teeth and venomous fangs. Alternatively, it could represent the person's spiritual side, as snakes are known to be able to heal themselves.
7. Traditional Sword Tattoo with a python around it for men and women.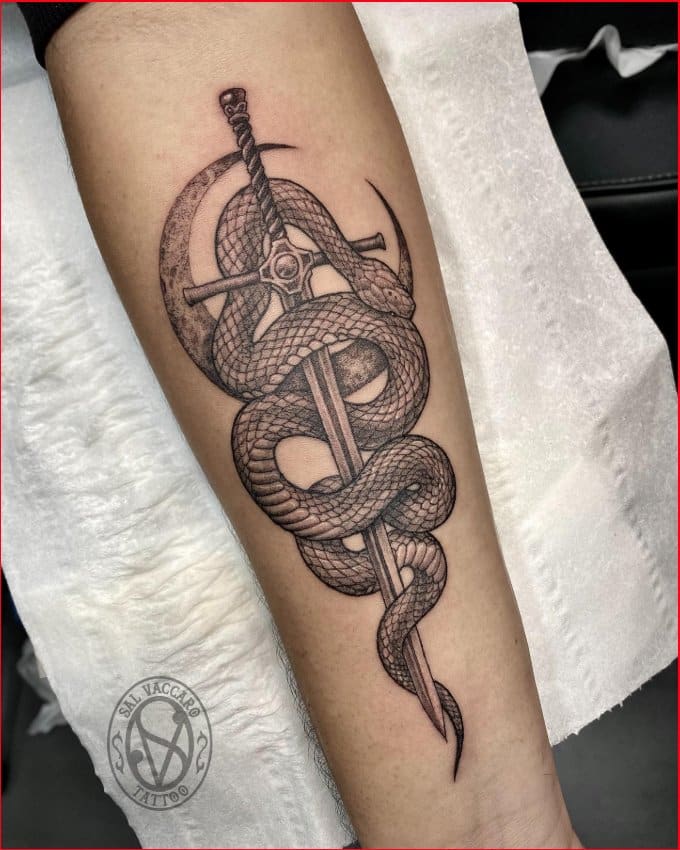 8. Tribal Sword Tattoos designs for boys and girls.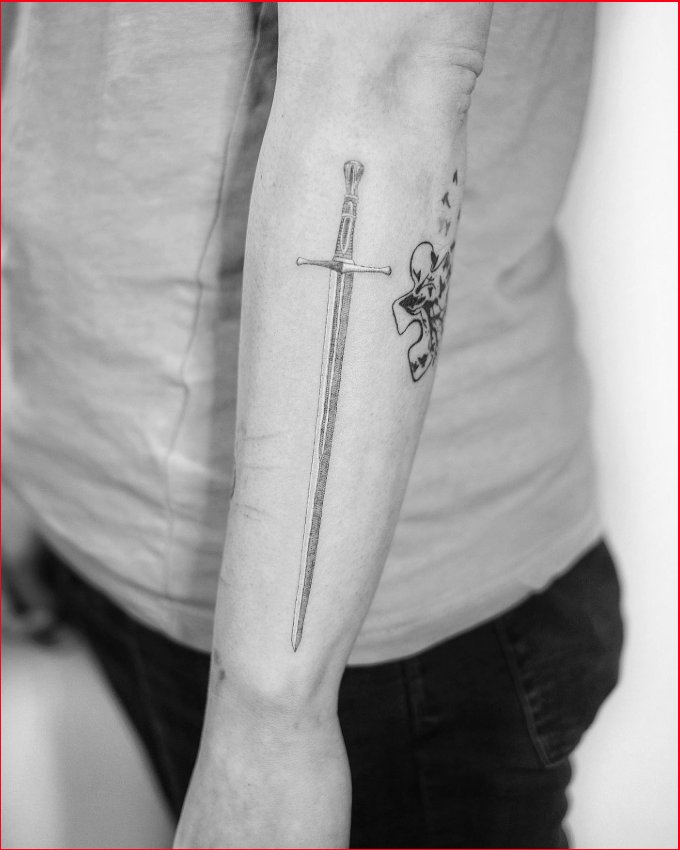 9. Celtic Sword Tattoo designs for men and women.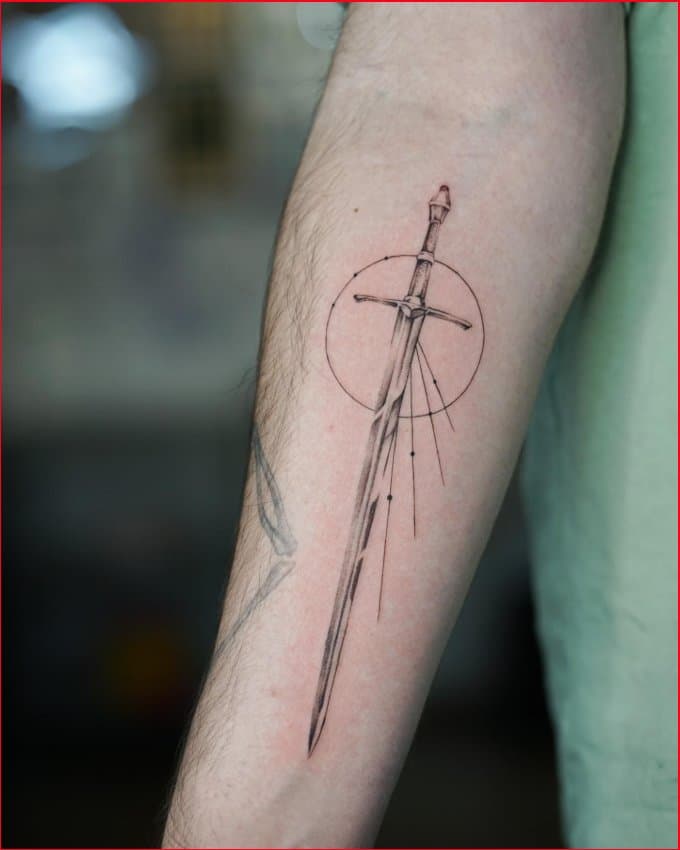 10. Sword with rose tattoos design for men and women.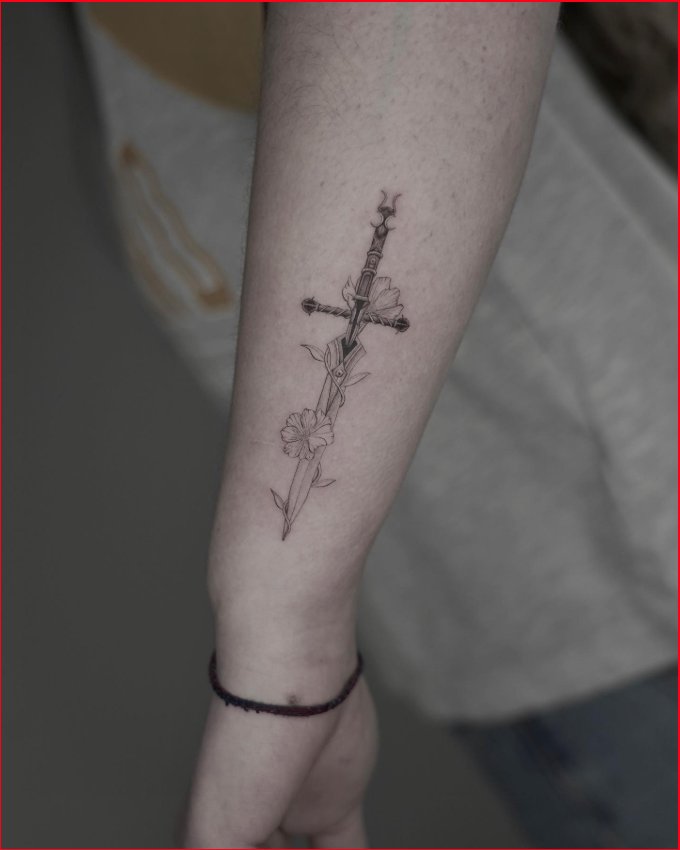 11. Excalibur Sword Tattoo for women with blue rose flowers.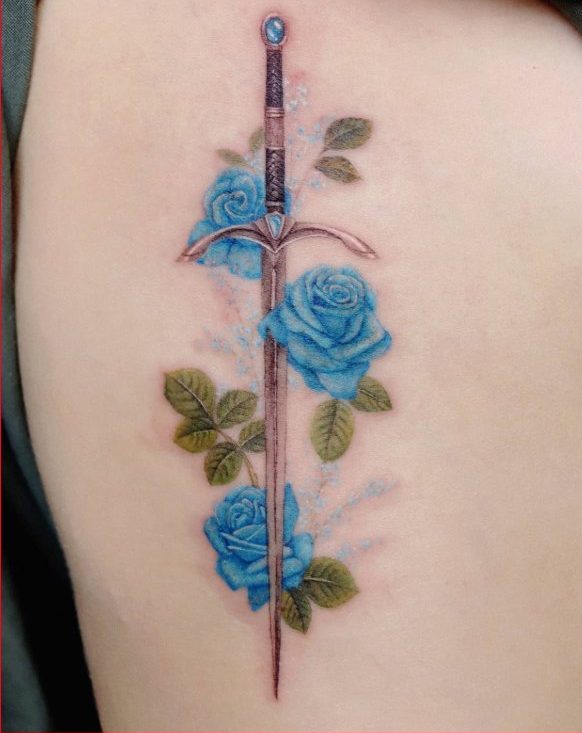 12. Sword with crown Tattoos on forearm for guys.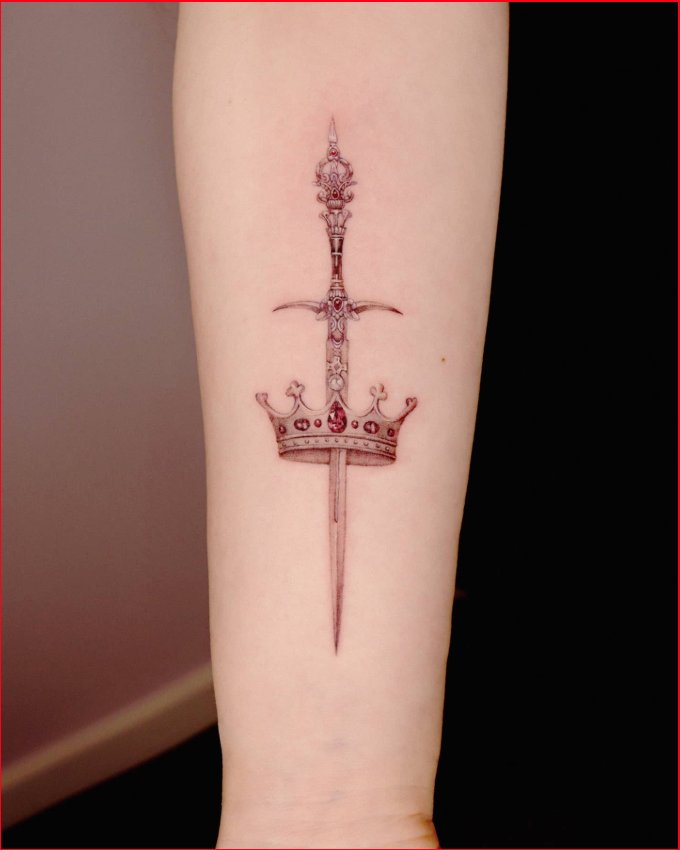 13. Sword and butterfly sketch tattoo & drawing for girls.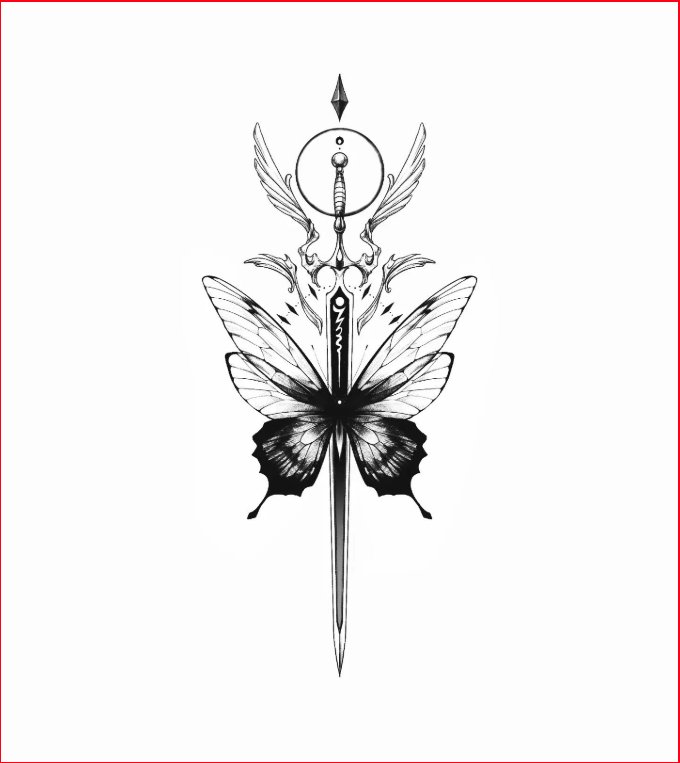 14. Celtic Sword with dragon Tattoo ideas for guys and girls.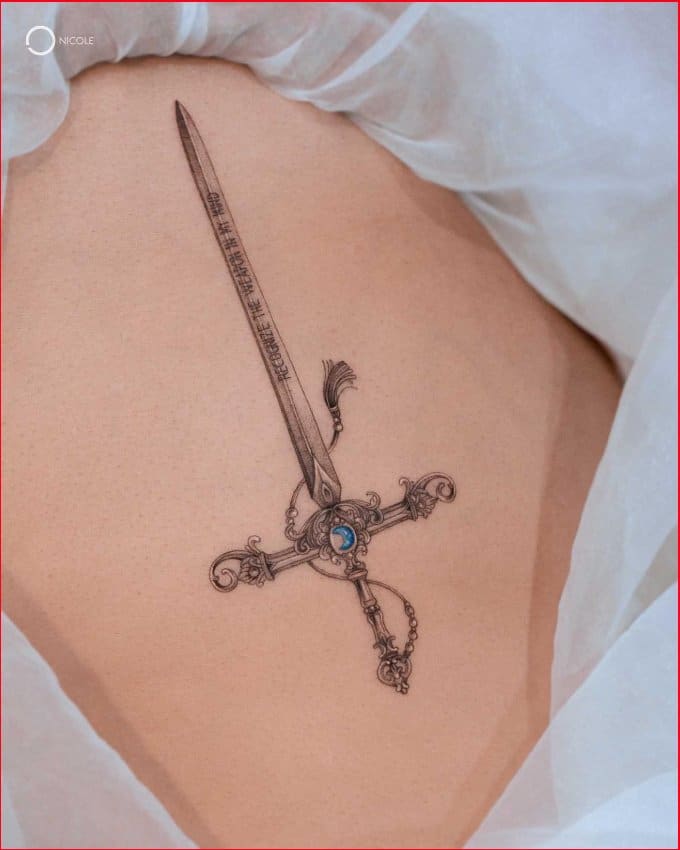 15. Sword and shield & Armor tattoos ideas for men and women.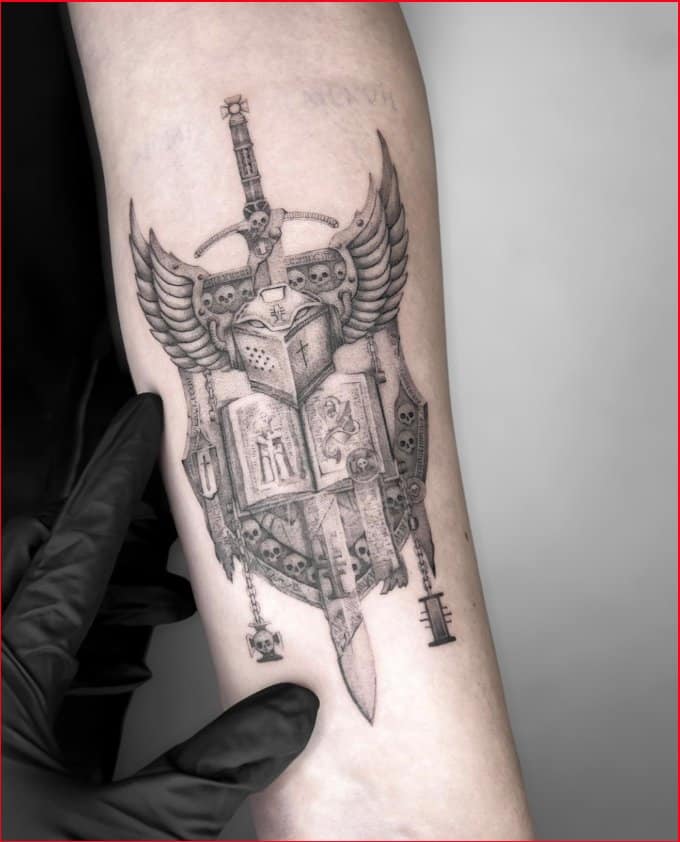 16. Sword with dragon tattoo designs pictures.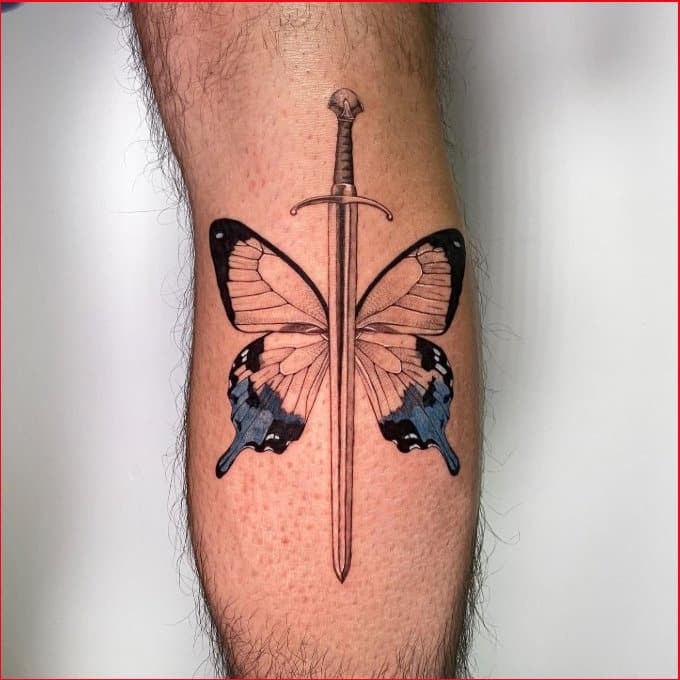 17. Geometrical Sword, eye skull & spider tattoos on hand.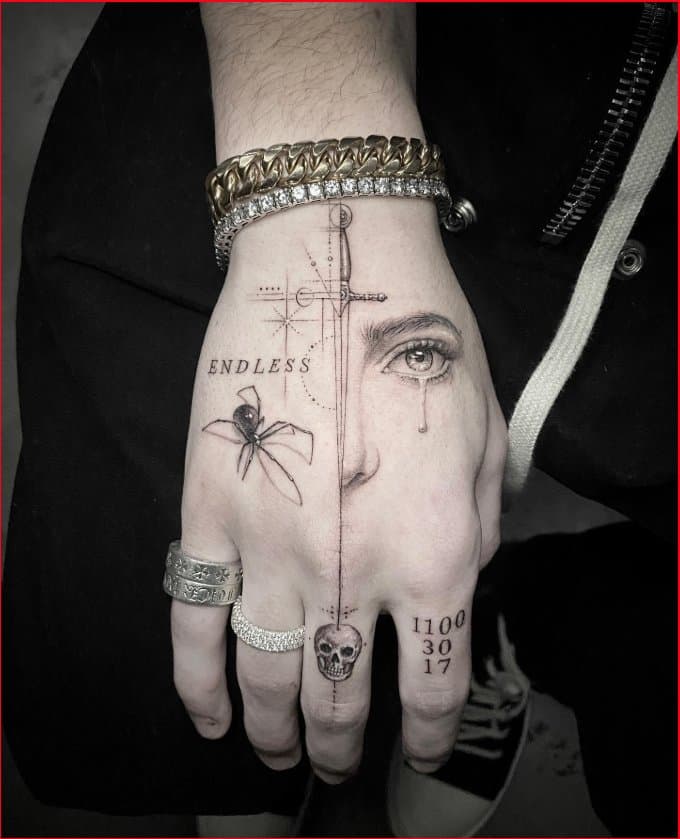 18. Small Celtic Sword tattoo designs on the inner bicep.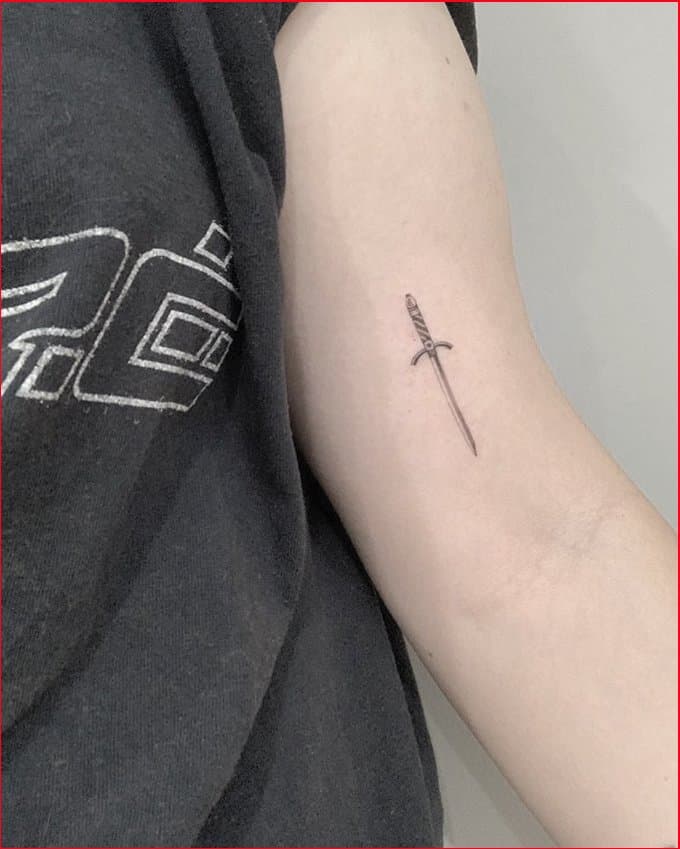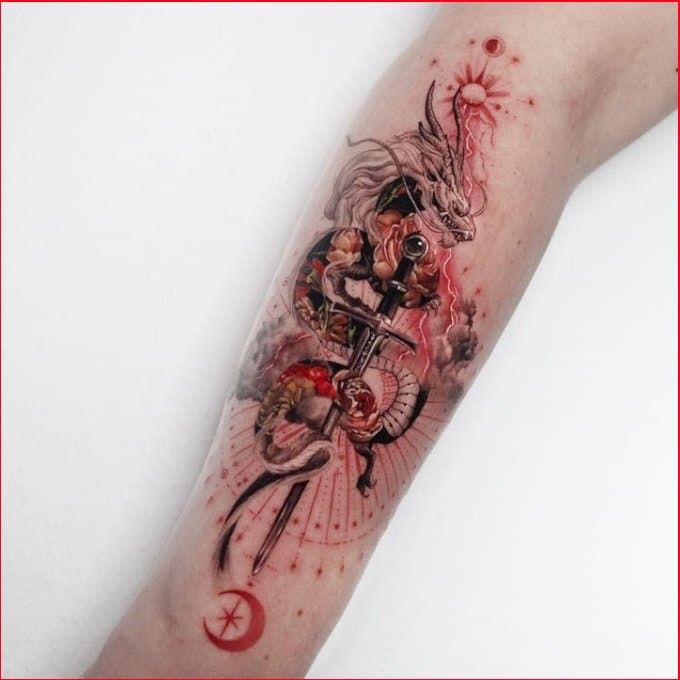 20. Simple Sword with angel wings tattoo designs ideas.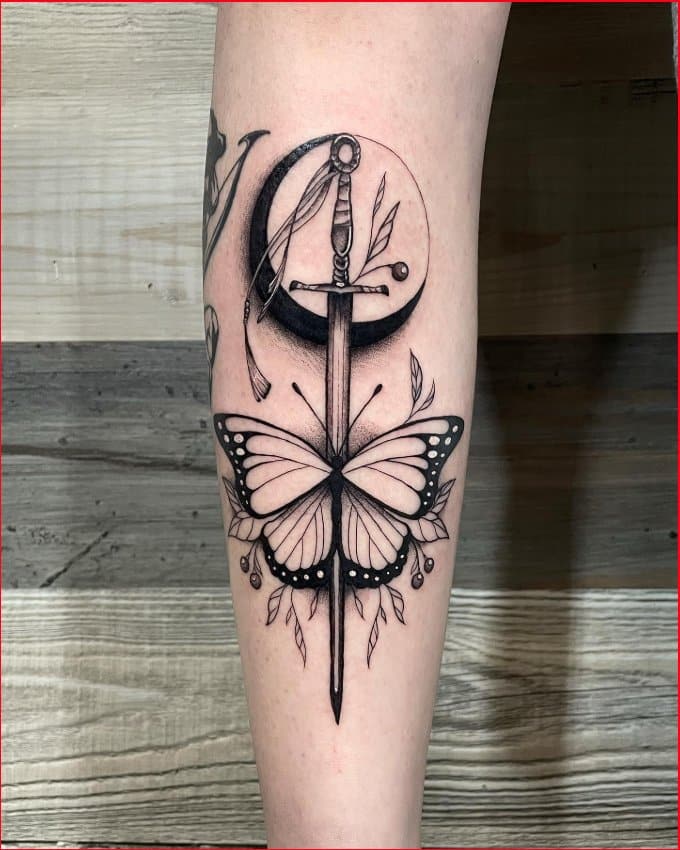 21. Celtic sword dagger tattoos on the ribcage.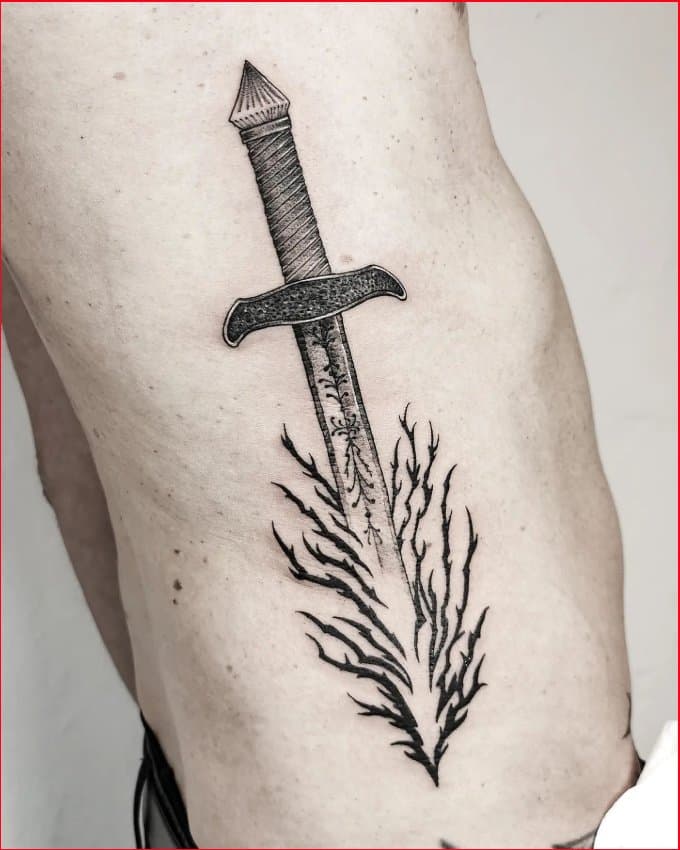 22. Sword with dragon tattoos for girls on upper arms.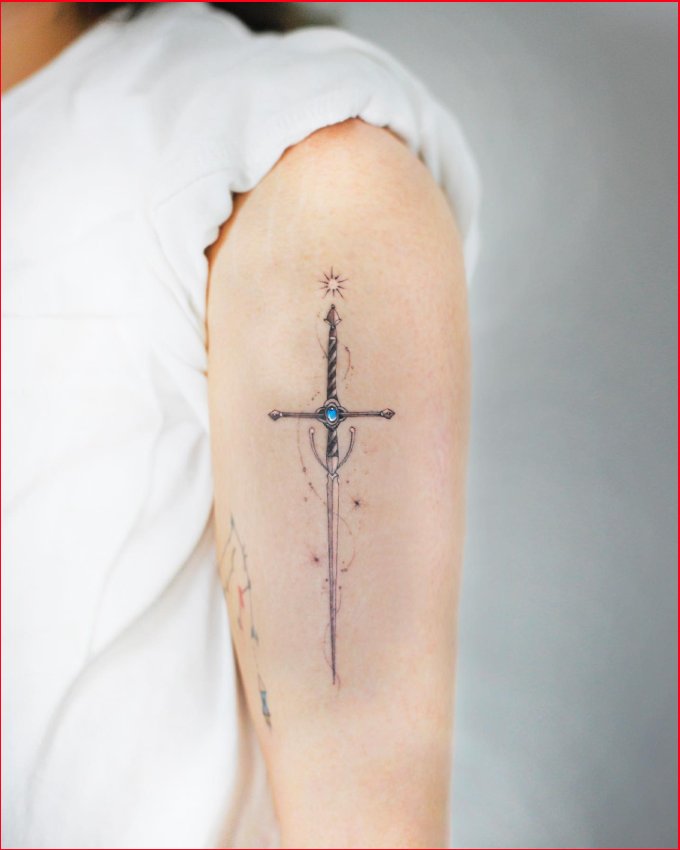 23. Dragon Sword Tattoo designs pictures.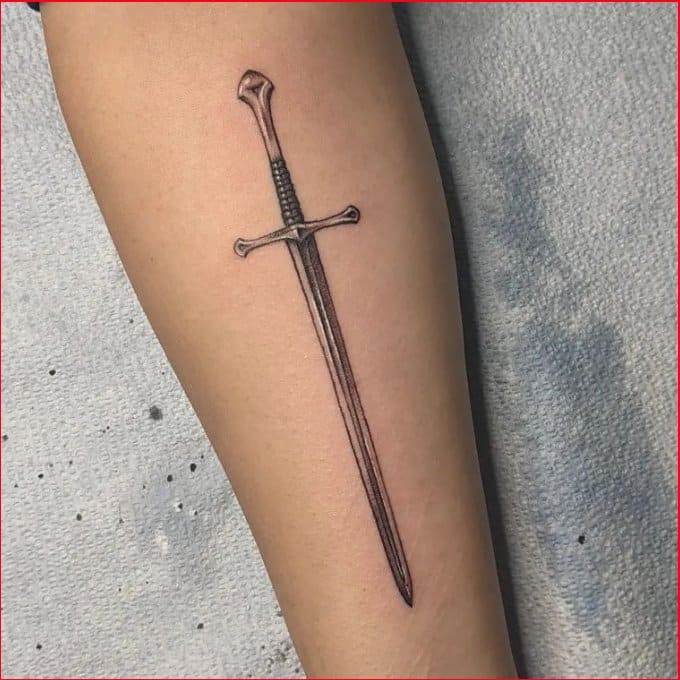 24. Simple Sword Tattoo designs and ideas for forearms.
25. Sword with snake and skull Tattoos on forearms.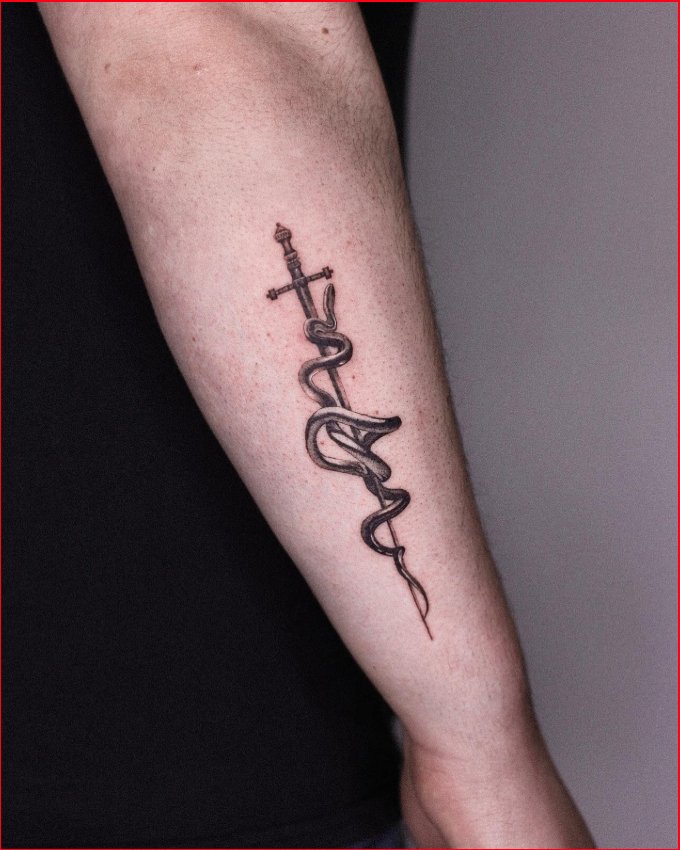 26. Sword with snake and peony flower Tattoos.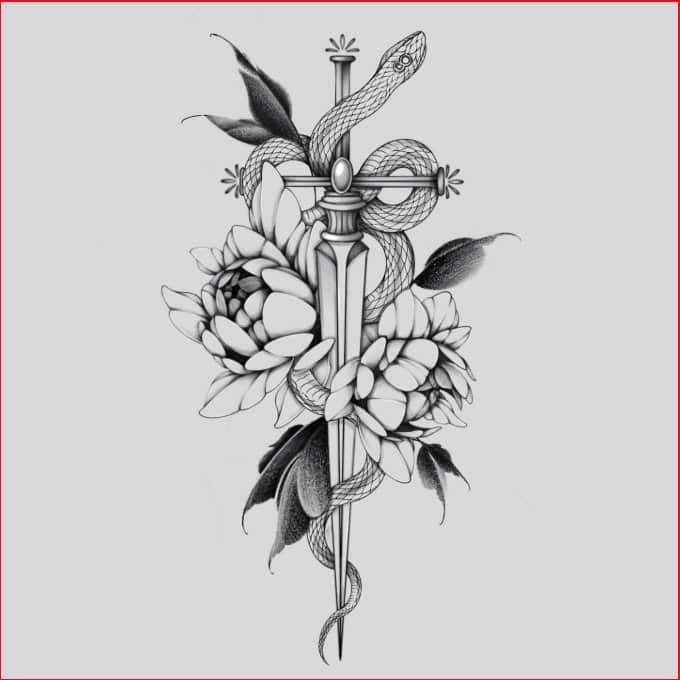 27. Celtic Sword with dragon tattoo designs for men and women.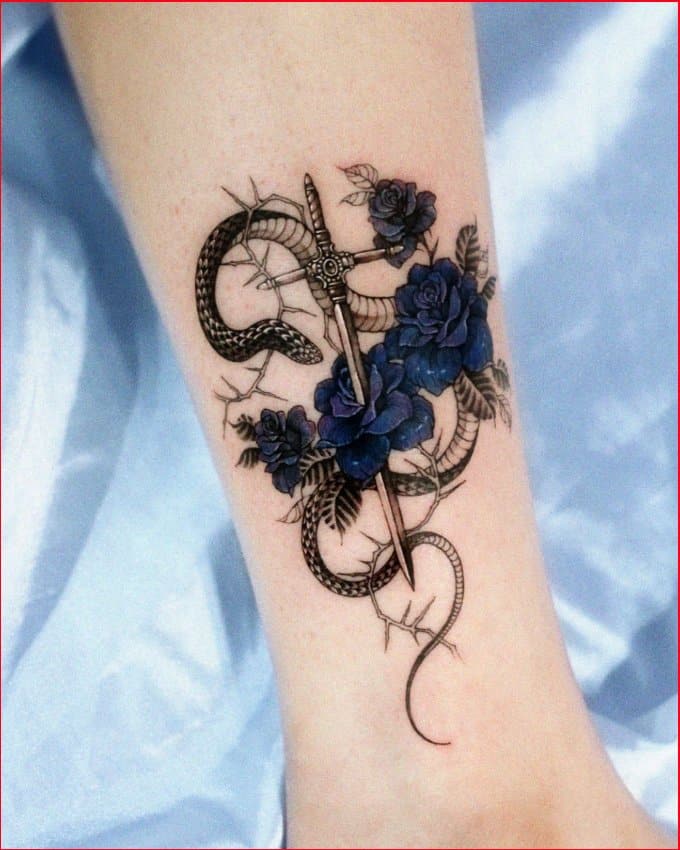 28. Sword tattoo design on between chests for women.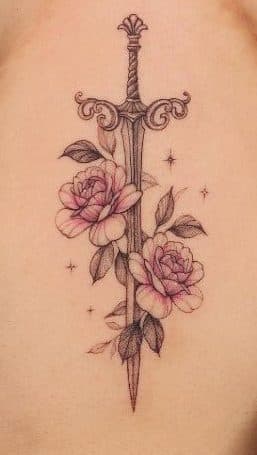 29. Small katana sword tattoos Japanese on the wrist.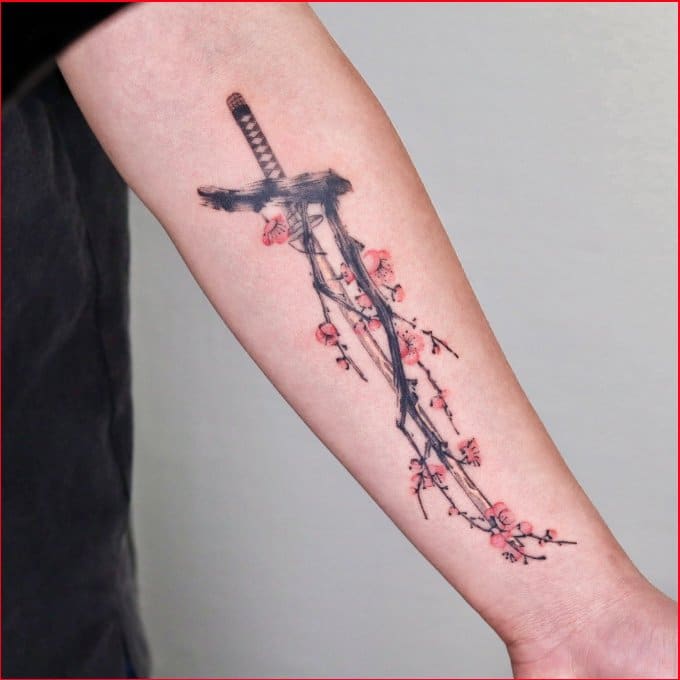 30. Sword Tattoo designs on arm ideas for guys.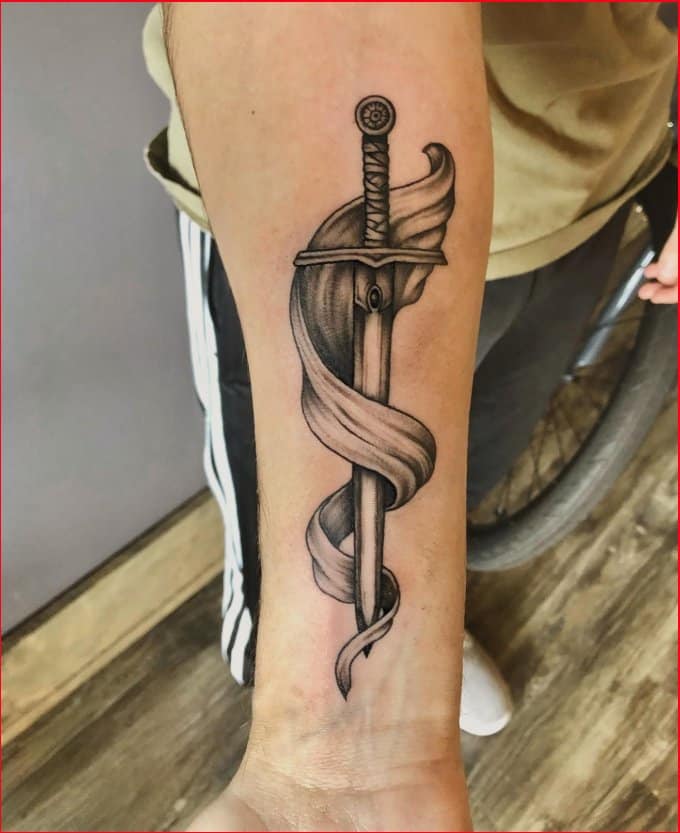 31. Knight and Sword Dagger Tattoo on back of the neck.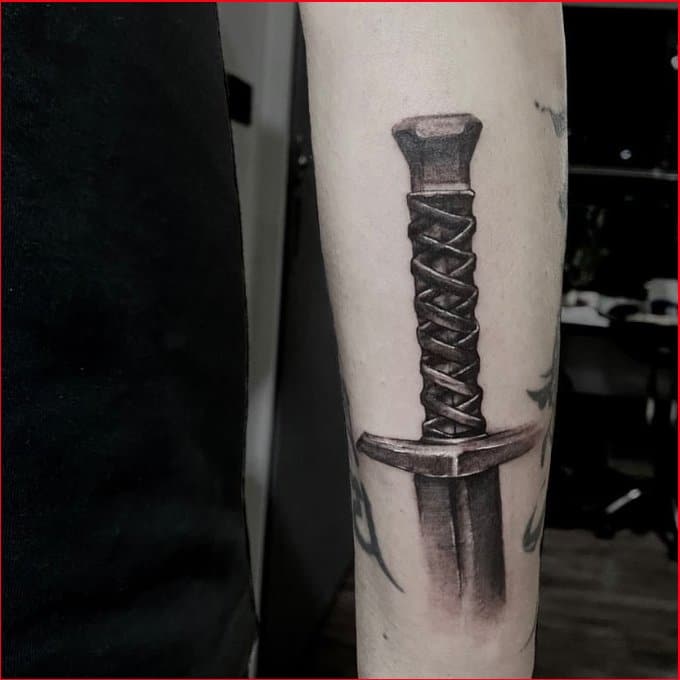 32. Geometrical Sword Tattoo for arm.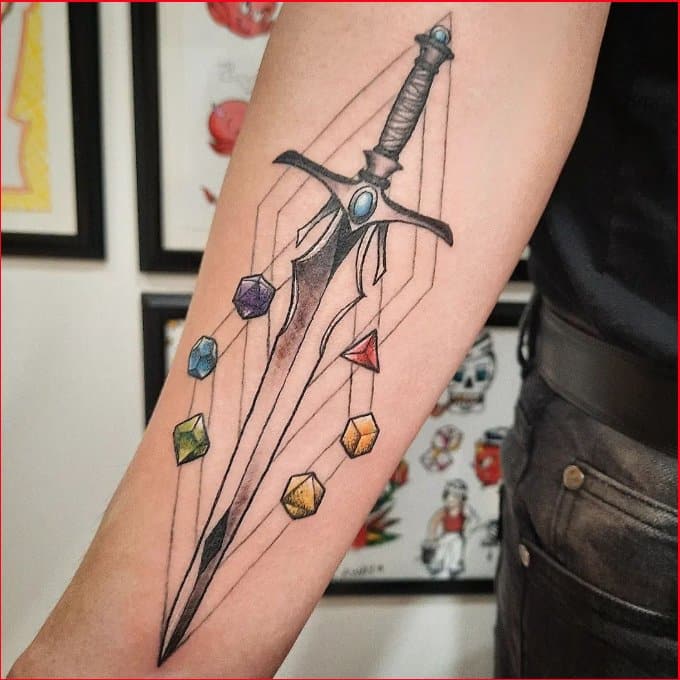 33. Three Sword Tattoo design on forearm ideas for women.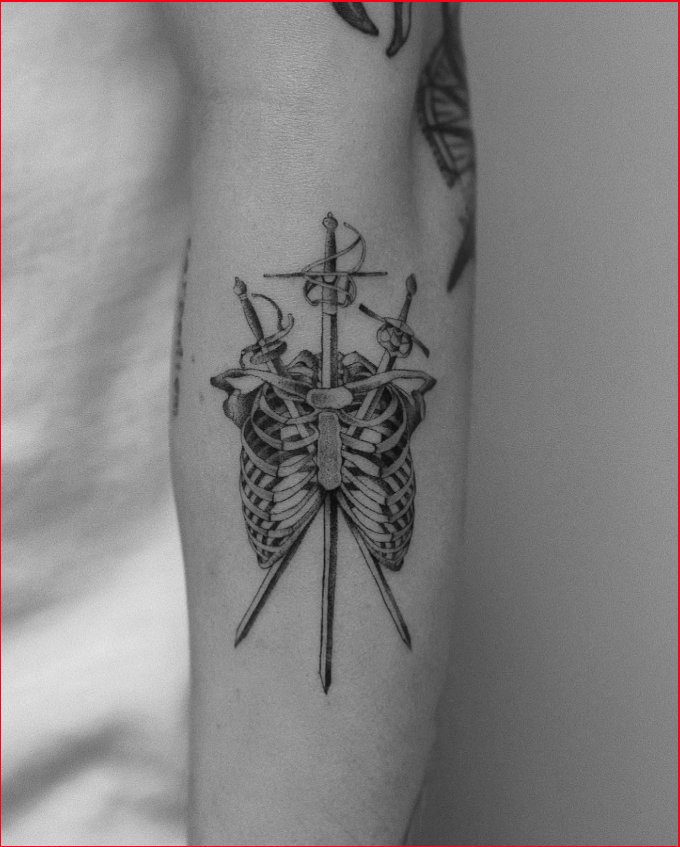 34. Sword with a crown on behind bicep.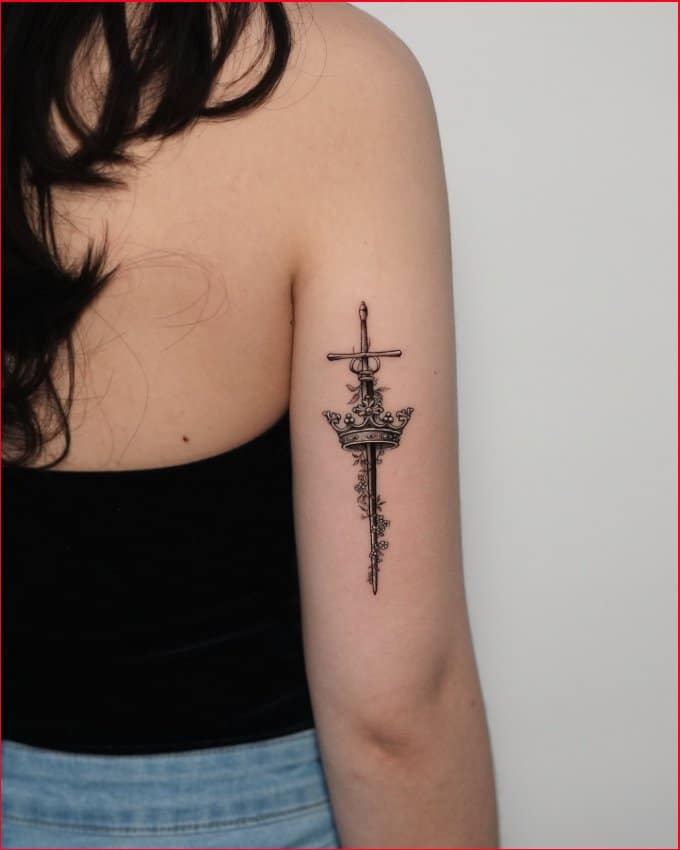 35. Tribal Sword Tattoo ideas for the forearms.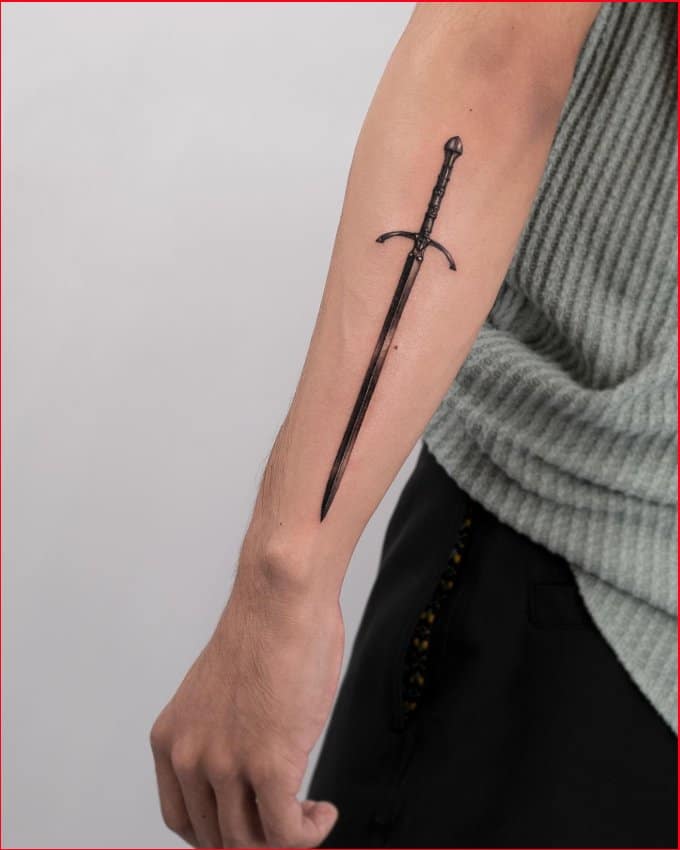 36. Sword with dragon Tattoos on the inner forearm.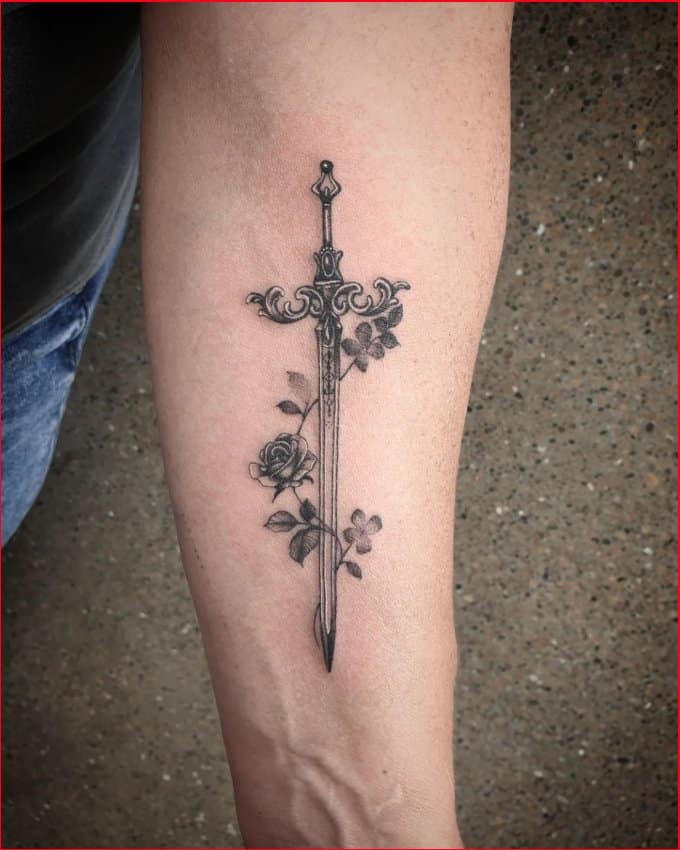 37. Sword with peony flower & quotes Tattoos on the upper half sleeve.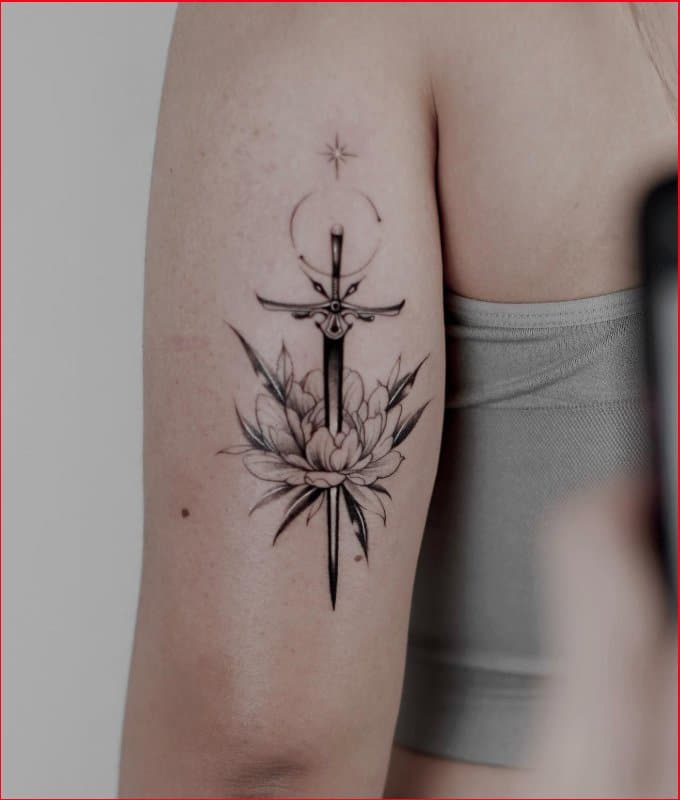 38. Full Large size Sword from thigh to feet for guys.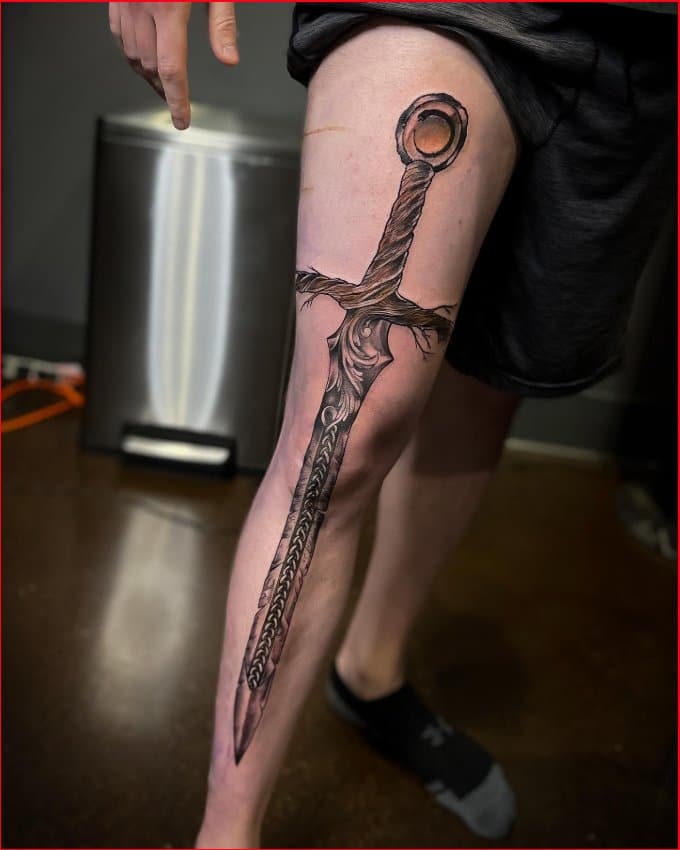 39. Sword Tattoo on forearm ideas for girls.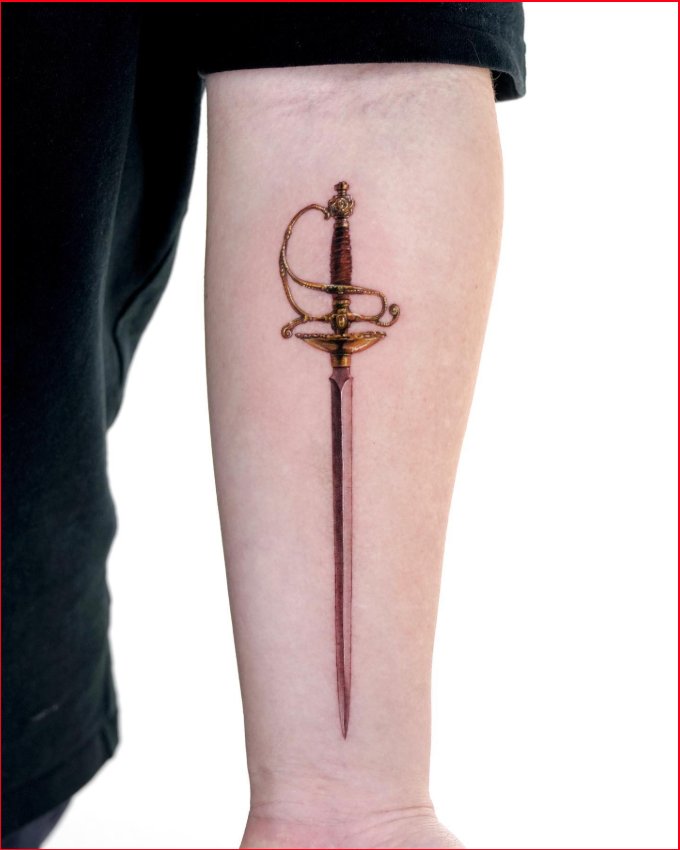 40. Sword Tattoo on back ideas for women. Katana is also a famous design for the back.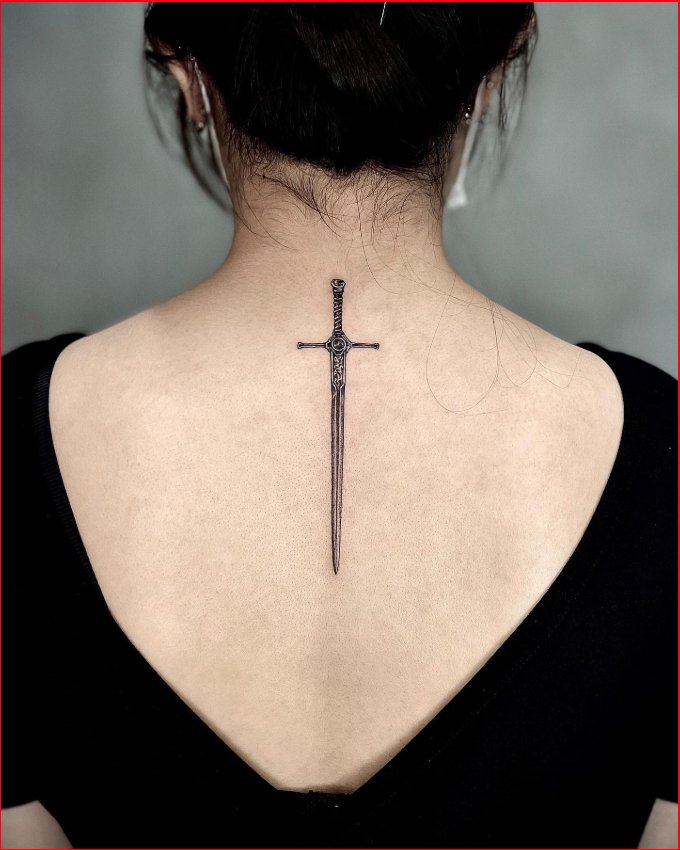 41. Sword drawing with skull & snake Tattoos images.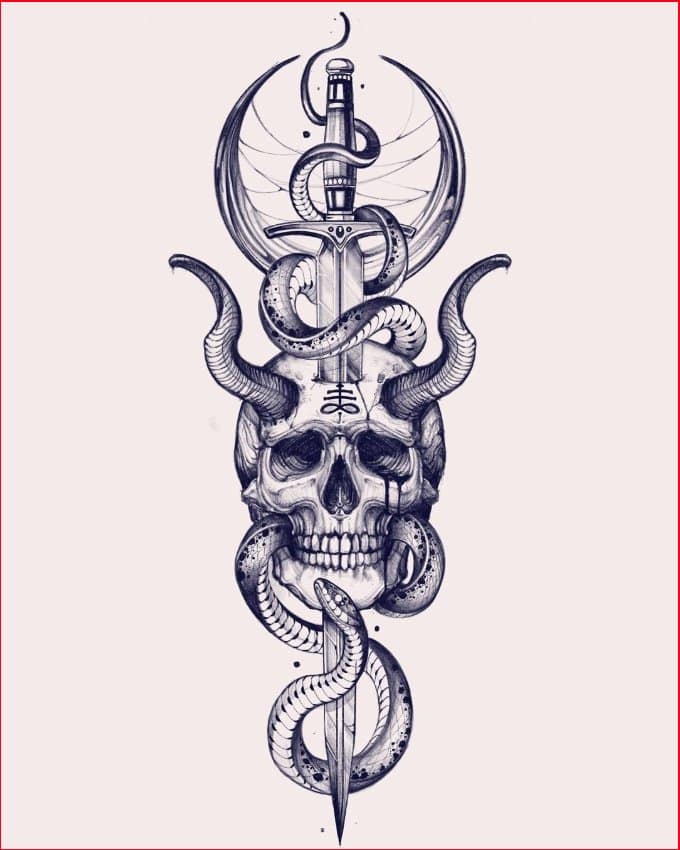 42. 3d Sword Tattoo on inner forearm for men and women.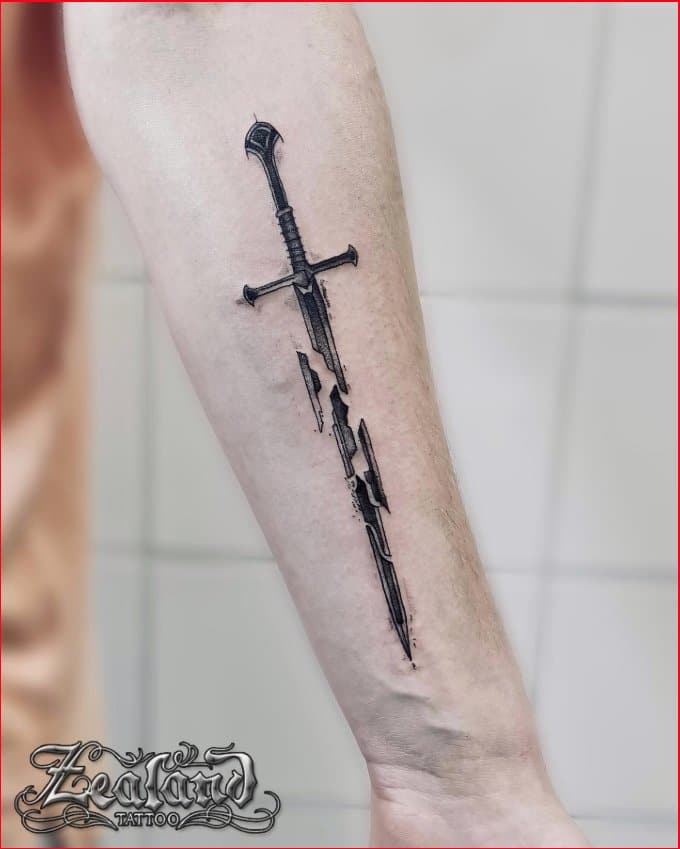 43. Excalibur Sword Tattoos pictures with ruby red roses.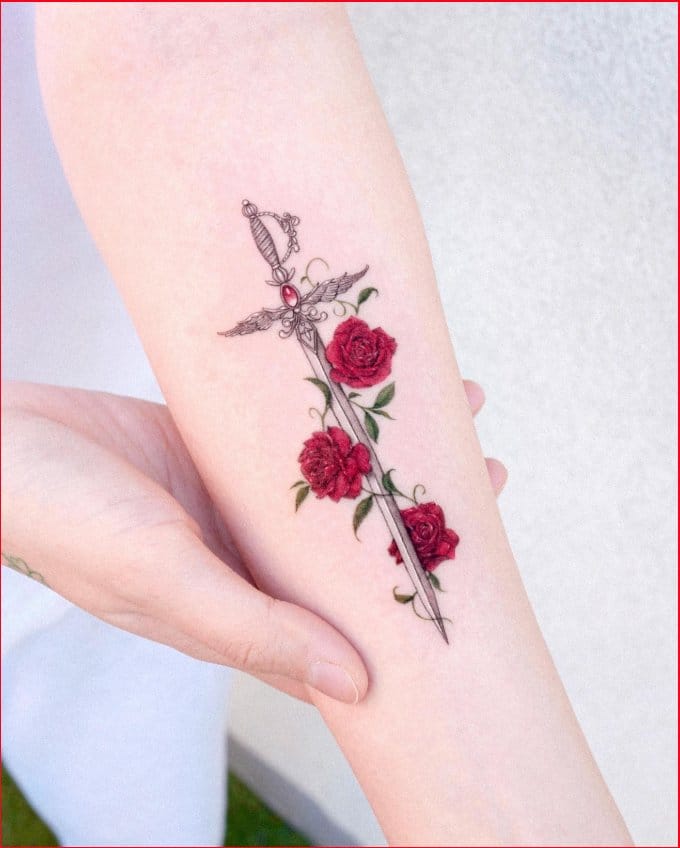 44. Sword and crown Tattoos with wings.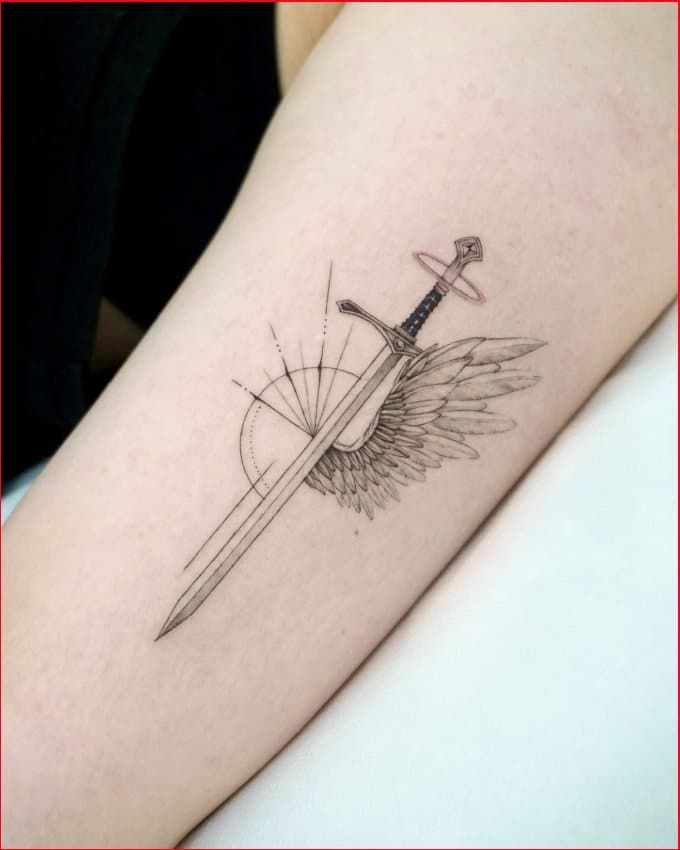 45. Sword and angel wings Tattoos images with crown.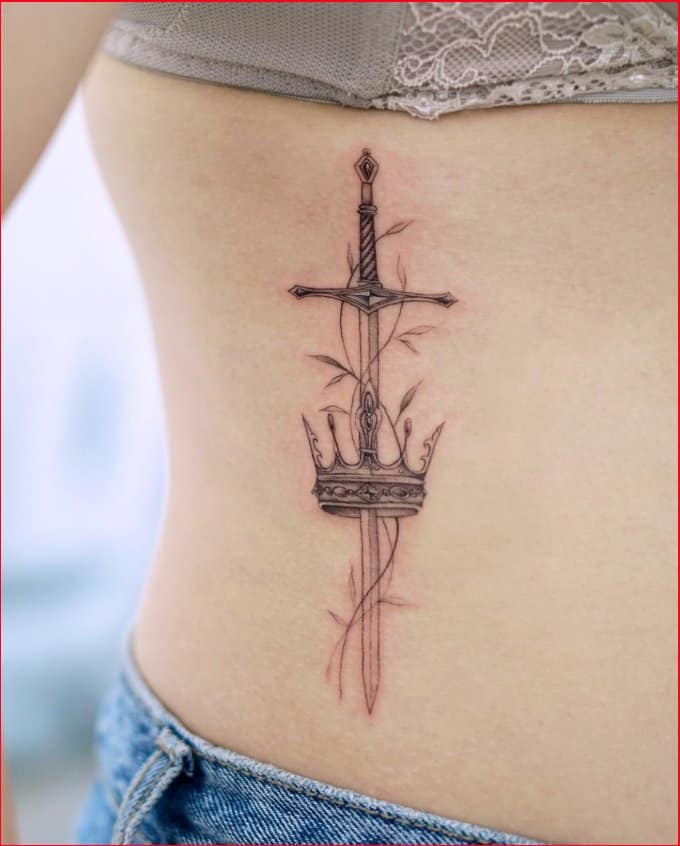 46. Sword Tattoo drawing ideas for men and women.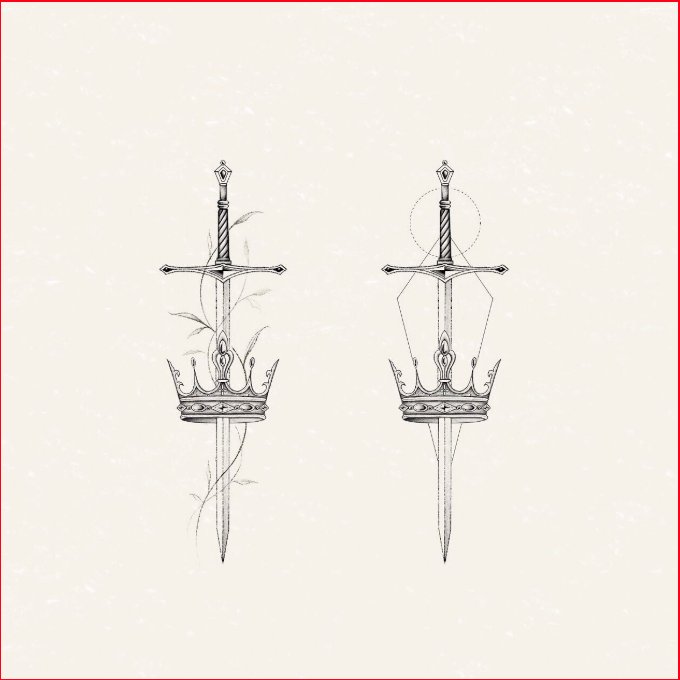 Check related: Tattoos for men.