Unveiling the Scorpio Tattoos: Top Scorpio Tattoo Ideas for Astrology Lovers
Scorpio tattoos: Hey readers, welcome to your favorite tattoos website. We hope, you enjoyed all the previous articles. On this website, you will get all information about tattoos, their meaning, and their unique & beautiful designs. The perspectives of people have changed now. They think tattoos make them look cool and attractive. No doubt, tattoos make you stylish, and bold and enhance your personality. Today, we are going to discuss SCORPIO ZODIAC SIGN Tattoos, what scorpio sign tattoos symbolize, and what Scorpio sign tattoos mean, and we will also discuss its elements and check out its unique and trending designs. In zodiac sign tattoos, you will always find an element related to you. Scorpio sign tattoos come in different sizes and designs. It also gives you many placement options. These tattoos are tailor-made for the sign.
SCORPIO ZODIAC SIGN
Zodiac sign tattoos are always evergreen. There are 12 astrological signs, Scorpio is the eighth astrological sign in the zodiac. The people born between October 23 to November 21, fall in the Scorpio sign. The element of the Scorpio sign is "water". Its detriment is " Venus". Scorpio sign has two ruling planets and these are Mars( traditional) and Pluto( modern). Planet Mars is seen as a planet of strength, sex, action, and courage. On the other hand, Pluto is the planet of life, death, rebirth, transformation, and the underworld. Scorpions are the most misunderstood signs of the zodiac. Let's discuss its positive and negative traits. What does zodiac Scorpio sign tattoos mean? What does a Scorpio sign tattoo symbolize? But first, let's discuss What are the Scorpio tattoos elements?
ELEMENTS OF SCORPIO SIGN TATTOOS
Scorpio sign elements are the thing that will add some twists to your tattoo design. Let's discuss them one by one.
Symbol – The Scorpio: The symbol of the Scorpio zodiac sign is the Scorpio. Scorpios are known to be very vindictive and seductive. They have the ability to change love to hate intensely in a second.
Scorpio glyph: The glyph of the Scorpio sign is similar to the English alphabet "m" With a barbed tail pointing upward. It symbolizes creation and destruction and some people believe, it represents the sex organs of males & females and the creation of new life.
Ruling planets – Mars and Pluto: The ruling planets of the Scorpio sign are mars and pluto. Planet mars are known as the planet of courage, strength, action, and sex. This planet is very powerful and intense, that's why Scorpios are impulsive and short-tempered. Pluto planet is the planet of birth, rebirth, death, and transformation. It makes the Scorpios break all the limits and achieve their dreams and goals.
Scorpio constellation: Scorpio constellation is very easily recognizable and seems very beautiful. There is an old greek mythology story behind it. The brightest star of the Scorpio constellation is Antares.
Sign element – water: The sign element of the Scorpio sign is water. It means the Scorpios tend to be intuitive and emotional.
Birth flower – Geranium: The birth flower of the Scorpio sign is the geranium. These flowers are very mysterious and dramatic as it has many petals. Like this, Scorpios also have many sides, you never gonna know what they are thinking.
Pluto glyph: It represents creation and destruction, endings and new beginnings, and also rebirth and spiritual growth.
Zodiac tattoos are extremely popular among people who believe in astrology. Some people have deep spiritual faith in Zodiac signs and often make them a very significant part of their life. Scorpio Zodiac tattoos are one of the most popular zodiac tattoo choices among people. The reason for its popularity is the fact that it is a Scorpion. Not only does a scorpion signify attitude and history but it also fascinates people as there is a lot of folklore associated with scorpions.
Scorpio Tattoos Meanings and Inspiration
Not only that scorpion is popular in movies as well for example 'The Scorpion King' or 'Bicchhoo'. Scorpions are mainly seen as an omen or something dark because of the history they carry with them. Since scorpions are fatally poisonous often they are not seen as something good so make sure you know what scorpion means before you get a zodiac tattoo of a scorpion. If you are interested in dark stuff you can get a Scorpio tattoo or you can just get one because they look cool.
Scorpion tattoos can be forbidden or even offensive in some cultures and countries because of their dark connotations. But scorpions make for really great tattoos as these creepy crawlers are really amazing-looking creatures. Scorpions have bodies that look like a mix of lobster and spider. When inked perfectly they look very artsy and funky. Scorpion tattoos are not gender specific so everyone can get one. These tattoos are very exotic because of the rich history associated with scorpions. Scorpions are really distinct and very easily recognizable and thus make for a fantastic tattoo.
If you want to avoid getting a scorpion tattoo because they creep you out you can always go for the scorpion symbol tattoo which looks basically like alphabet M with an arrow. You can choose to get both the scorpion and Scorpio symbols together if that suits you. Since Scorpio venom is like fire in the veins you can always add little details like fire in your scorpion tattoo. As far as the placement of the tattoo goes you can it on your arms, back, neck, ankle, wrist, or shoulder.
Meaning- According to Greek mythology, the Orion constellation was formed when a scorpion made Orion immortal in the form of a constellation. So, you can add a scorpion with Orion constellation stars to symbolize immortality or invincibility.
Ancient Egypt associates the Egyptian God of Sand called 'Set' with Scorpion.
In Buddhist culture, scorpions were seen etched into the metal on sword handles which signified fatal power.
SCORPIO SIGN TATTOOS PLACEMENT
When you think about the placement of your tattoo, always consider some things first and then decide. Adding some elements to your basic design will add a twist to it.
Size: Good placement of a tattoo depends on the size of the tattoo design. If you are going for a large and bold design, then choose shoulder, legs, forearm, biceps, chest, back, or thighs. If the size of your tattoo design is small and delicate, you can choose a finger, wrist, behind the ear, behind the neck, collar bone, neck, forearm, ankle, or feet.
Visibility: If you want to keep your tattoo personal. It means you don't want to show it to others, then simply go for the chest, thigh, or back area. It will be the best placement for a hidden tattoo. On the other hand, If you want your tattoo to be easily visible to everyone and also you want to see your tattoo all the time, then wrist and ankle might be a good idea and choice.
Meaning: The last thing you have to keep in mind is the meaning of the tattoo. You have to think that the placement area you choose, will going to justify the meaning of your tattoo or not.
Here we collect some of the best 55 best Scorpio tattoos designs and ideas for men and women.
1. Tribal Scorpion tattoos designs on forearm ideas for men and women.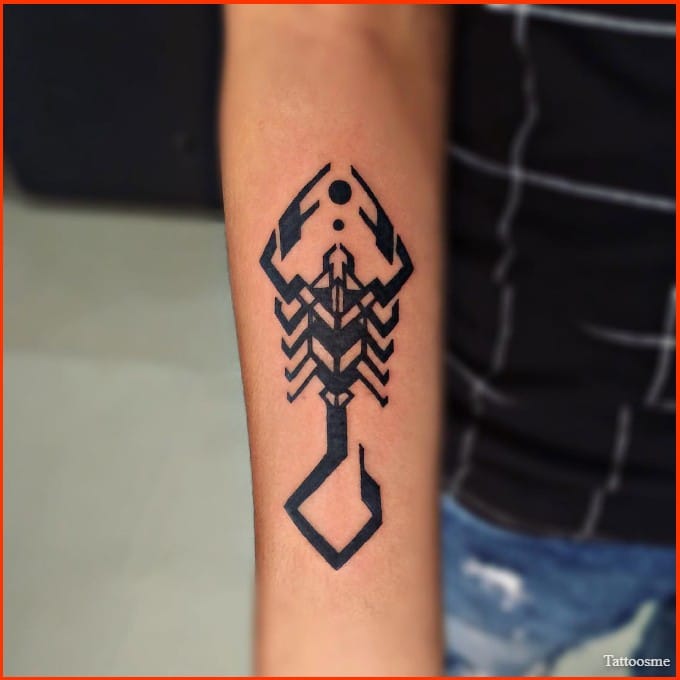 ---
2. Geometric style Scorpion symbol and zodiac sign tattoo on forearm ideas for girls.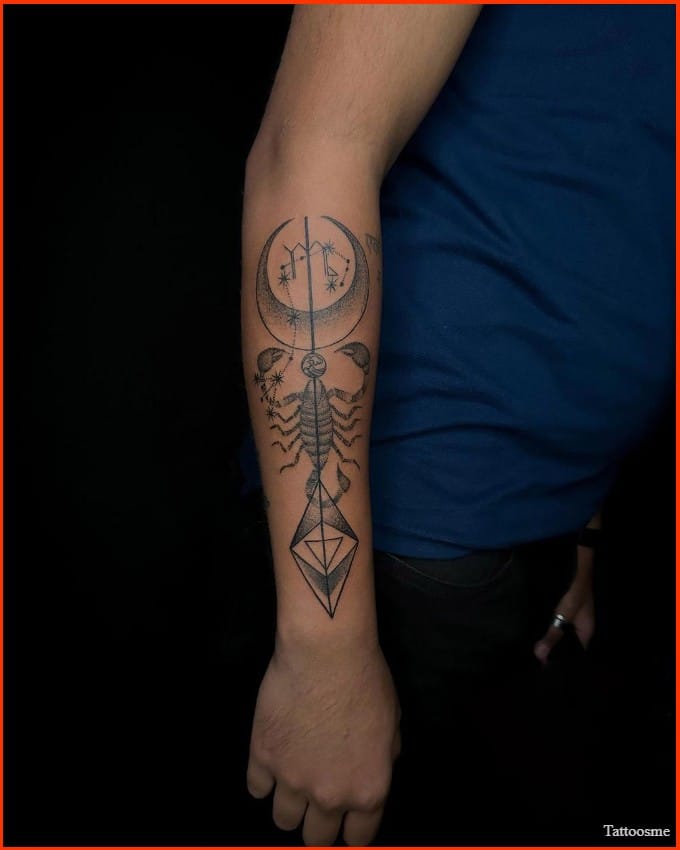 ---
3. Armband Scorpio tattoos design on forearm ideas with constellation stars for boys.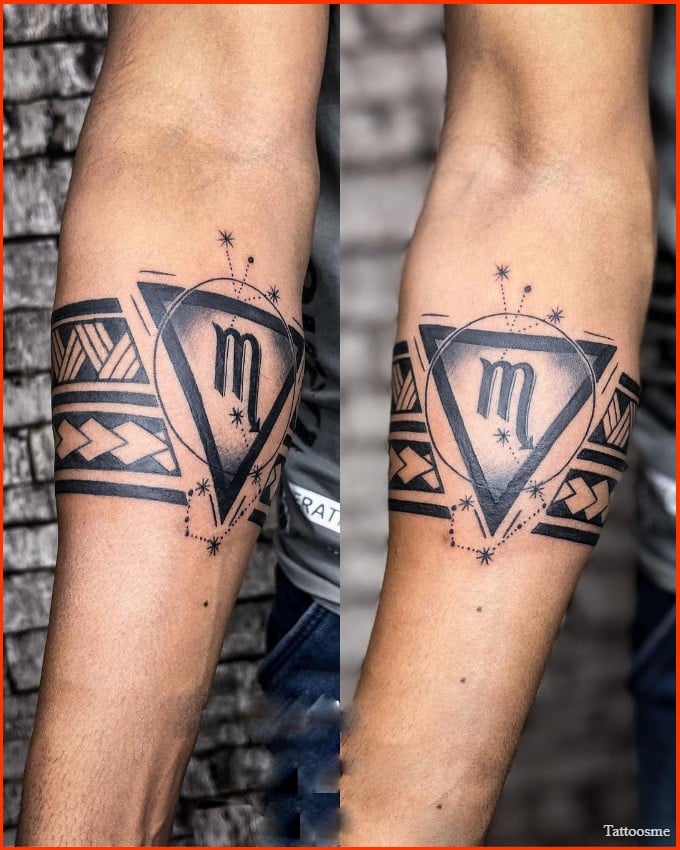 ---
4. Scorpion zodiac tattoo designs on the inner bicep with rose flower ideas for boys and girls.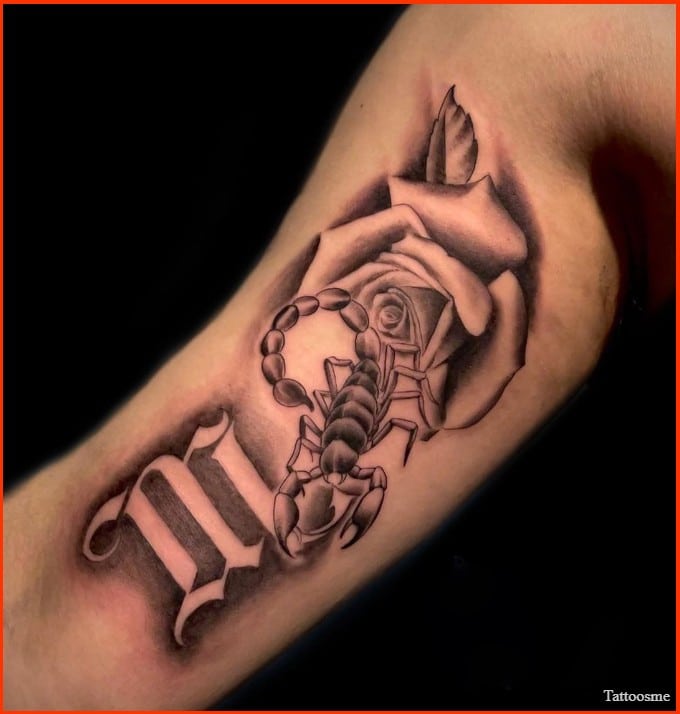 ---
5. Scorpio tattoos symbol with a flower on the wrist for women.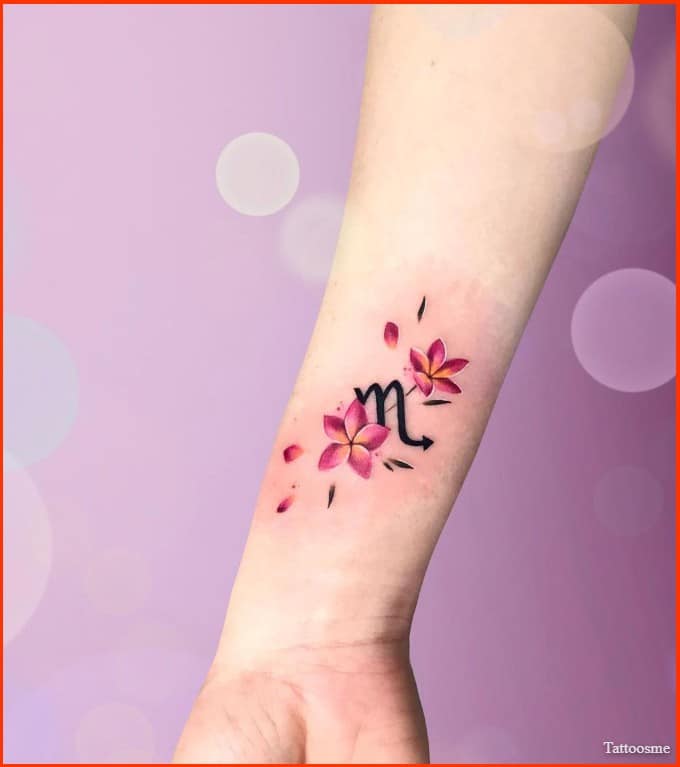 ---
6. Beautiful scorpion tattoos designed on arm ideas for women.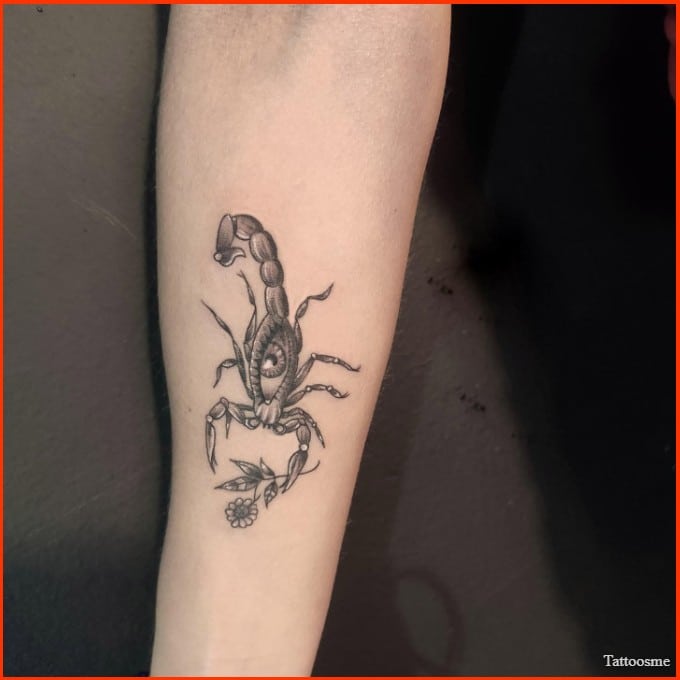 ---
7. Amazing 3d scorpion tattoos design on shoulder ideas for boys.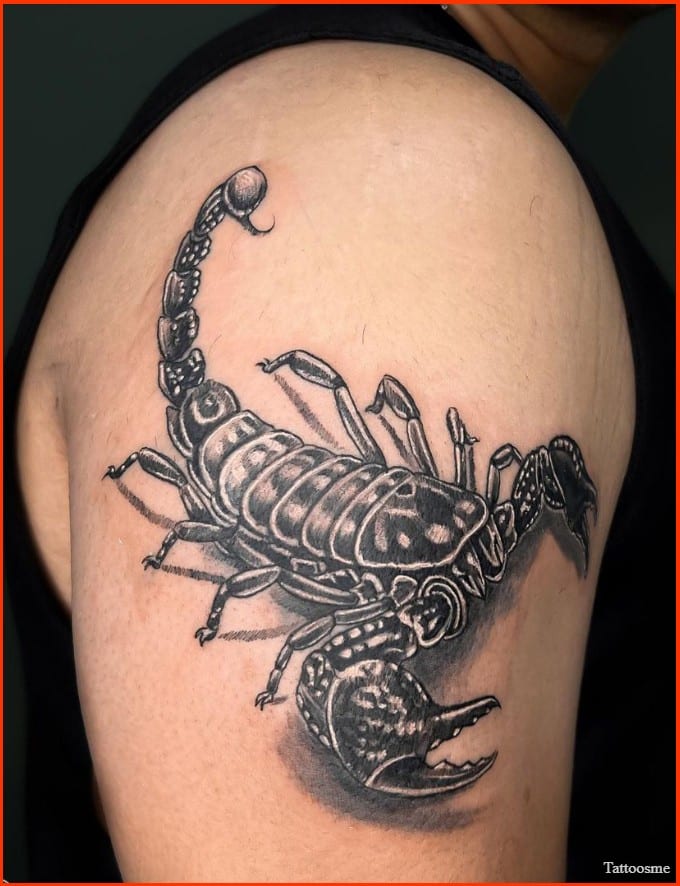 ---
8. Scorpio tattoos symbol on upper thigh ideas.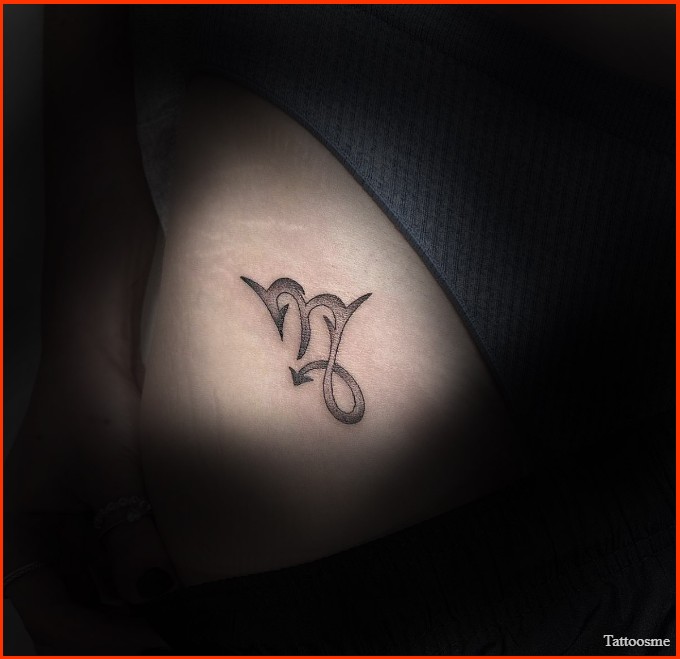 ---
9. Sketch-style scorpion zodiac symbol tattoos designed on the stomach for females.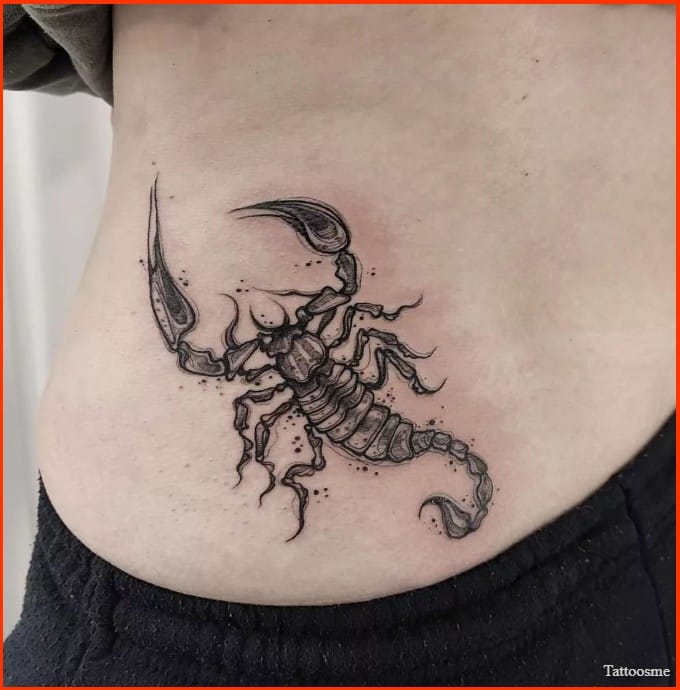 ---
10. 3d scorpion tattoo designs on the thigh for boys.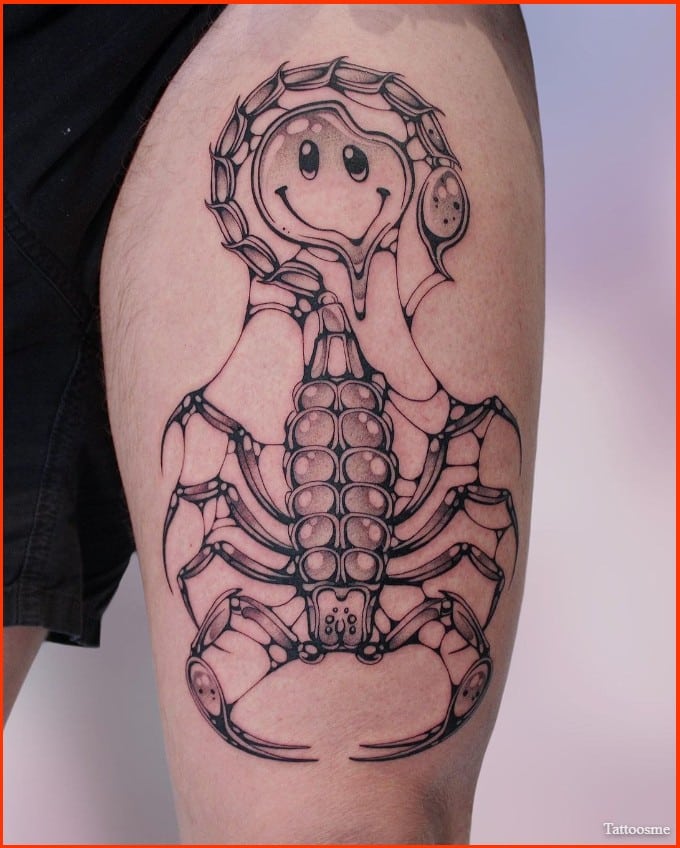 ---
11. Tribal scorpion tattoo design and ideas.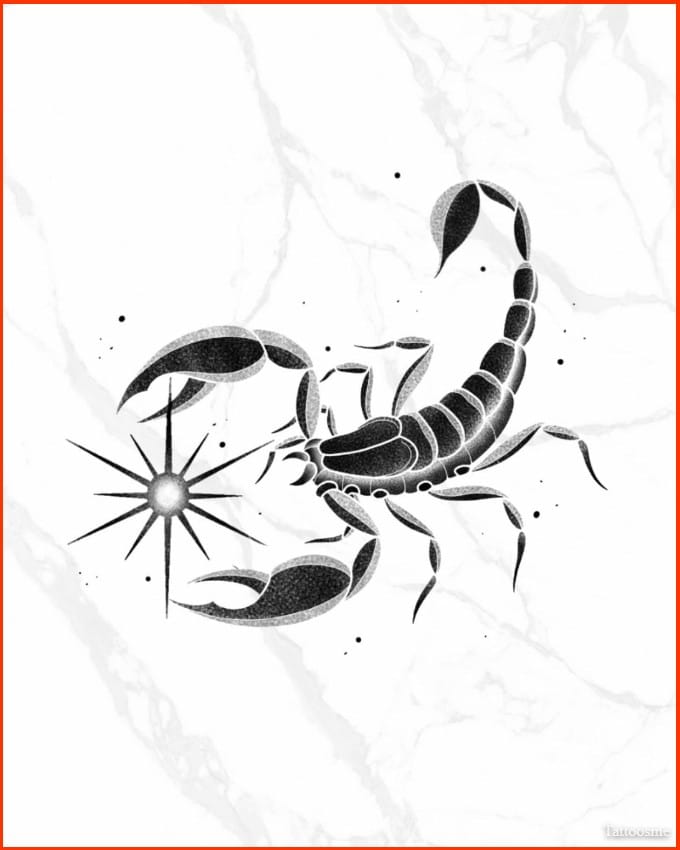 ---
12. Small and simple scorpion tattoos design on arm ideas for men and women.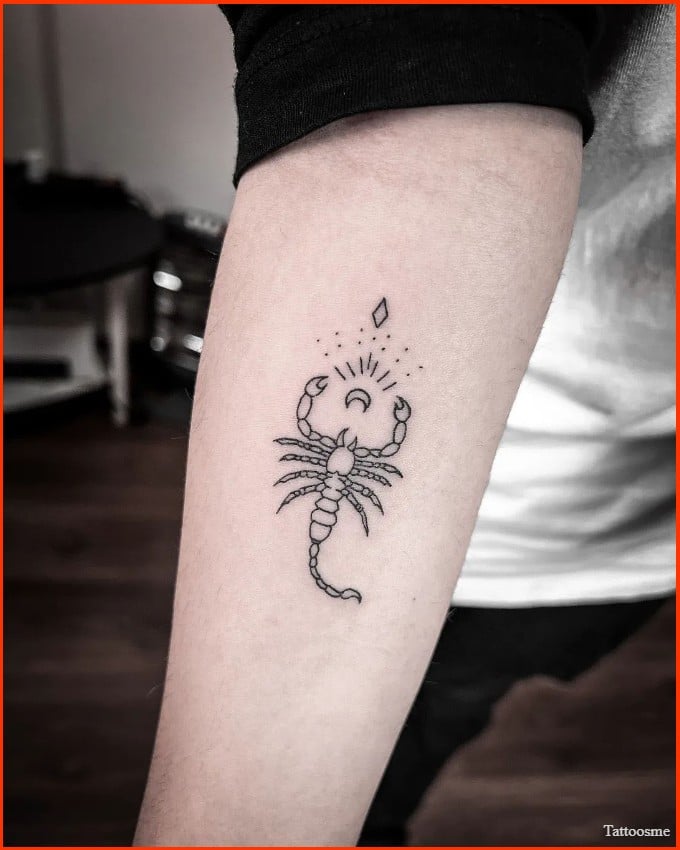 ---
13. Geometric Scorpio astrology sign tattoo designs behind the bicep.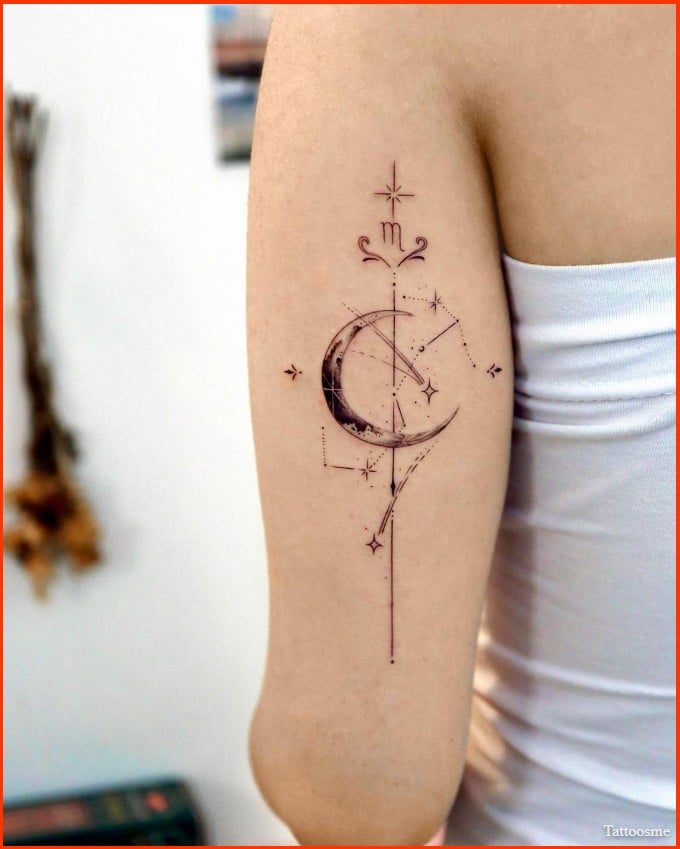 ---
14. Awesome tribal Scorpio tattoos with a zodiac symbol on the behind neck.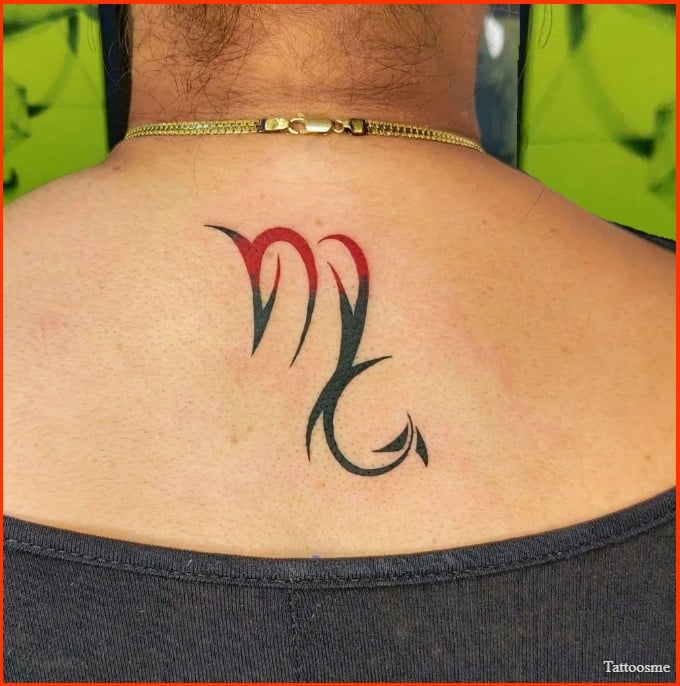 ---
15. Scorpion constellation zodiac sign tattoo designs on forearm ideas for girls.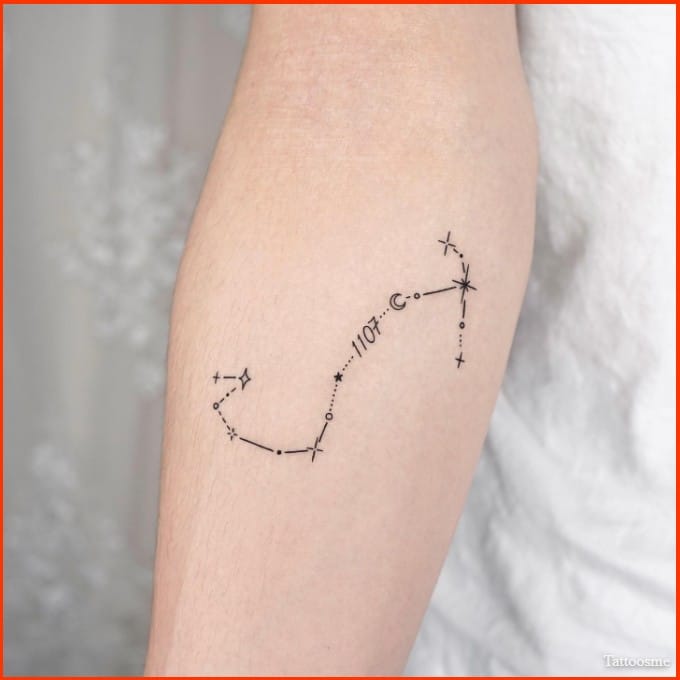 ---
16. Realistic scorpion zodiac tattoo design on the thigh ideas for boys.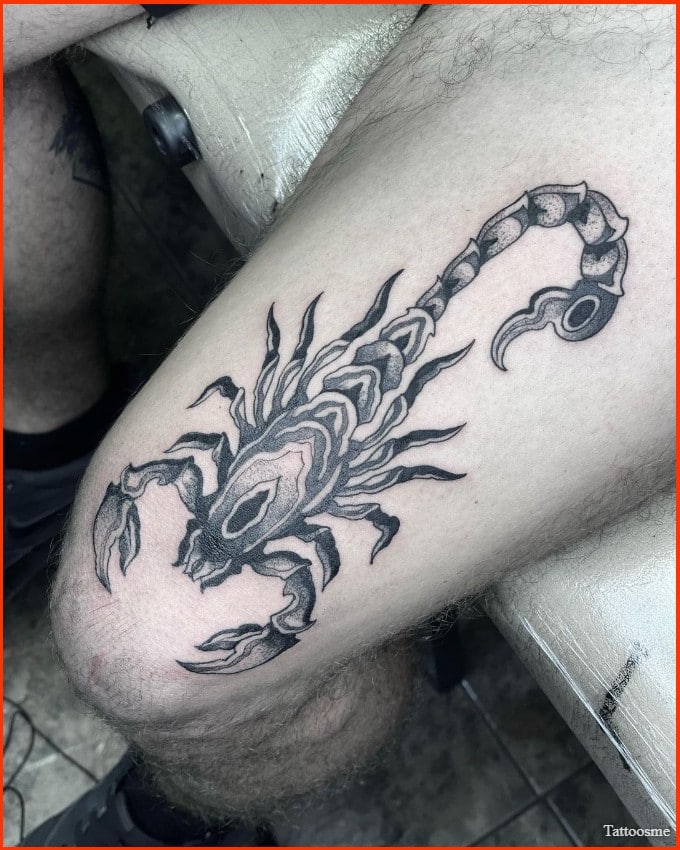 ---
17. Amazing scorpion zodiac symbol tattoo design on finger ideas for girls.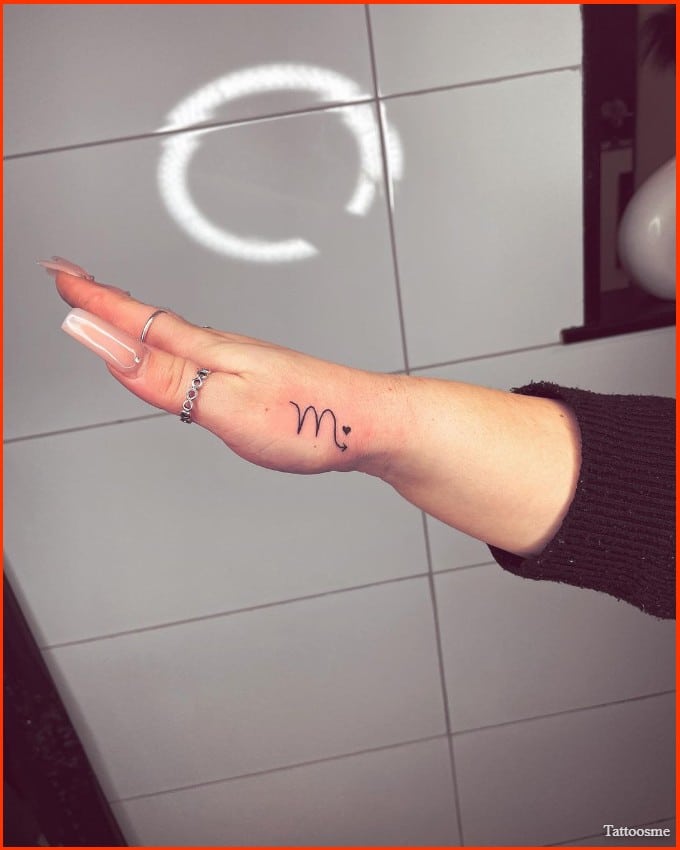 ---
18. Dark black scorpion zodiac sign tattoos.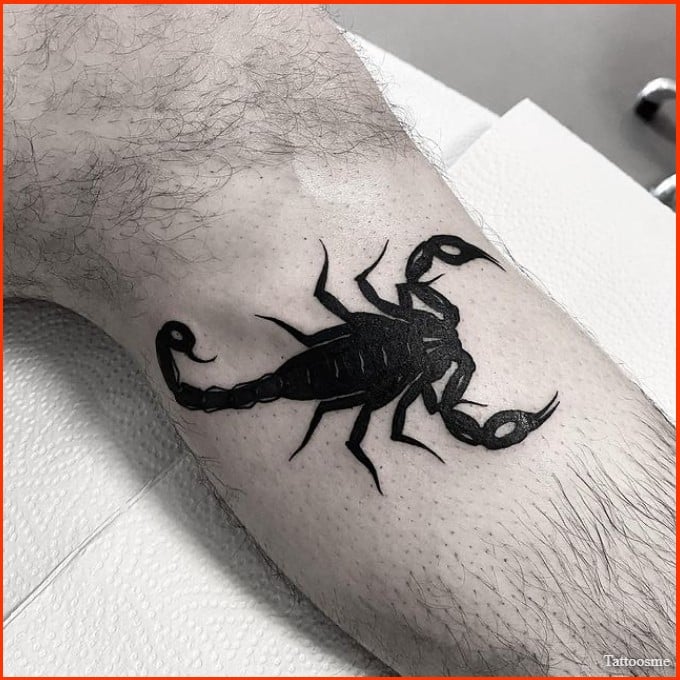 ---
19. Scorpio tattoos star sign tattoo design on inner elbow ideas for men and women.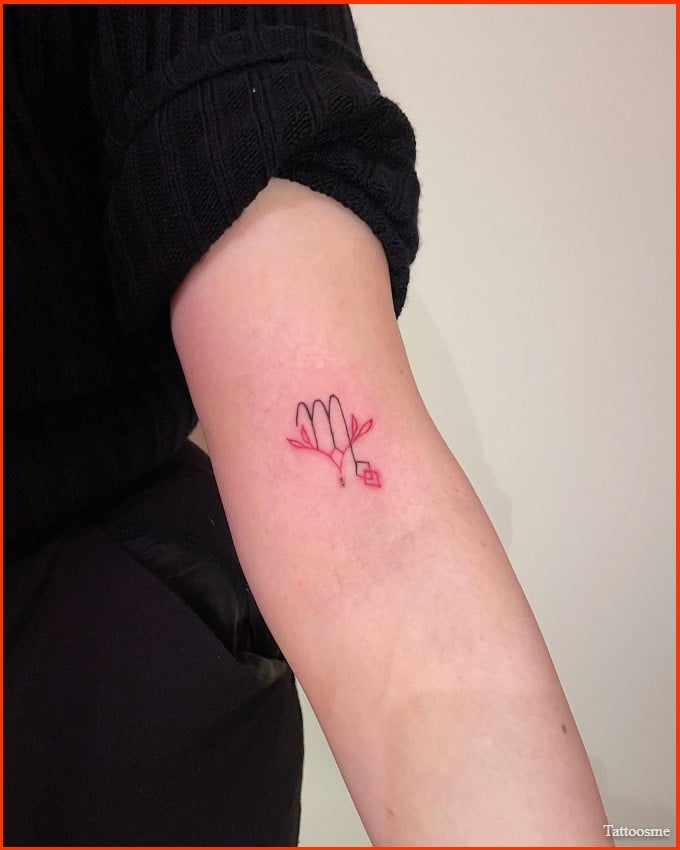 ---
20. Girly scorpion constellation tattoos design on the side rib cage ideas for girls.
---
21. Scorpion zodiac tattoos on forearm ideas for boys and girls.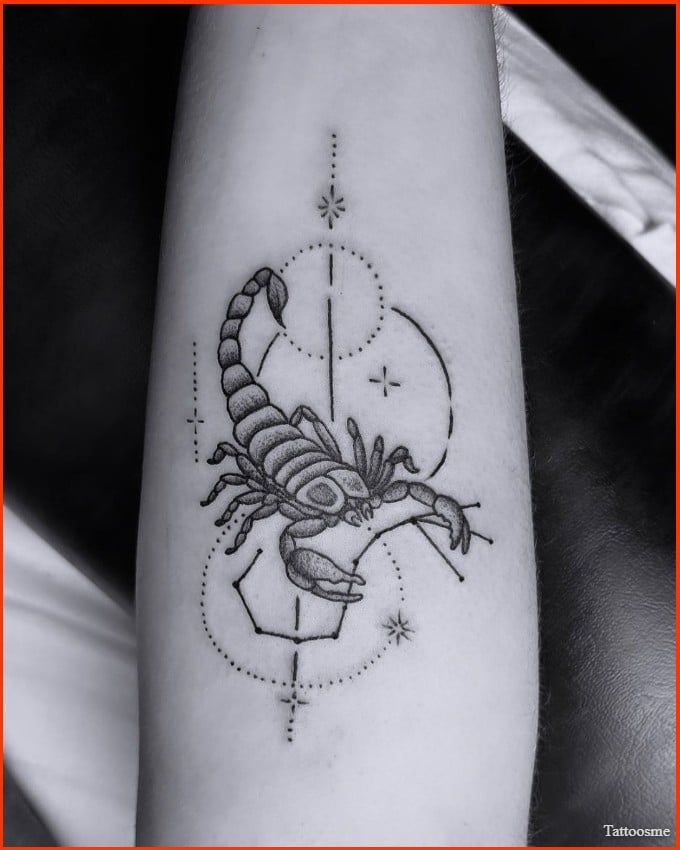 ---
22. Scorpio tattoos with small flower zodiac signs are designed on the arm for guys.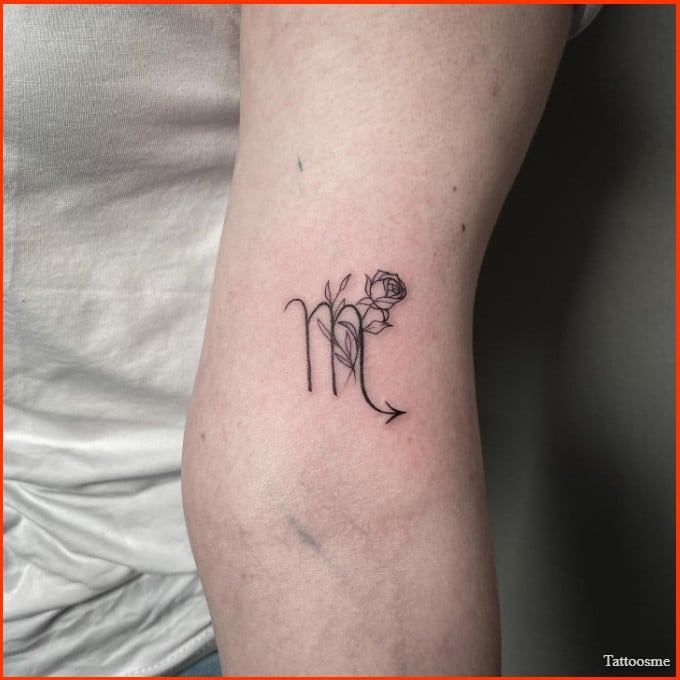 ---
23. Beautiful Scorpion tattoos design on arm ideas for boys and girls.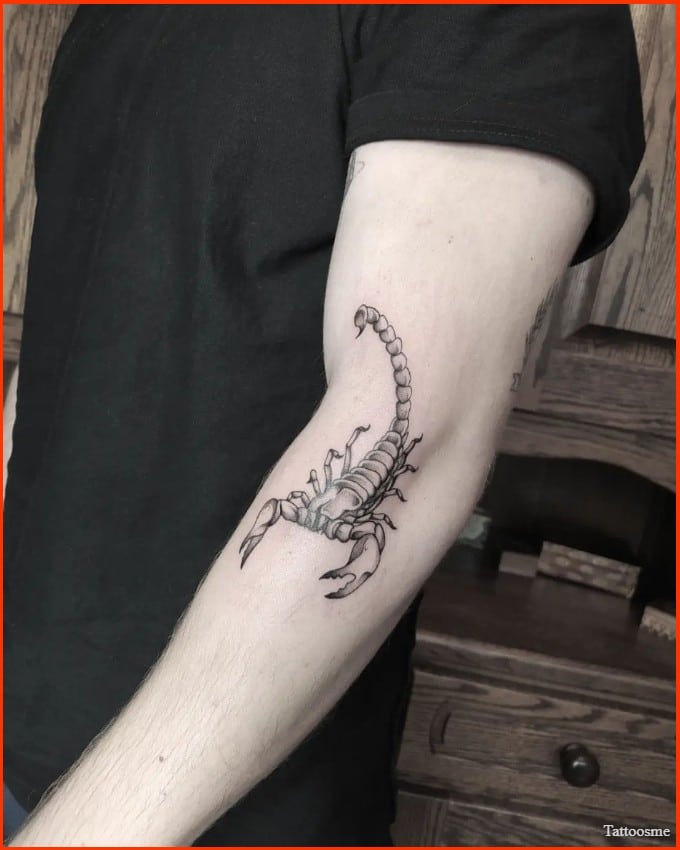 ---
24. Temporary tribal scorpion tattoos design for girls.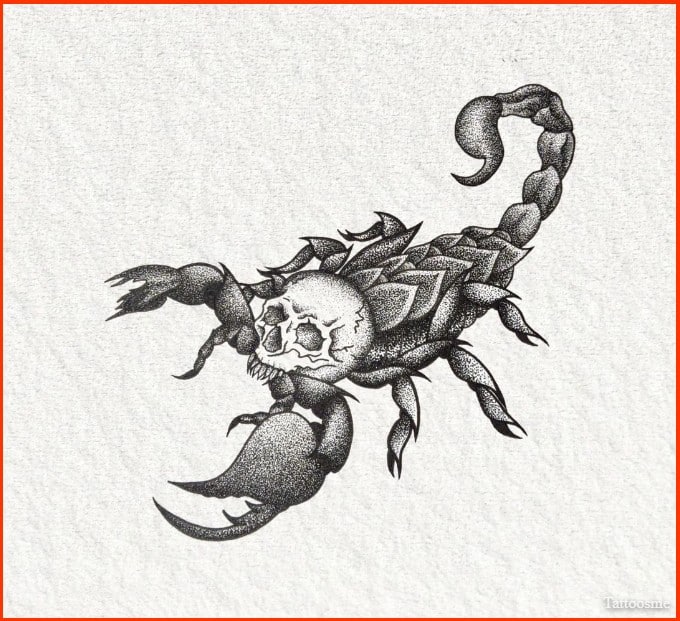 ---
25. A beautiful 3d Scorpio zodiac sign tattoo design idea for men and women which looks under the skin.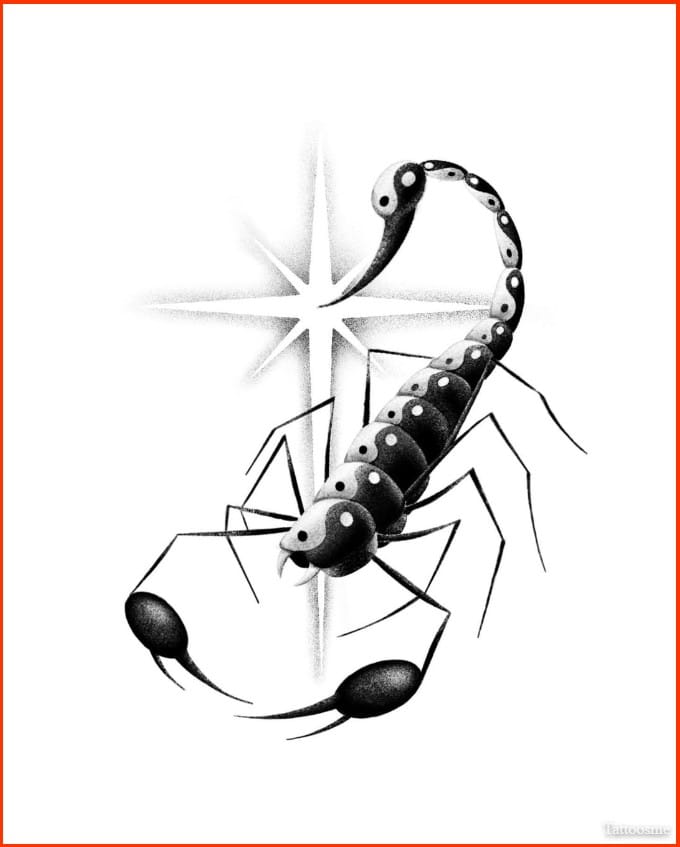 ---
26. Scorpio and crab(cancer) zodiac sign tattoo Designs for Men On Bicep.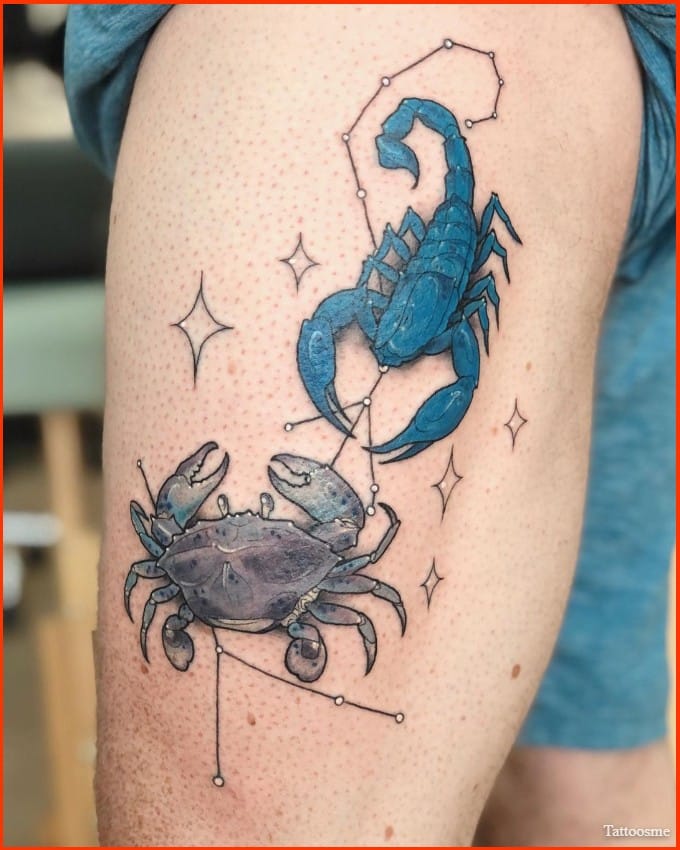 ---
27. Black color design of Scorpio tattoos on the wrist.
---
28. Geometric scorpio tattoos for men on the arm.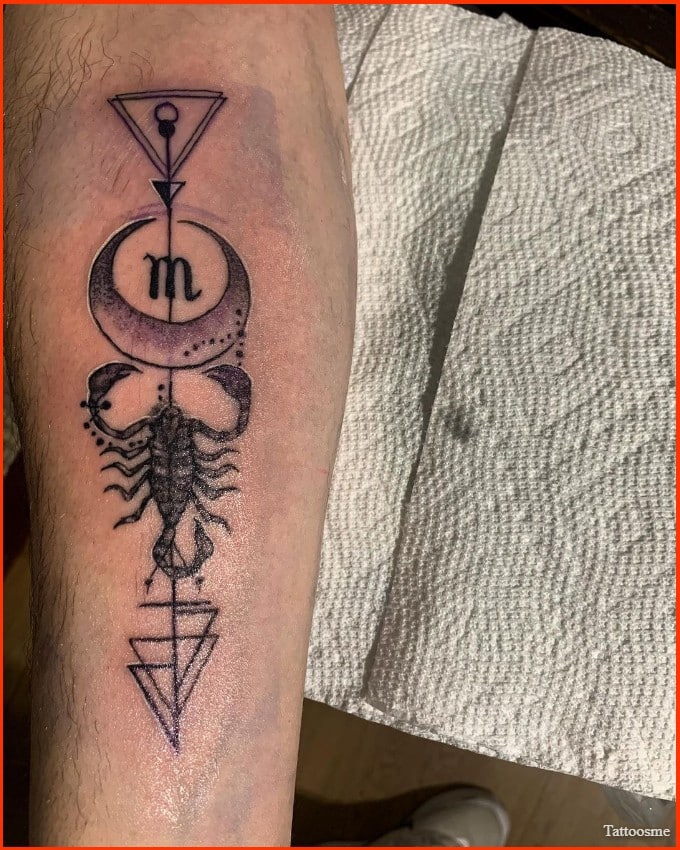 ---
29. Tribal Scorpio astrology tattoo design on feet for women.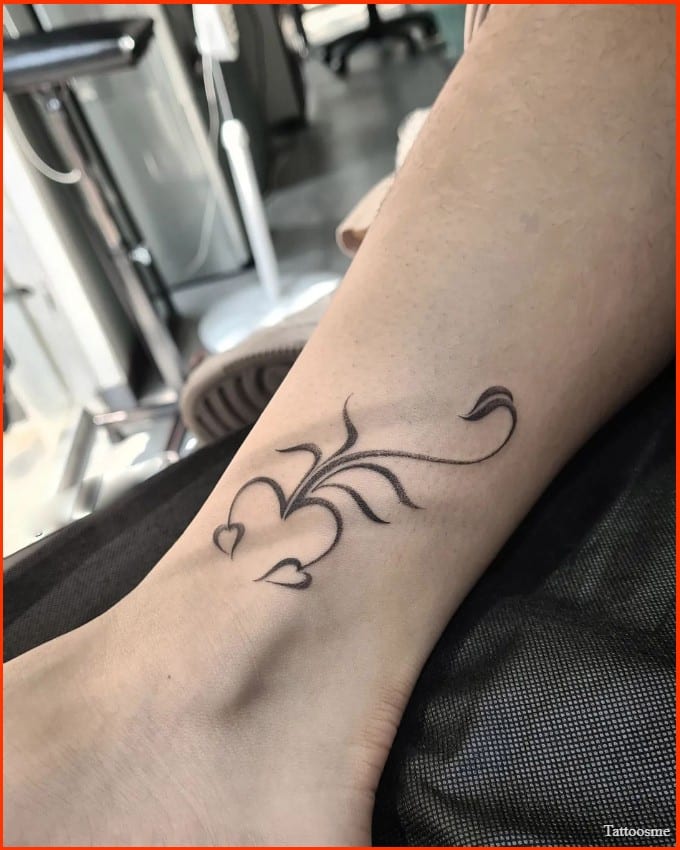 ---
30. Scorpio tattoos for the thigh.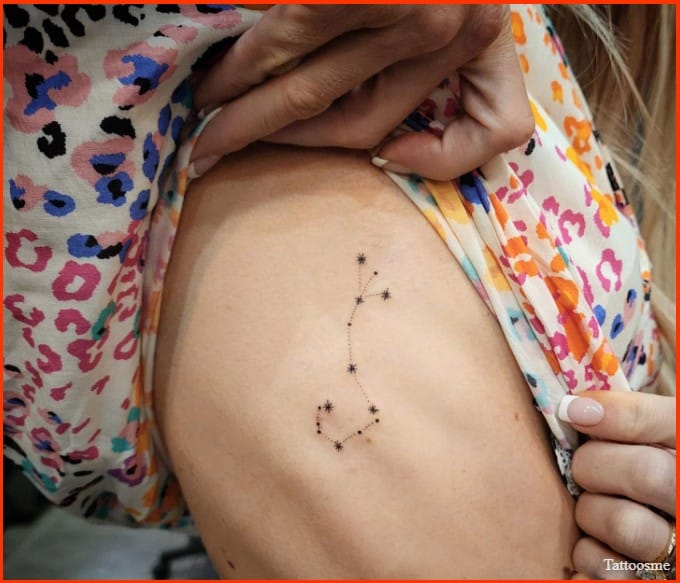 ---
31. Scorpio tattoos for those who want simple Scorpio and Leo tattoos together.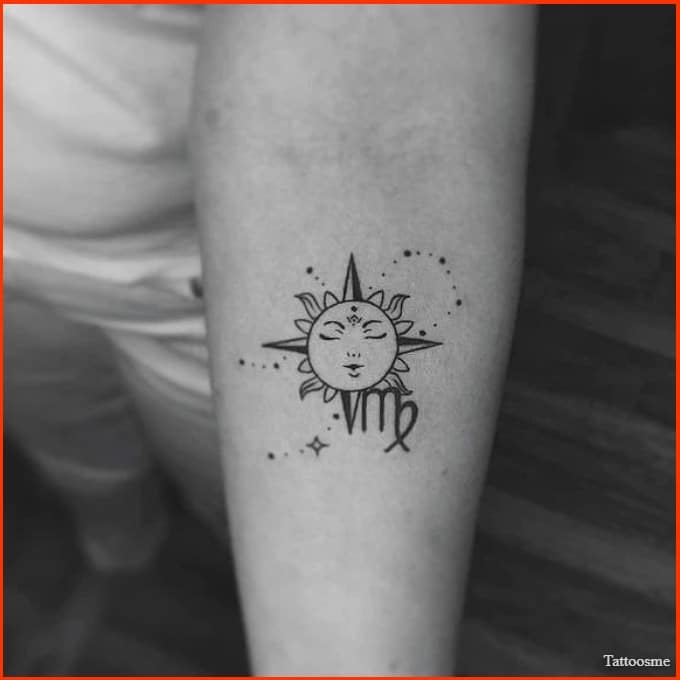 ---
32. Scorpio tattoos with flying dragonfly tattoo design for forearms for girls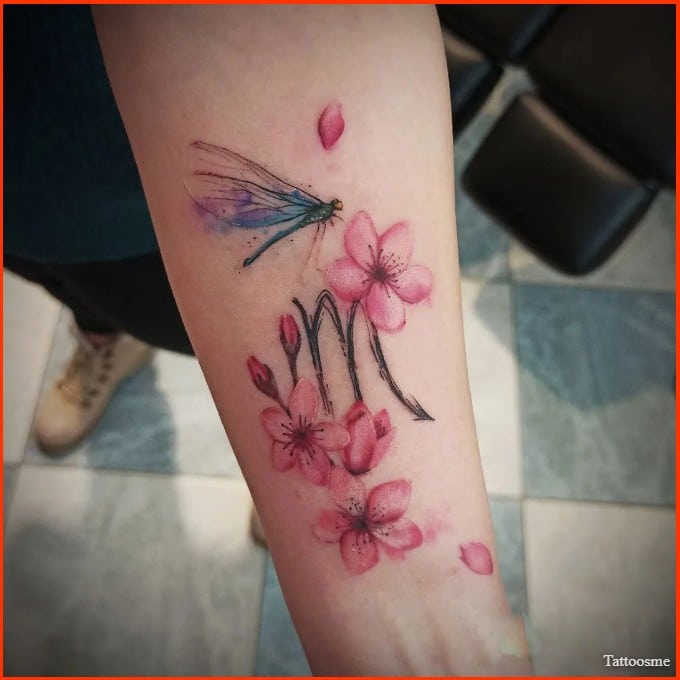 ---
33. 3d Scorpio tattoos tattoo design.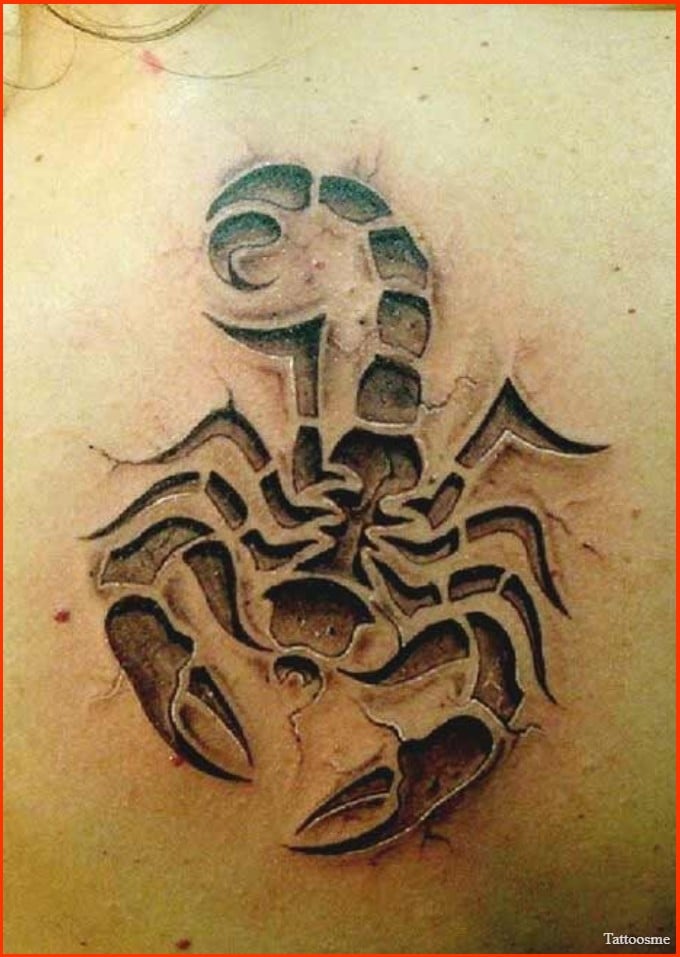 ---
34. Scorpio symbol tattoo on feet.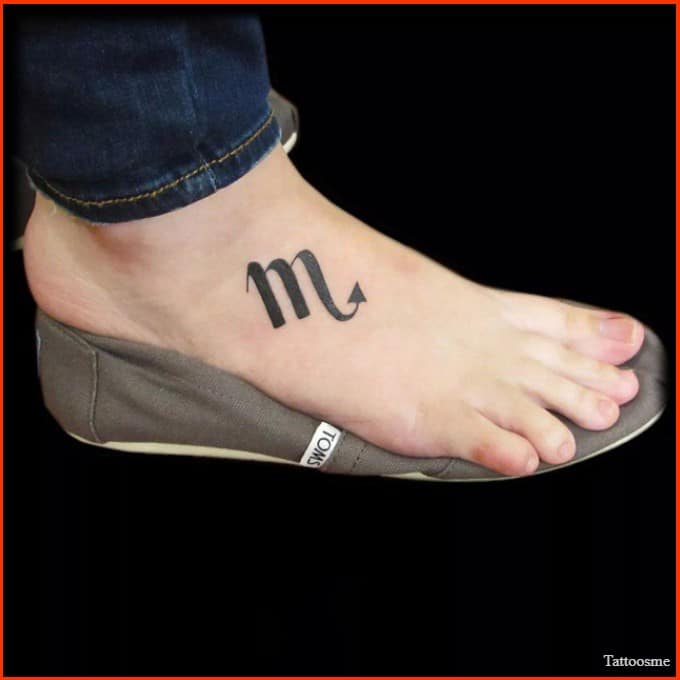 ---
35. Small scorpion tattoo design on the sleeve.
---
36. Tribal Scorpion tattoo design on shoulder.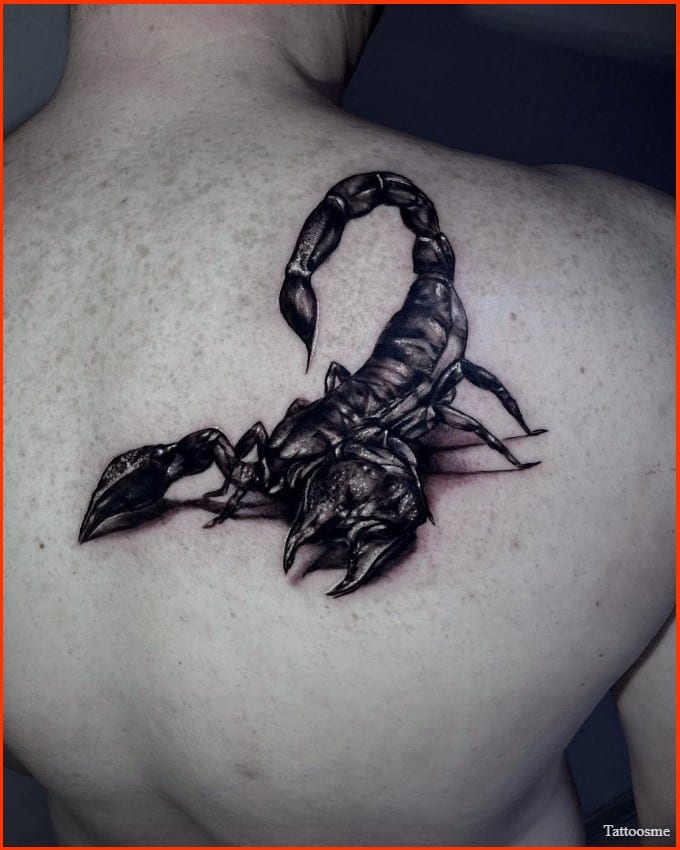 ---
37. A beautiful mixed tattoo design with a scorpion and its horoscope symbol together.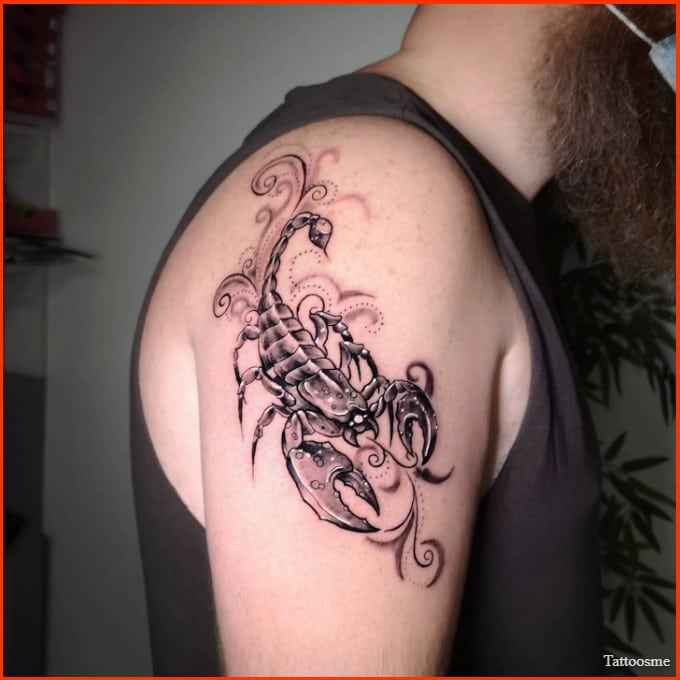 ---
38. A very beautiful Scorpio tattoo symbol design on the thigh.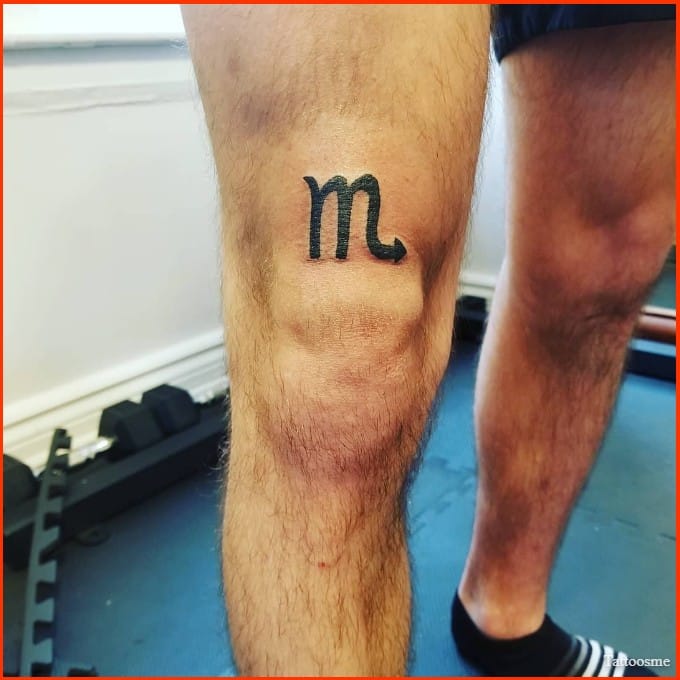 ---
39. Beautiful watercolor Scorpio zodiac sign tattoo design on the upper half sleeve.
---
40. A realistic scorpion tattoo design for men.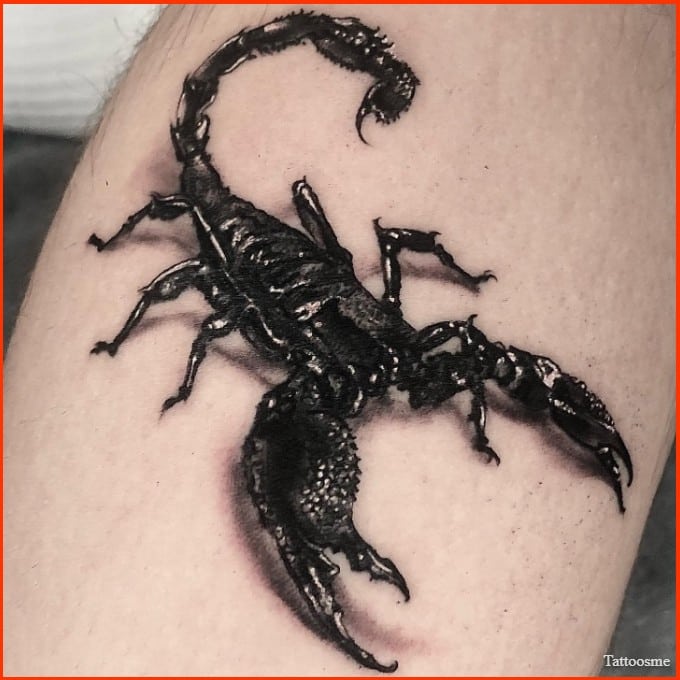 ---
41. A large-size scorpion tattoo design on the forearm to represent your zodiac sign.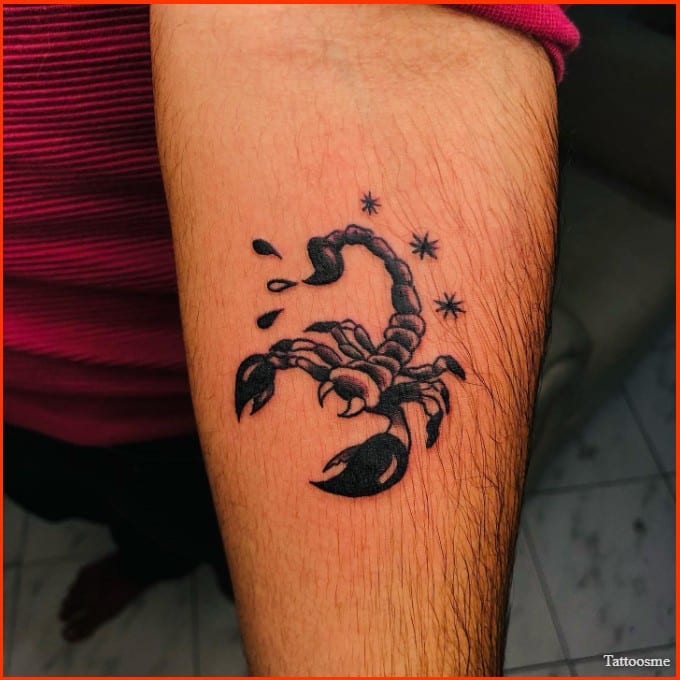 ---
42. Scorpio astrology sign tattoo for the inner bicep.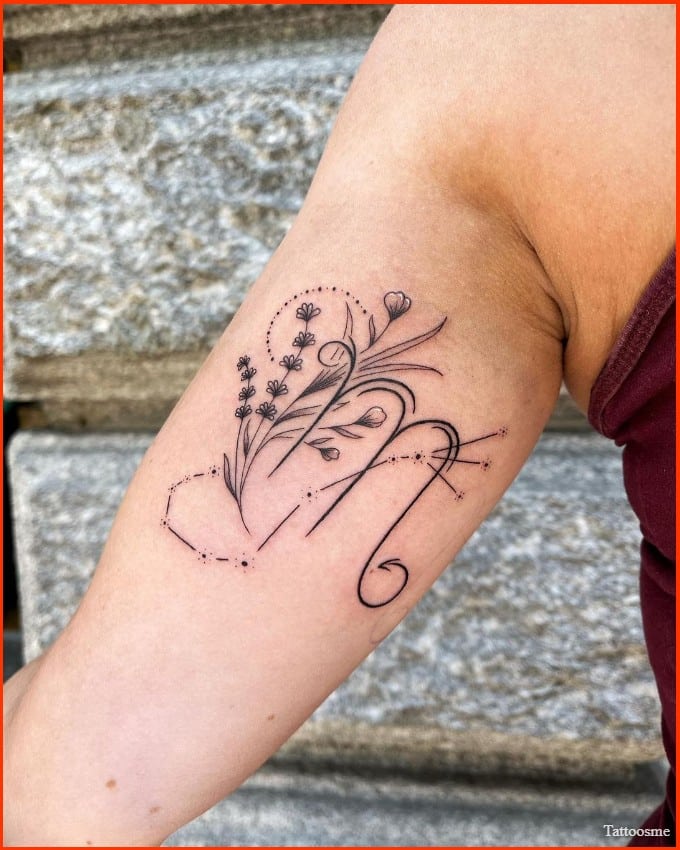 ---
43. A geometric style scorpion tattoo design on the forearm is the best way to represent your zodiac sign.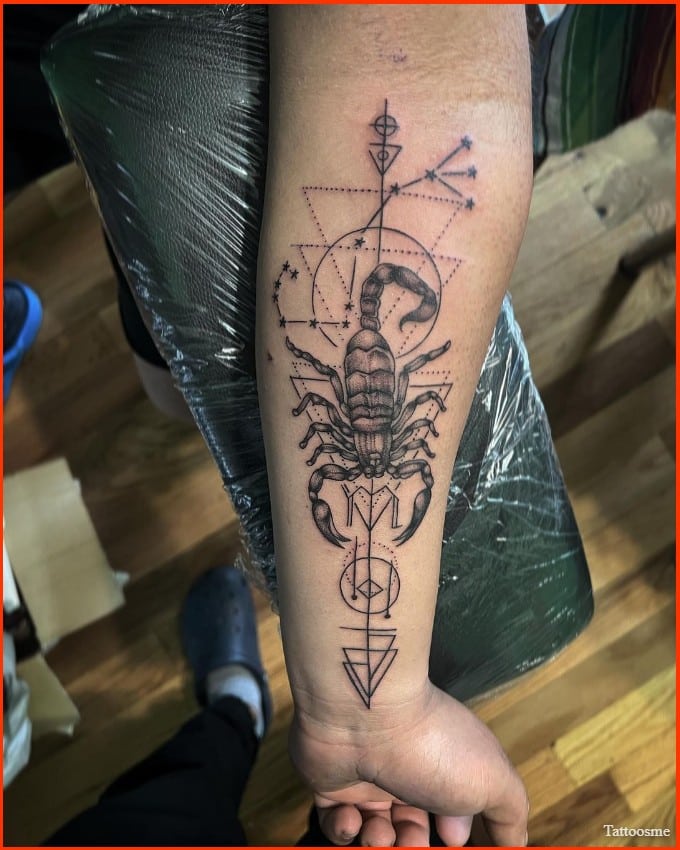 ---
44. Small Scorpio tattoos design on the forearms.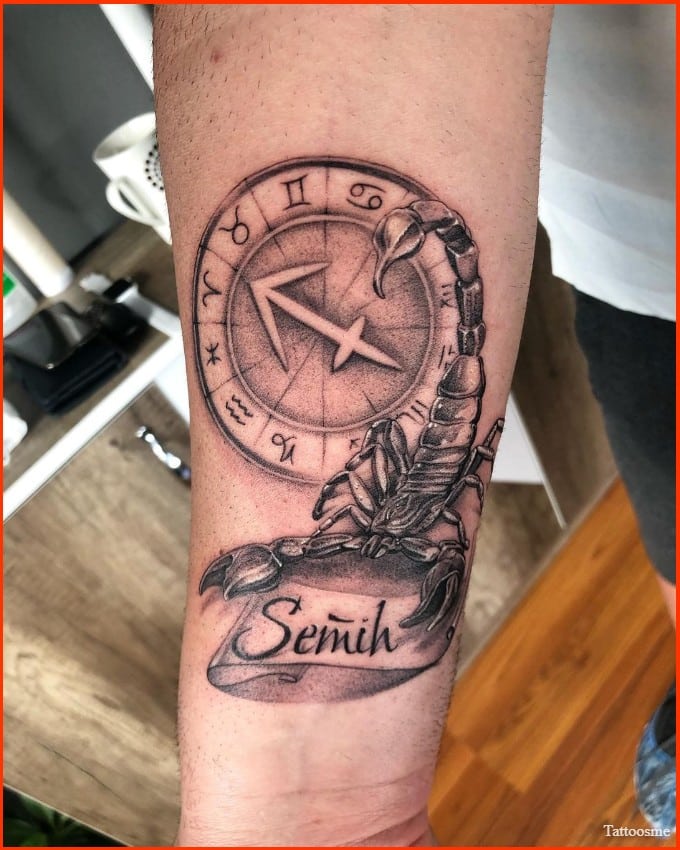 ---
45. An amazing 3d style Scorpion tattoo design on the back for women.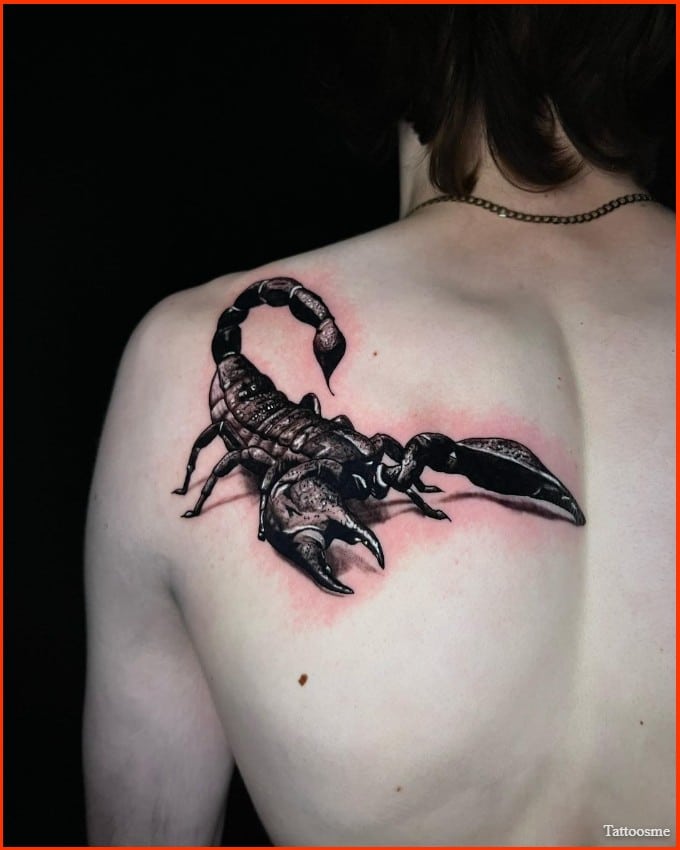 ---
46. A tiny scorpion tattoo Scorpio zodiac tattoo design on the finger.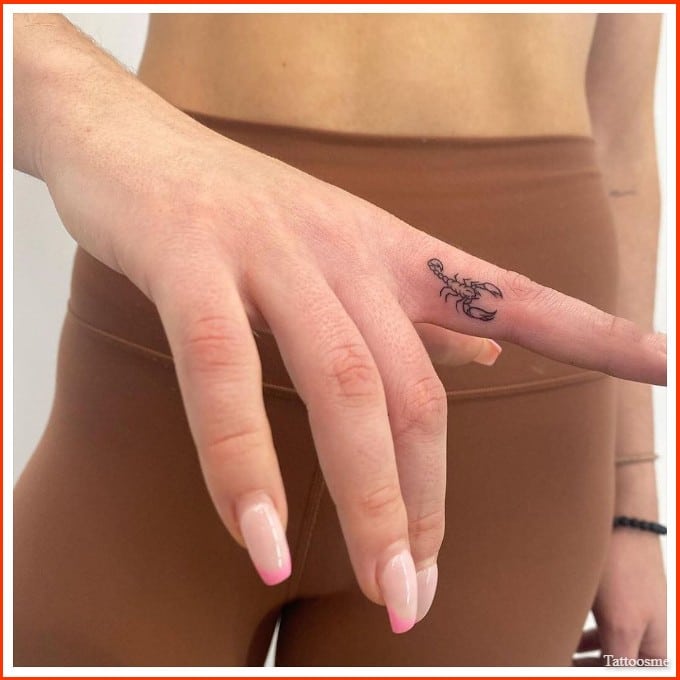 ---
47. Scorpio zodiac constellation with moon tattoo designs on the arm.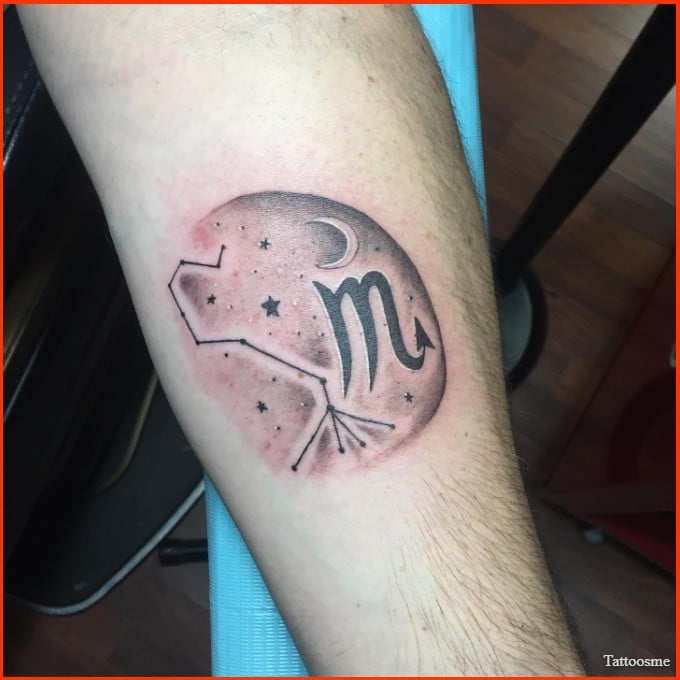 ---
48. A Scorpio zodiac symbol for women.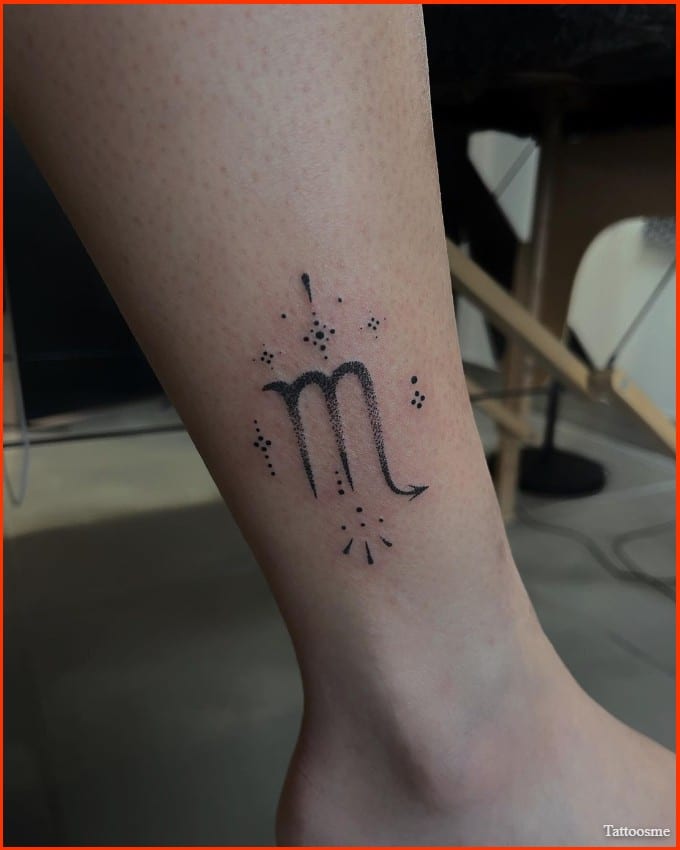 ---
49. A scorpion goddess tattoo design on the chest for men, which is looking really amazing.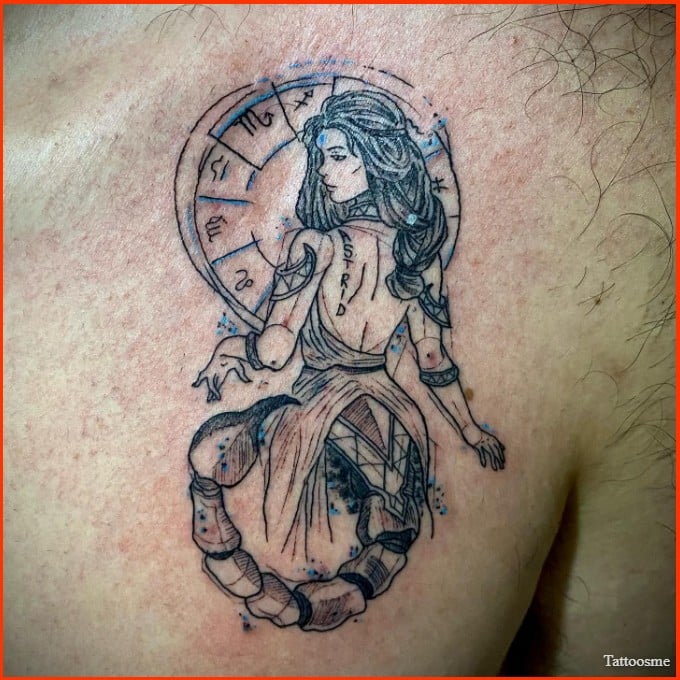 ---
50. Scorpion tattoos behind the neck.
---
51. Beautiful scorpion tattoo design on the chest for women.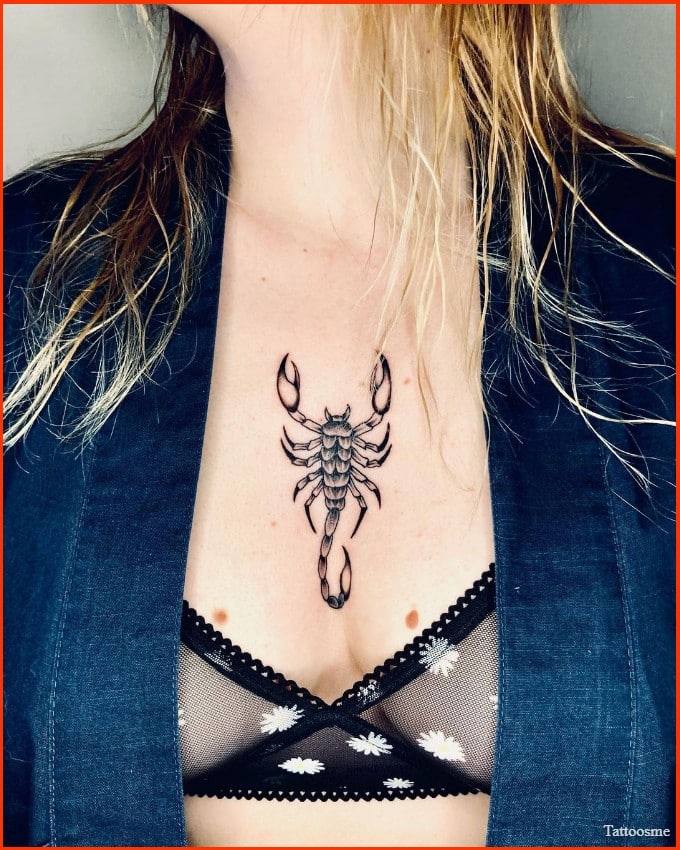 ---
52. Scorpion zodiac symbol with the date of birth on the wrist.
---
53. Scorpio zodiac astrology sign for girls on the calf.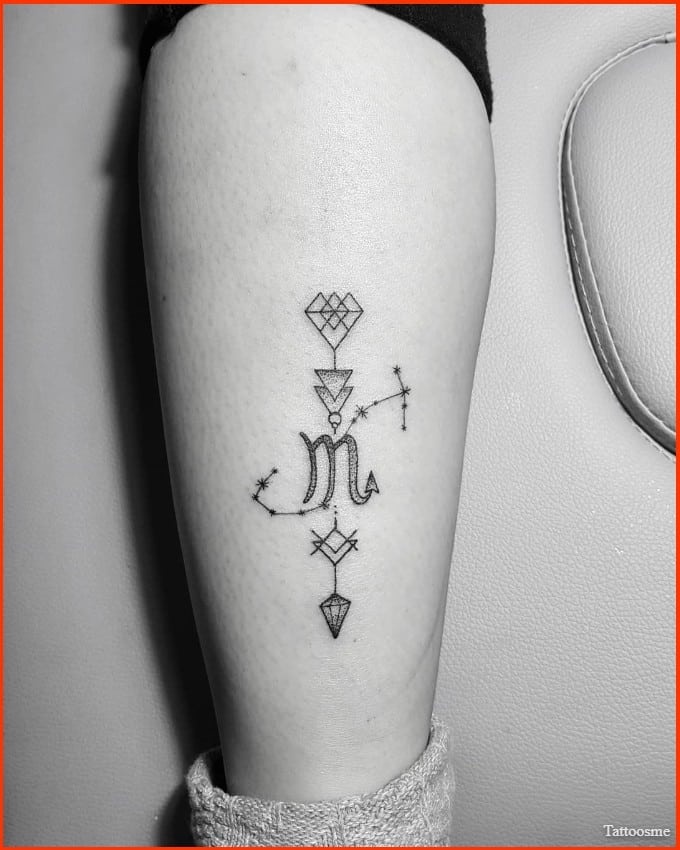 ---
54.  Realistic Scorpio tattoo behind the ear for men.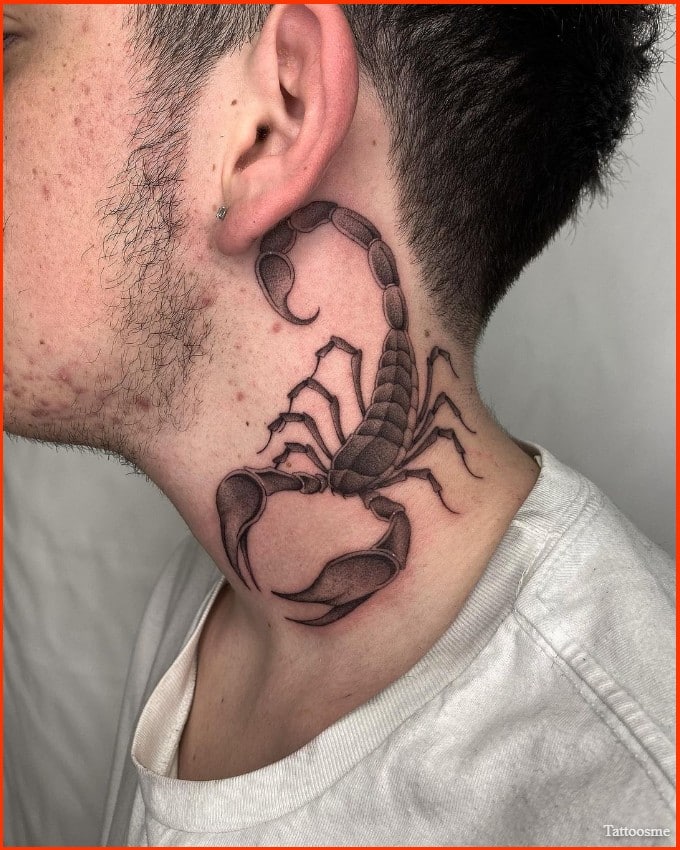 ---
55. Small Scorpio zodiac sign behind the ear.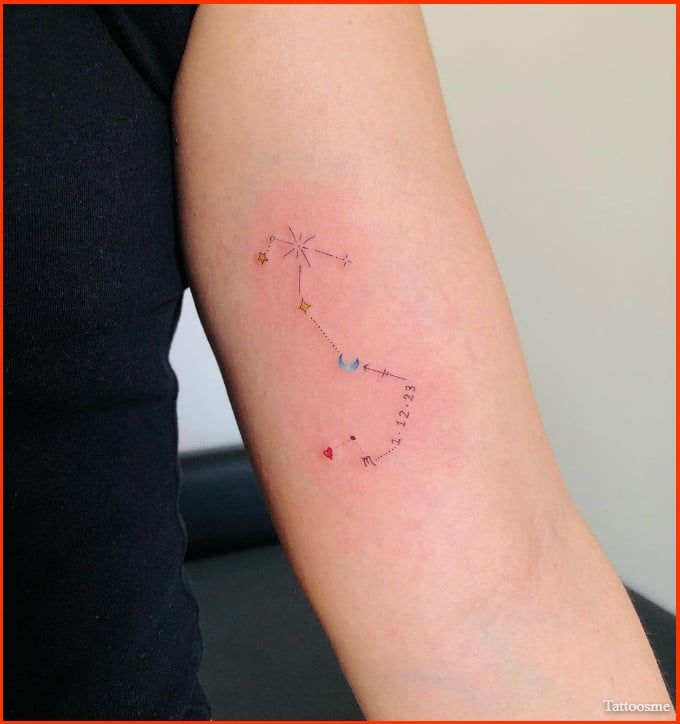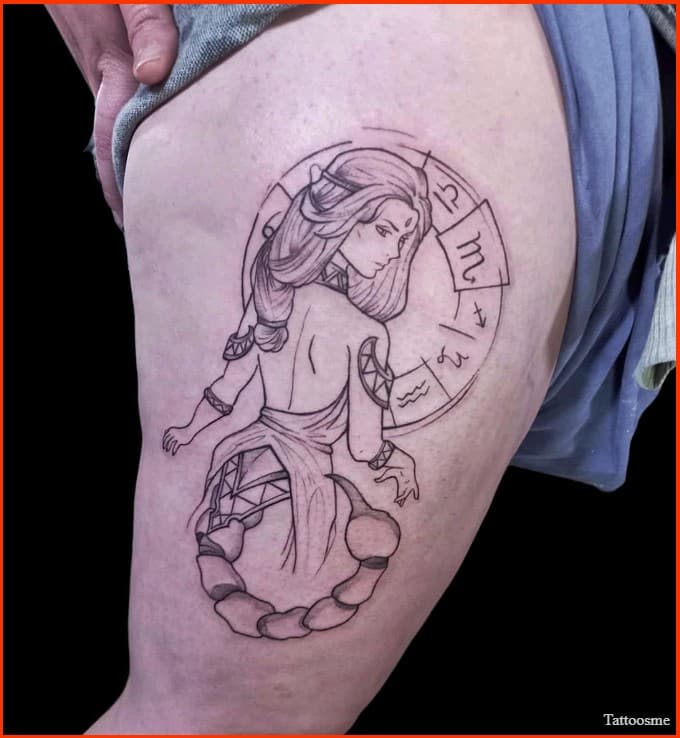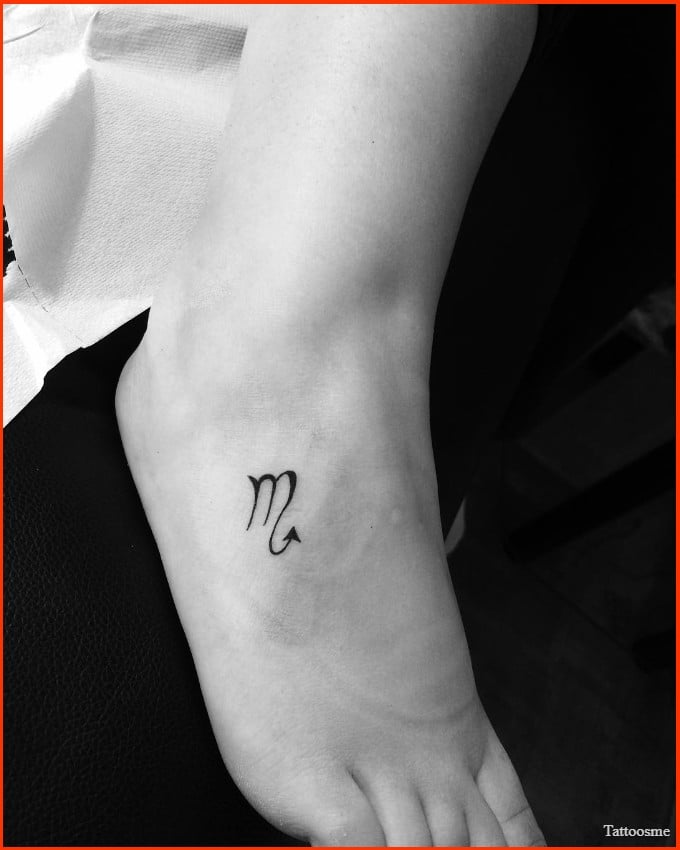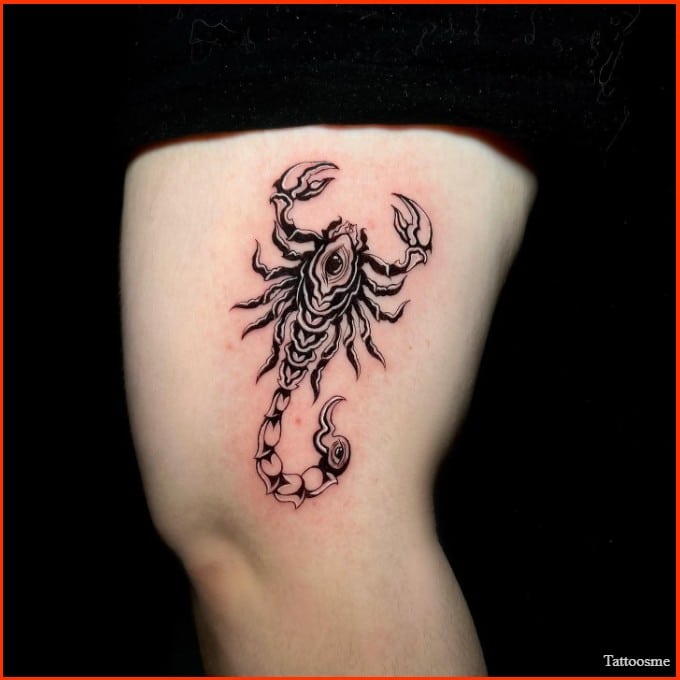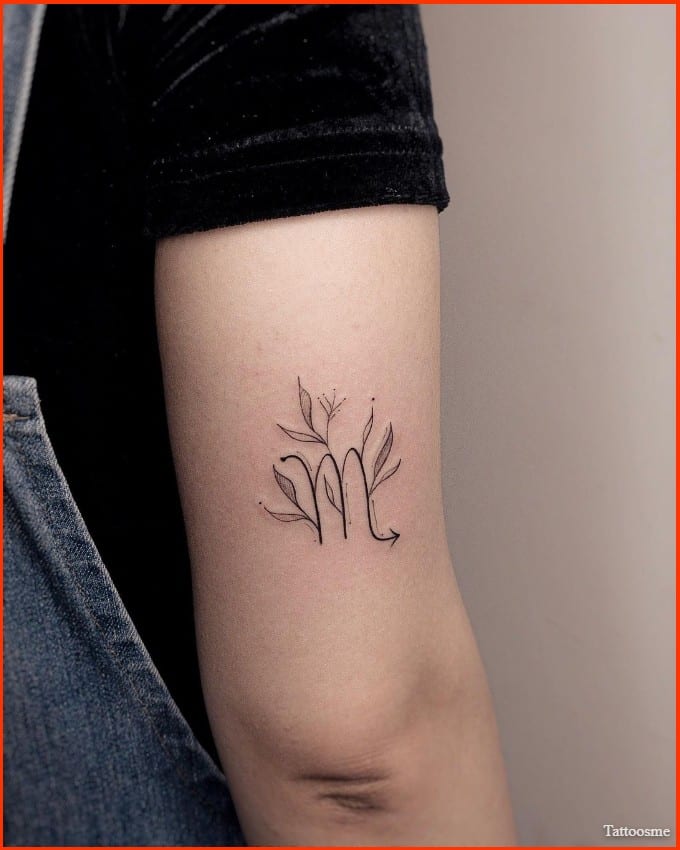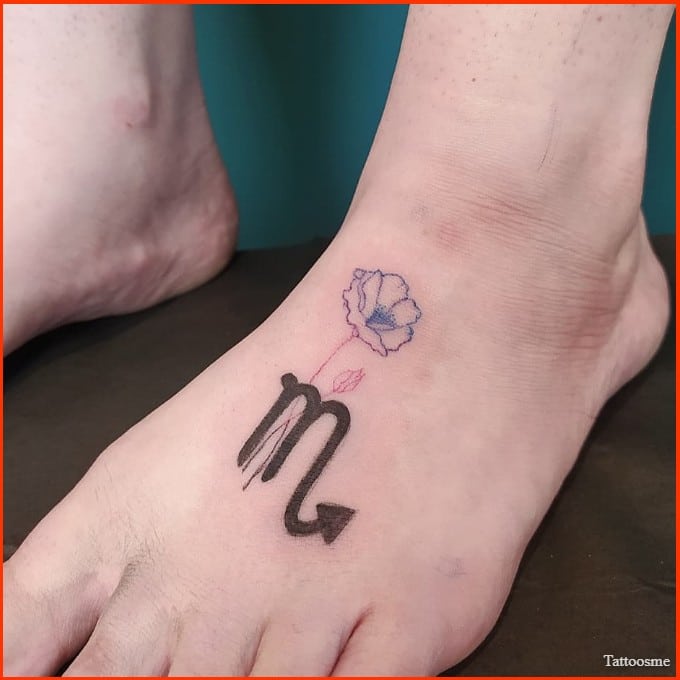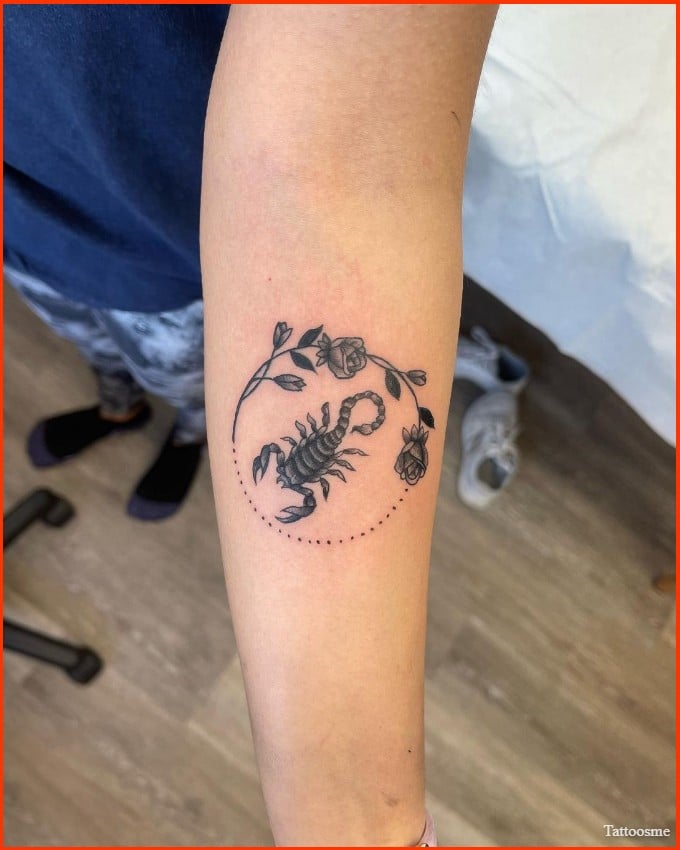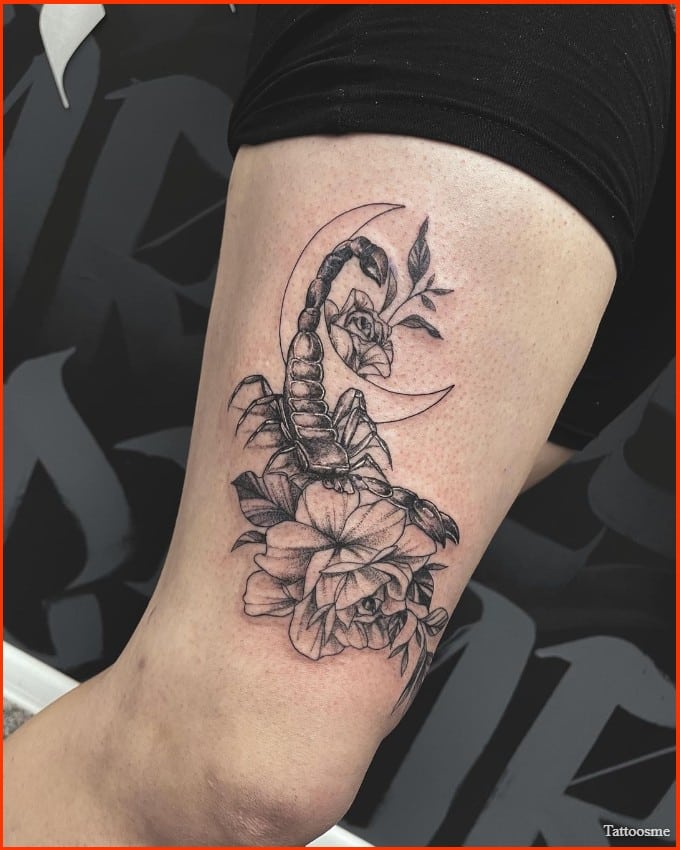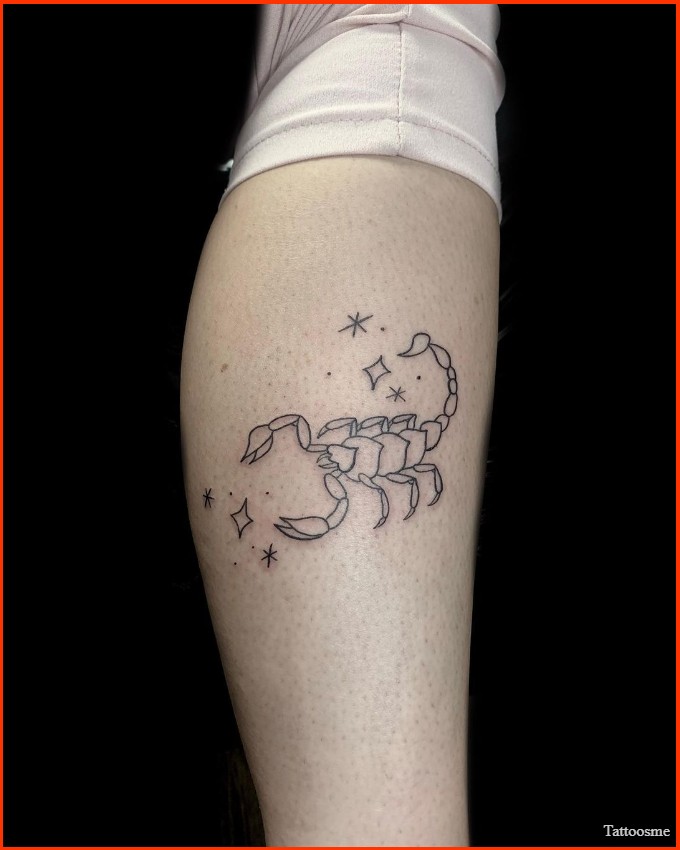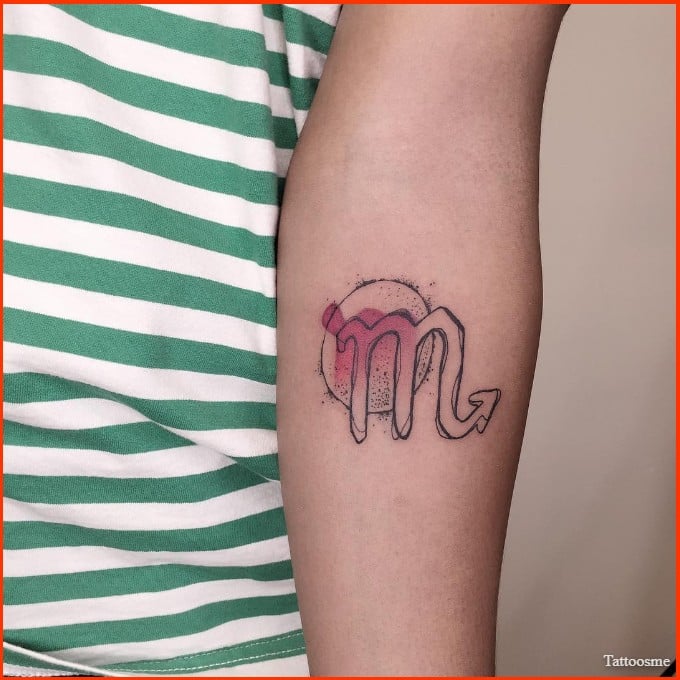 ---
Img src: Pinterest
We hope you like these designs and get your tattoo ideas for the zodiac sign. Please take a look at our other designs and share them with your friends.