Incredible Foot Tattoos And Ideas For Men And Women's Body Art.
Introduction: One of the famous places for getting a tattoo design is the foot. The foot is a highly exposed area. Foot tattoos have been a trend among women. Foot tattoo designs can be from different angles, sizes, and designs that look creative. Foot tattoos become very popular among both males and females. But seen in most cases that girls are crazy about tattoos on foot. Many designs like floral designs, birds, anchors, roses, some beautiful quote foot tattoos, etc many more designs can be done.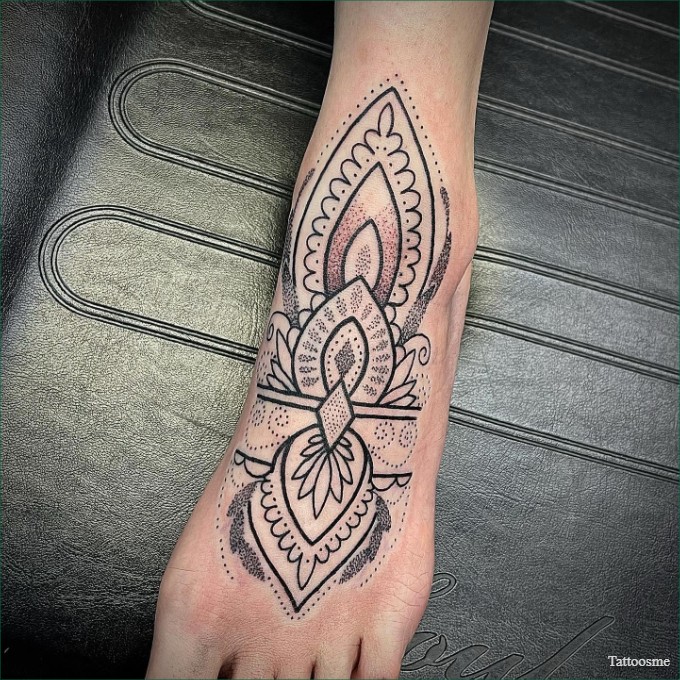 History of Foot Tattoos
Many celebrities like Rihanna, Kate Hudson, Megan Fox, and Jennifer Aniston also have tattoos on foot. For women, tattoo on your feet look very attractive when peaking out of a high heel shoe. A foot is a very visible part so some tattoo lover thinks that it's an excellent way to express them.
You can choose colorful tattoo designs for your foot or you can go with designs that can easily create with black ink.
Considering Pain Level for Foot Tattoos
Tattoos on foot can be more painful than in other places like the wrist or calf. Because the skin area on this body part is very less than those other parts. The needle hit rapidly on a skinny layer of skin. But if you have a very skillful tattoo artist who is perfect at tattooing, then leave all this painful stuff upon your tattoo artist. He will take care of you. But it's not like you are not going to feel any pain. You will feel the pain but very less.
Design Ideas for Foot Tattoos
There are many tattoo designs and ideas for foot tattoos. Depending upon your choice and interest. Enjoy the collection of 50 best foot tattoo designs and ideas.
Foot tattoos Gallery and ideas with meanings
1. Mandala Foot Tattoo
Mandala tattoo designs are good tattoo ideas for a female who wants stylish tattoo designs.
Mandala tattoos are known for Spirituality and mindfulness.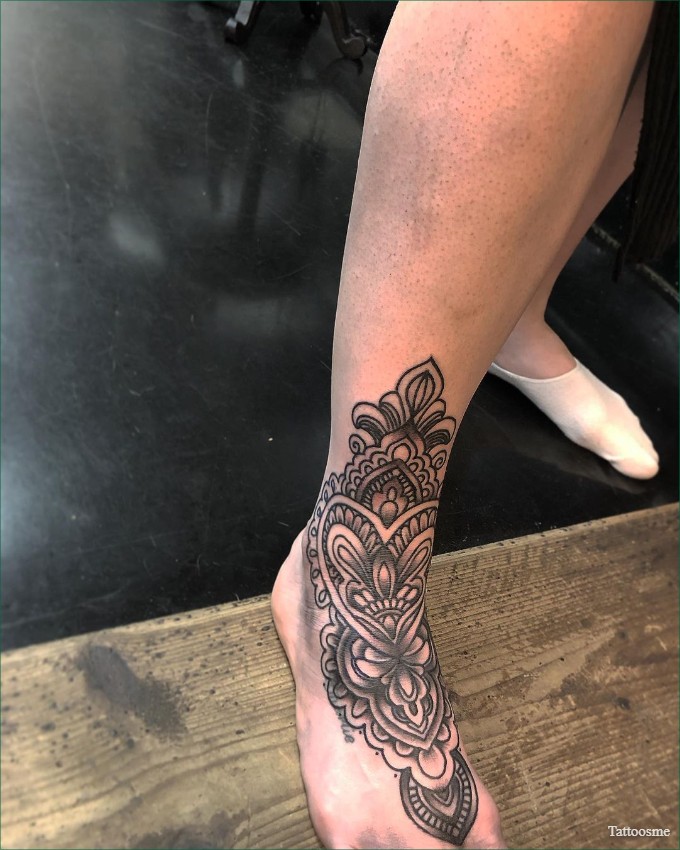 ---
2. Geometric Foot Tattoos
You can go for some geometric tattoo designs for foot tattoos. Sacred geometry in foot tattoos represents Bringing balance and harmony.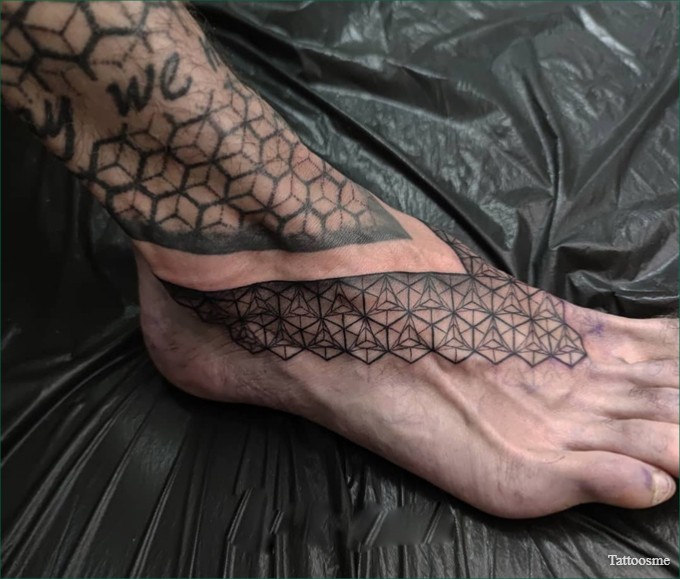 Some Best geometric style tattoo designs for foot tattoos.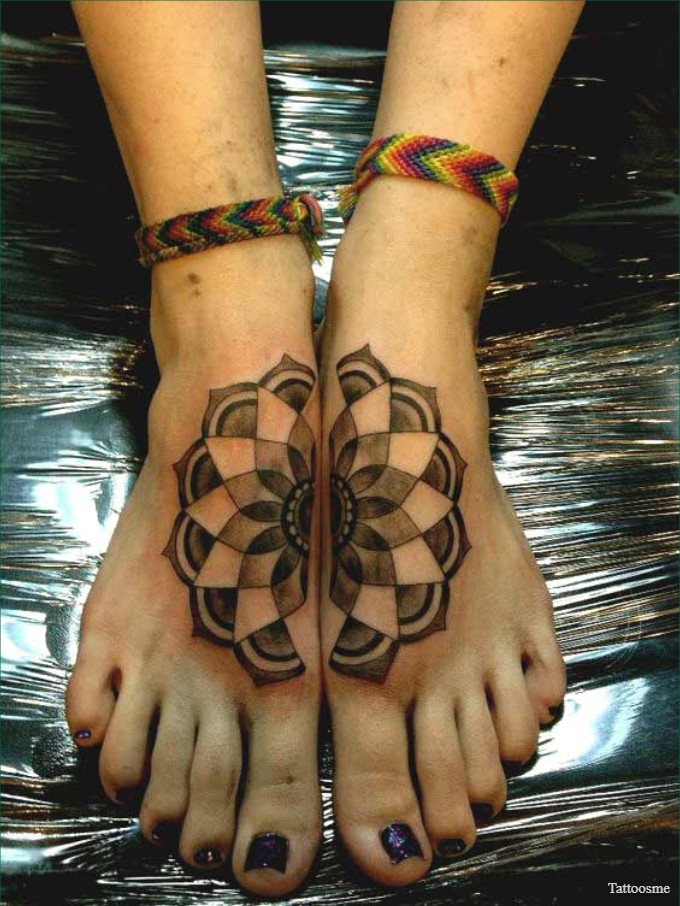 ---
3. Feather Tattoo on foot
3d Feather tattoo designs are the best tattoo ideas for girls.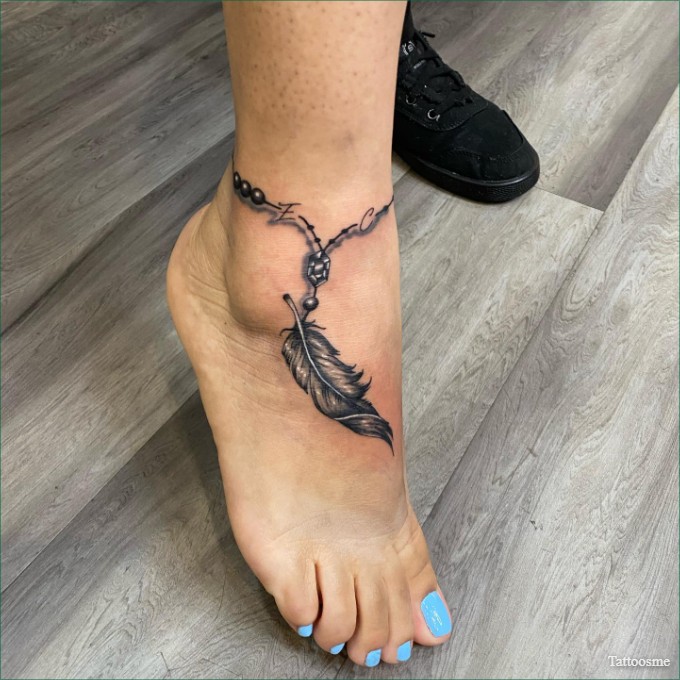 Small feather tattoo design on ankle.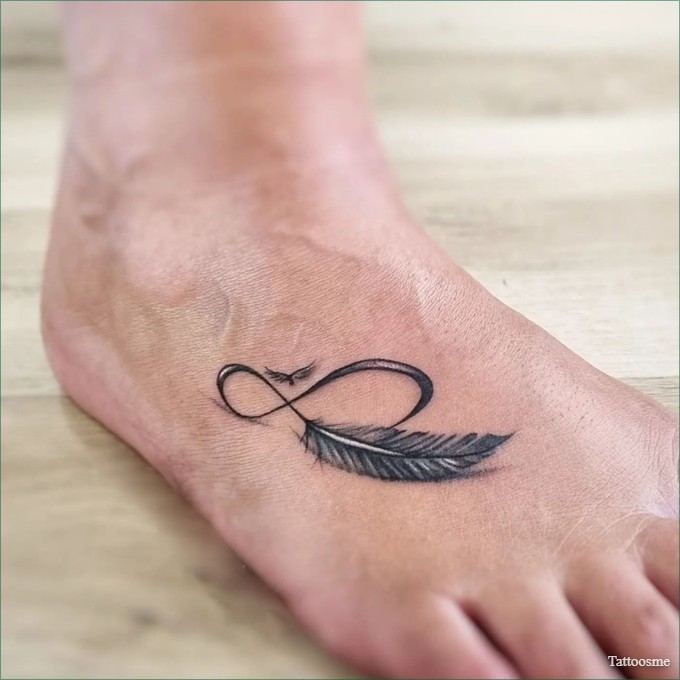 ---
4. Flower Foot Tattoo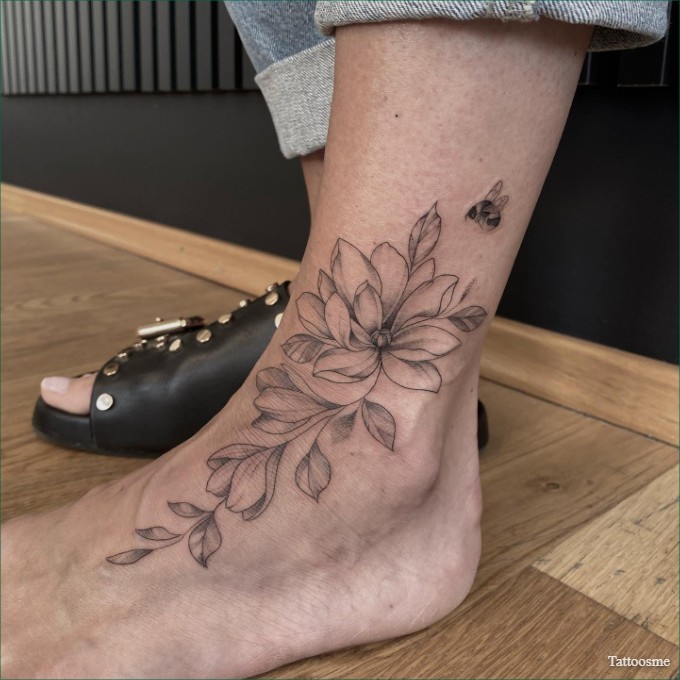 ---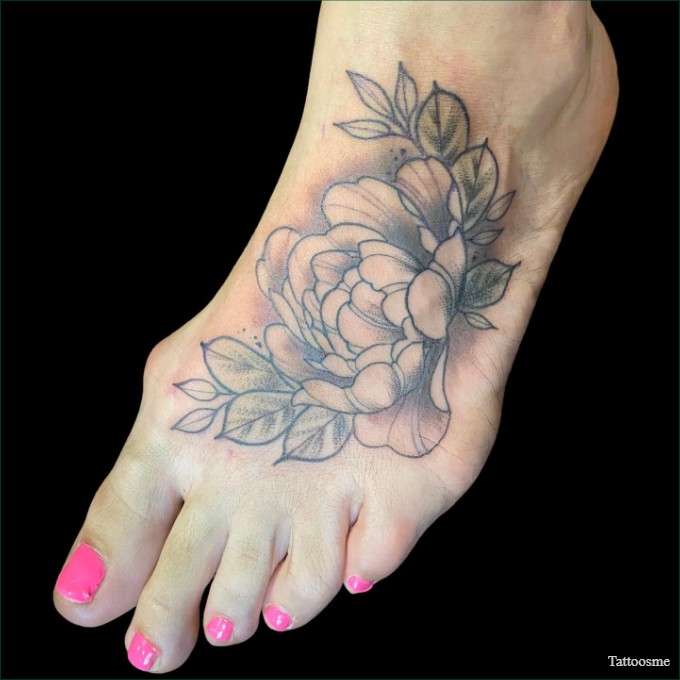 ---
5. Butterfly Tattoo on Foot 
You can go for some beautiful butterfly tattoos on your foot.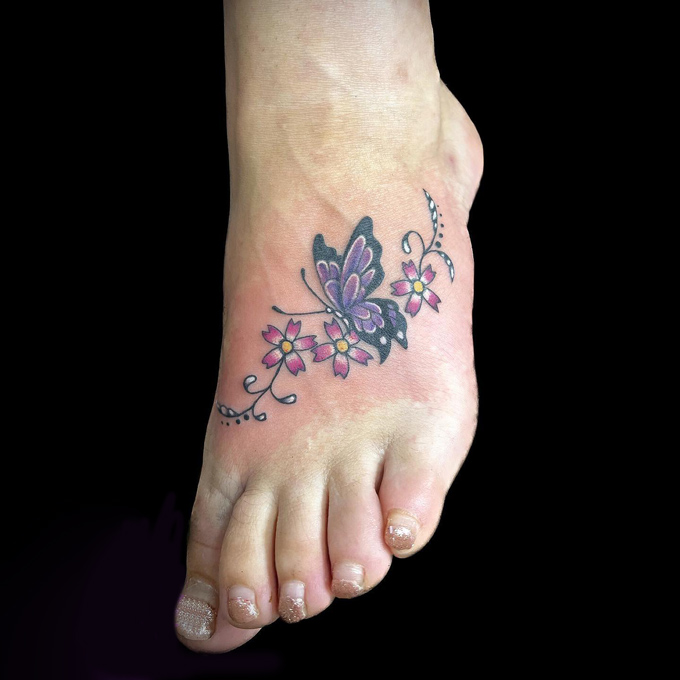 ---
6. Foot Tattoos for women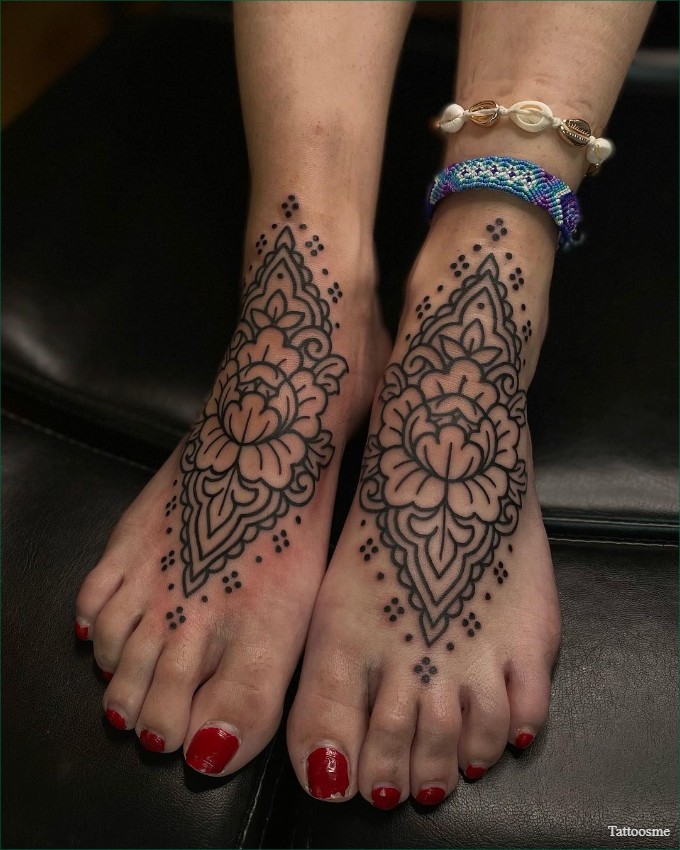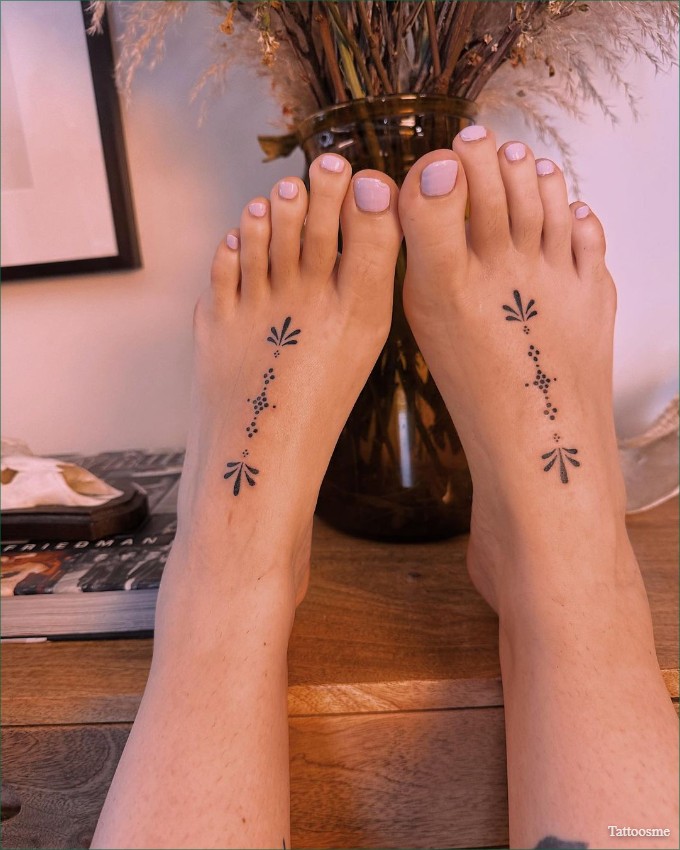 ---
7. Side Foot Tattoos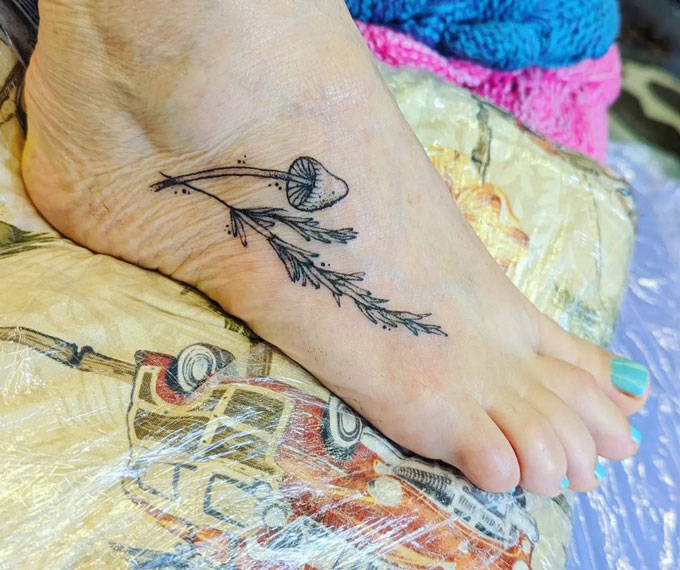 8. Tattoo on Foot Men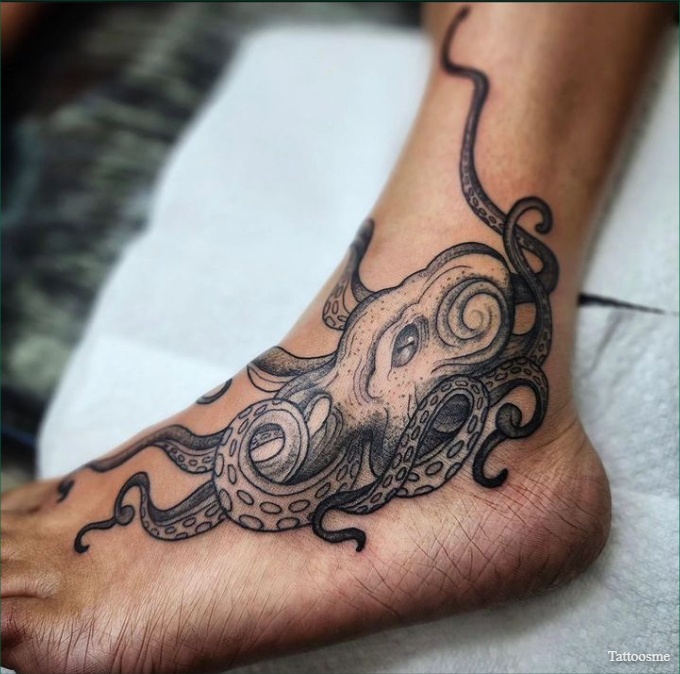 ---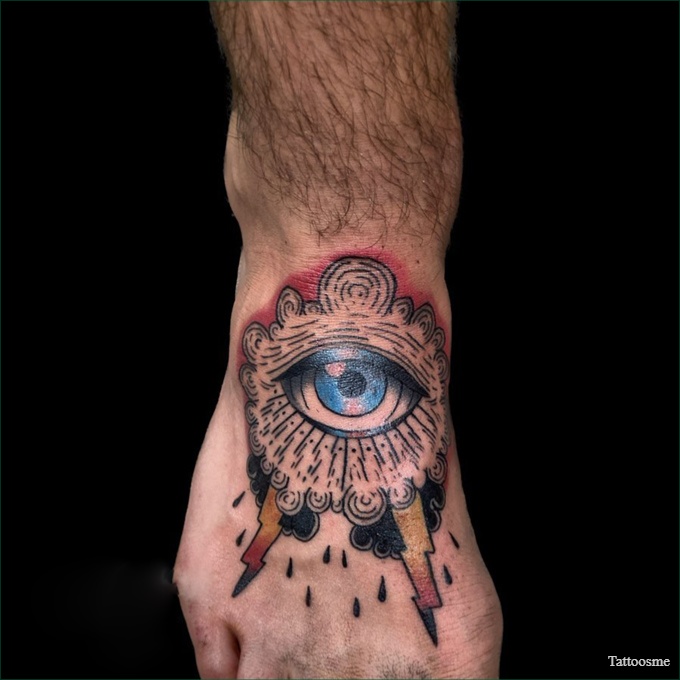 ---
9. Ankle Foot Tattoos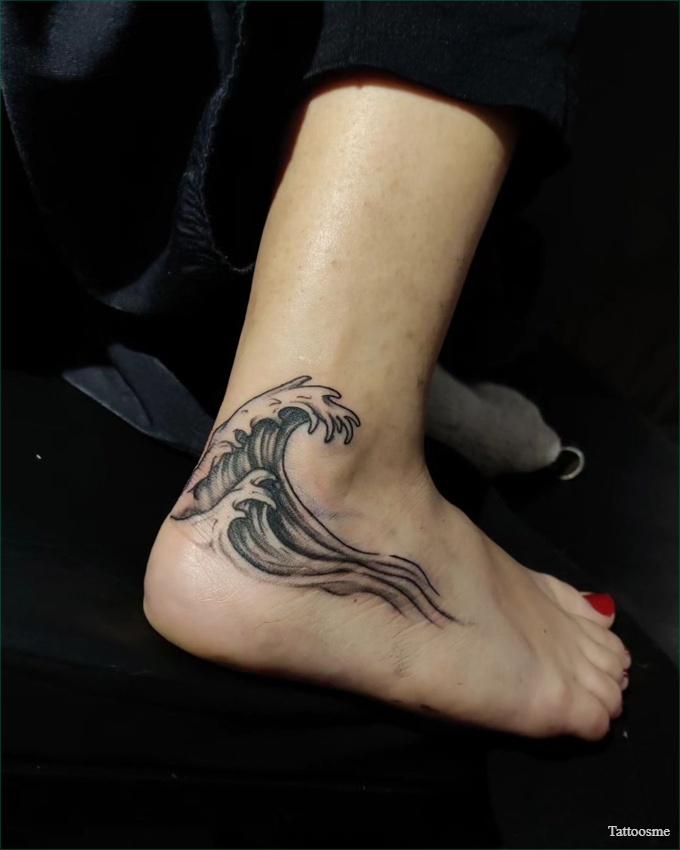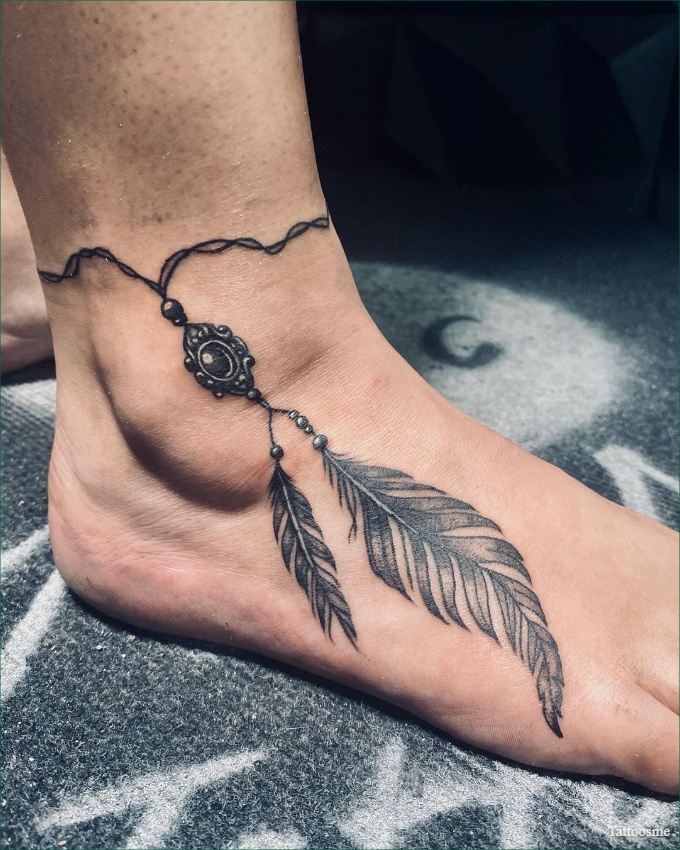 11. Tattoo ideas for the foot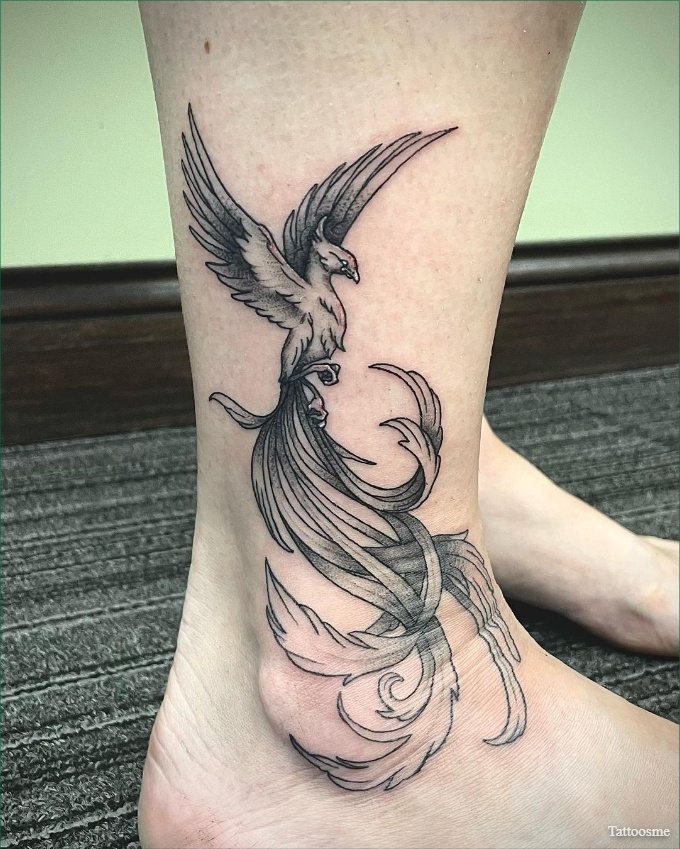 12. Bottom of Foot Tattoo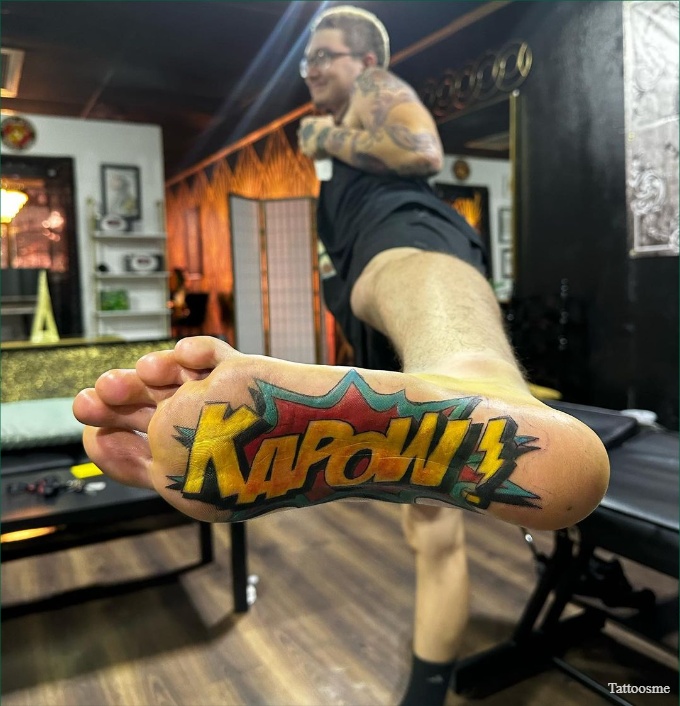 ---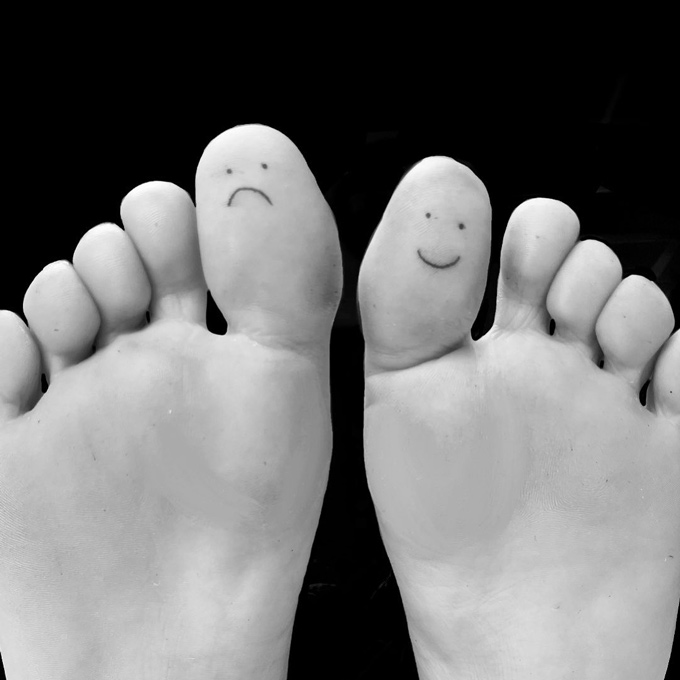 13. Small Foot Tattoos
Small tattoos are very simple and cute tattoo designs for those who want a tattoo quickly with less pain.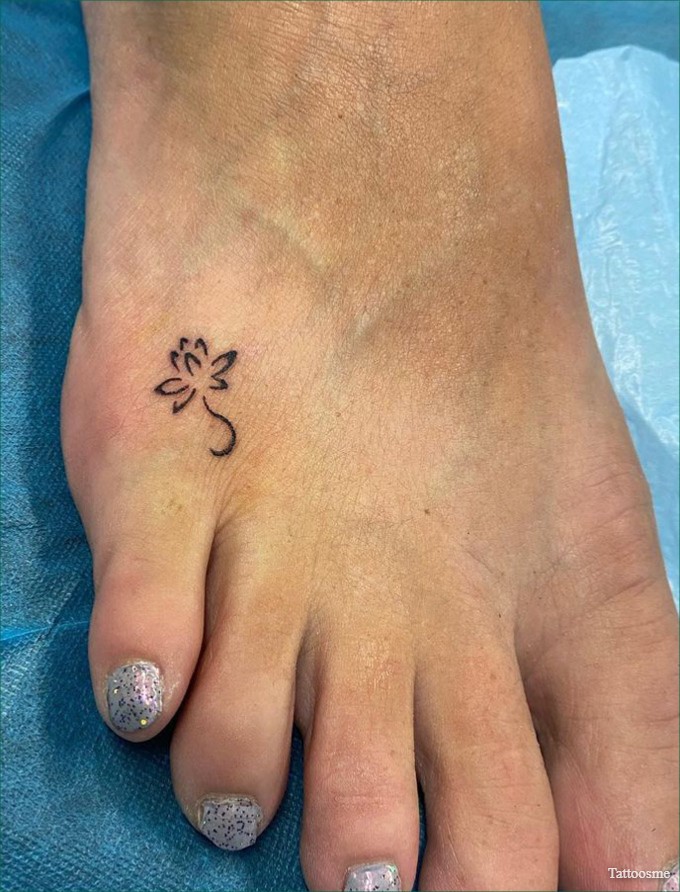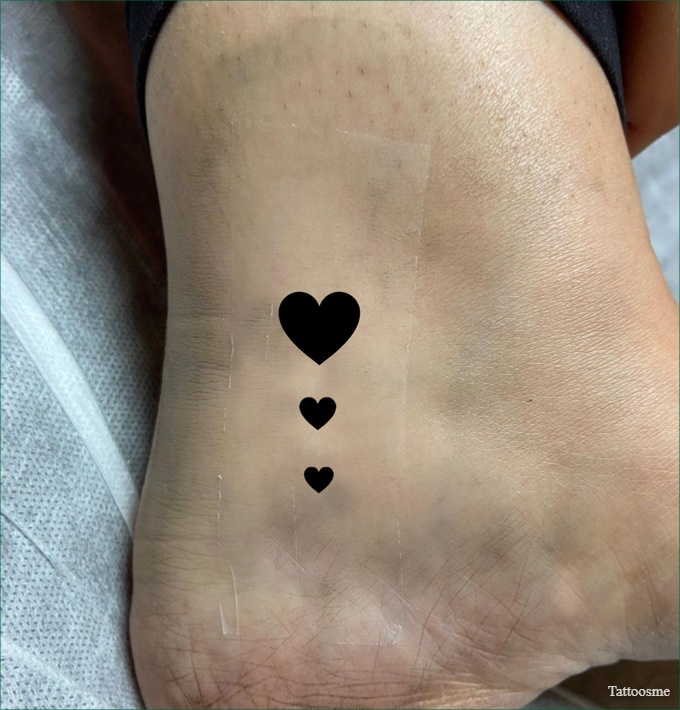 14. Foot Print Tattoo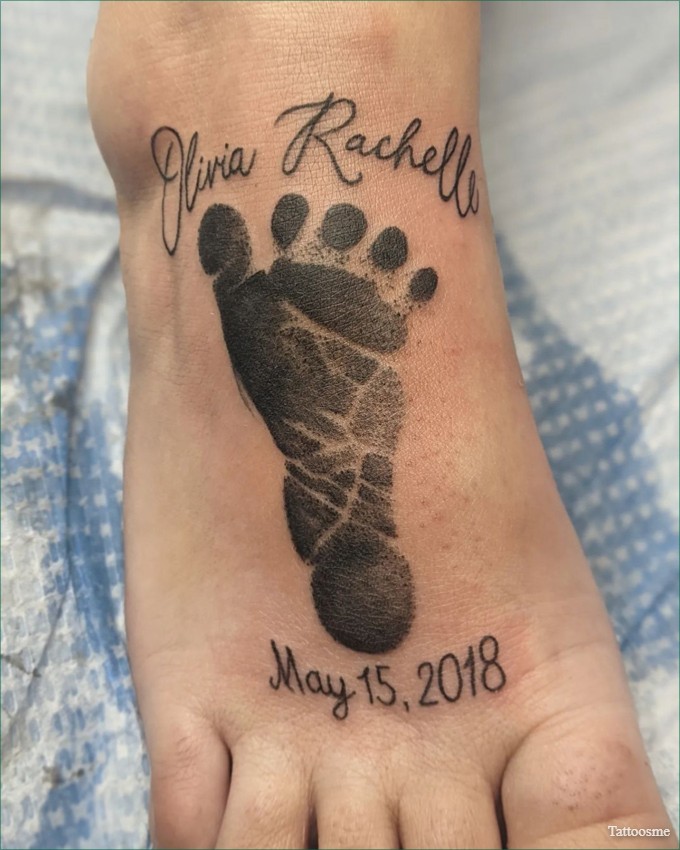 15. Baby's foot tattoo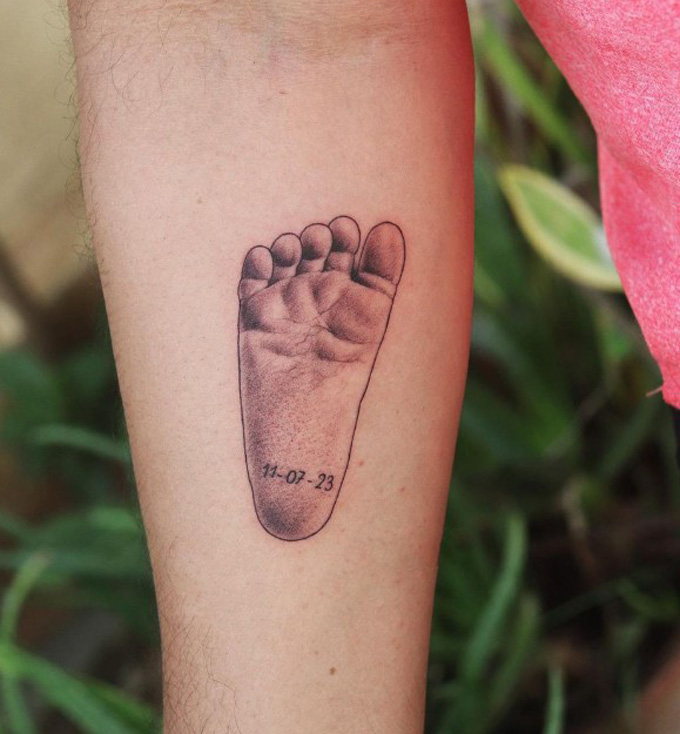 16. Rose Tattoo on Foot
What a beautiful and attractive rose tattoo design for women with ankle tattoos.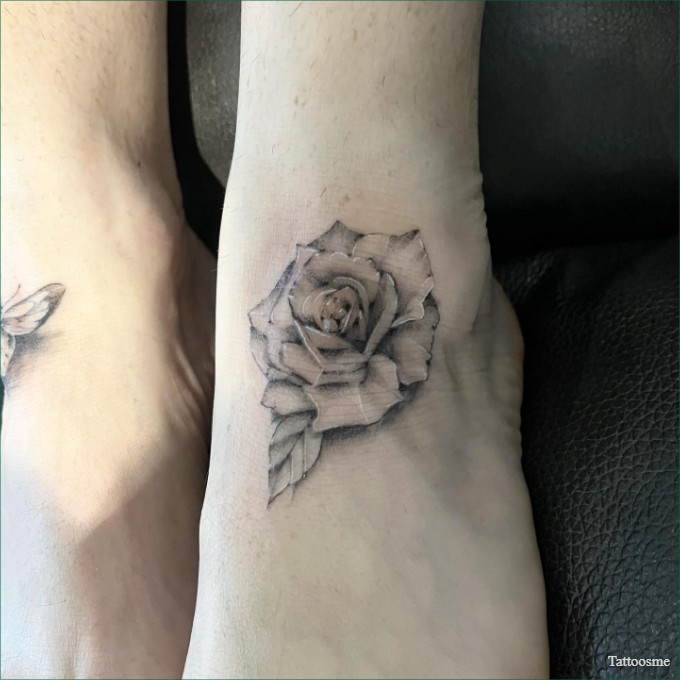 17. Henna Foot Tattoo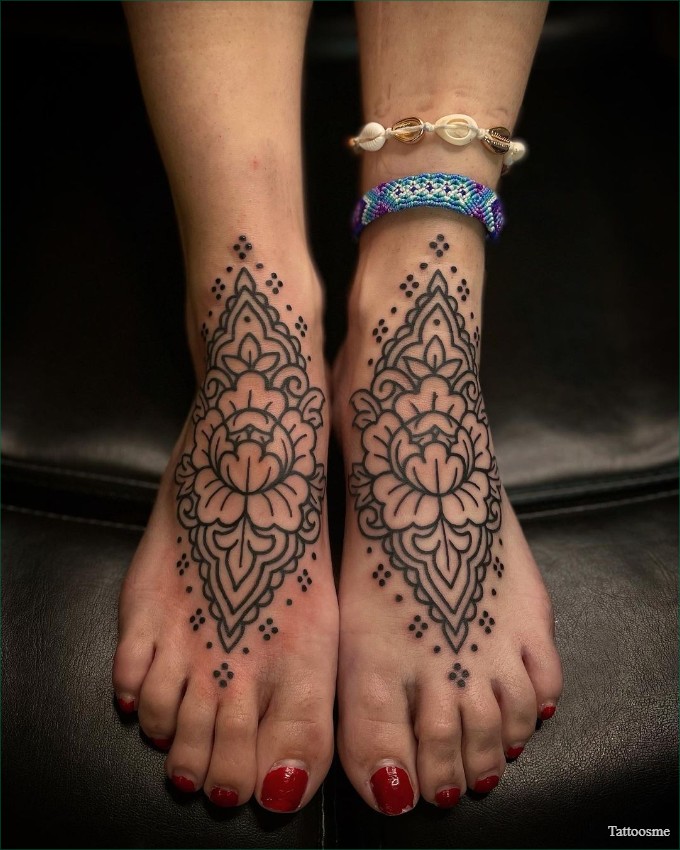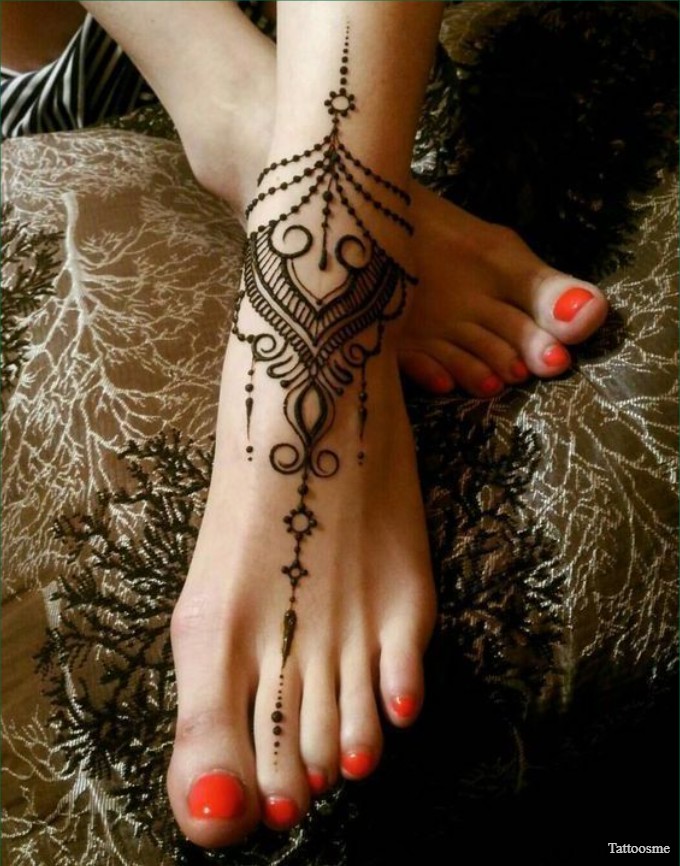 18. Cover Up Tattoo Foot

19. Floral Tattoo on foot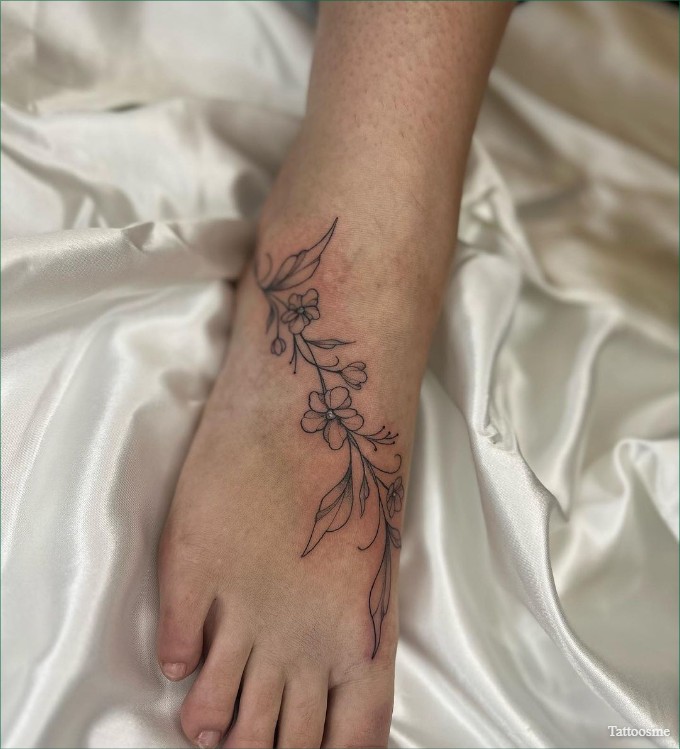 20. Snake Foot Tattoo

21. Sunflower Foot Tattoo


22. Butterfly Tattoo For Foot
Butterfly tattoos: Representing transformation and beauty.

23. Dog Foot Print Tattoo
Take a look at this beautiful dog paw tattoo design inked on the foot for dog lovers.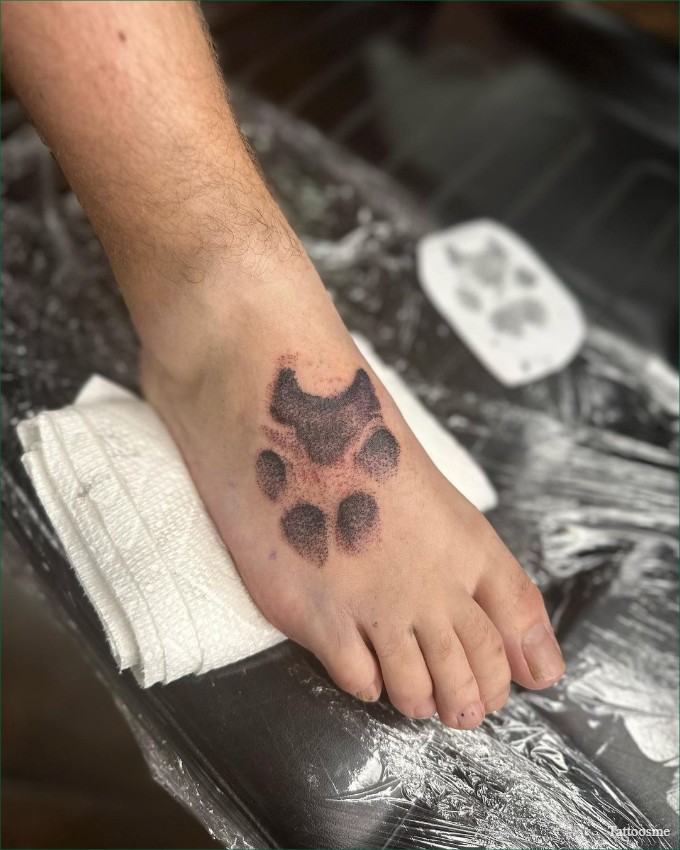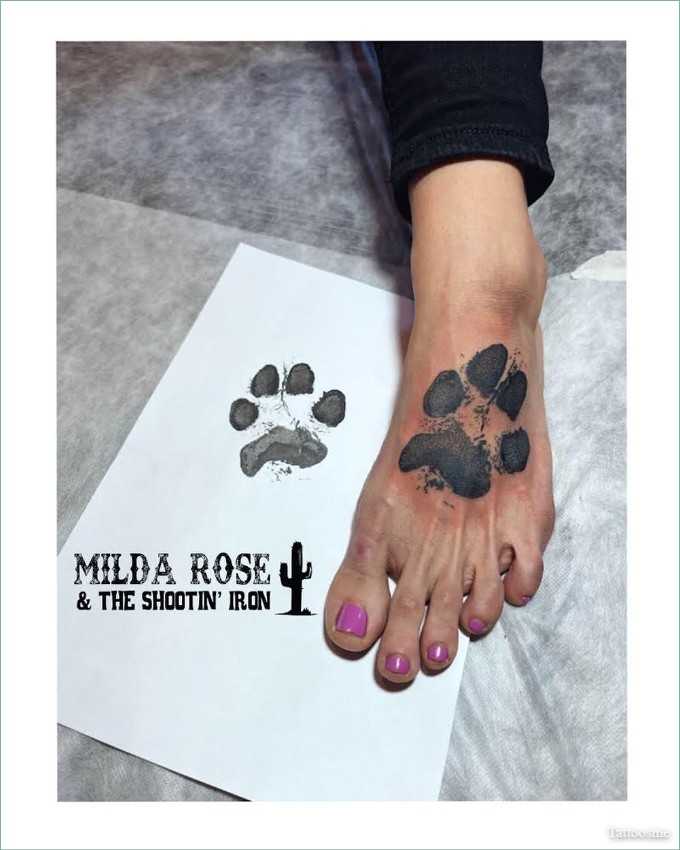 24. Rose and snake tattoo on foot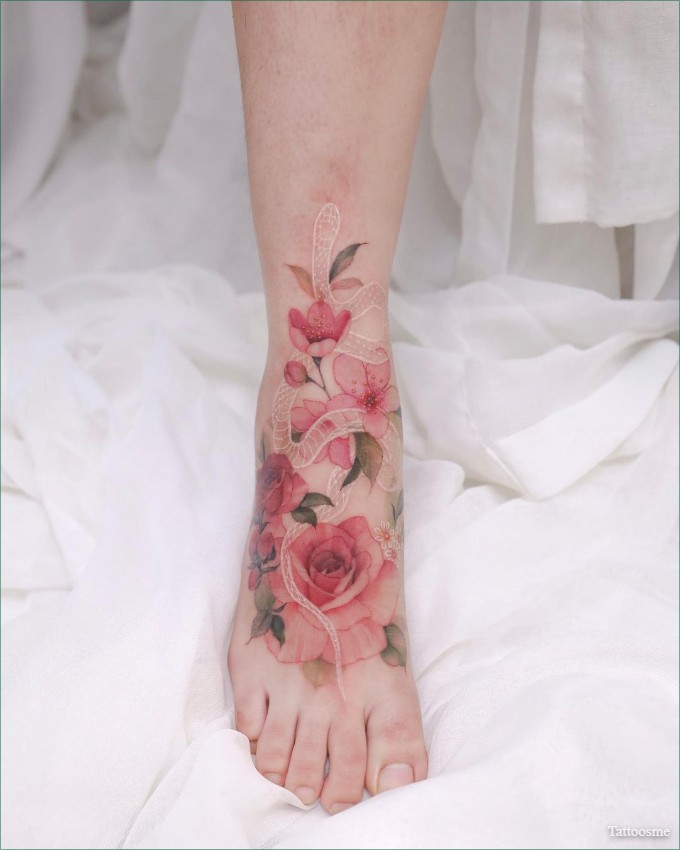 25. Tattoo Ideas For Girl's Foot
Take a look at these cute and simple foot tattoos for girls.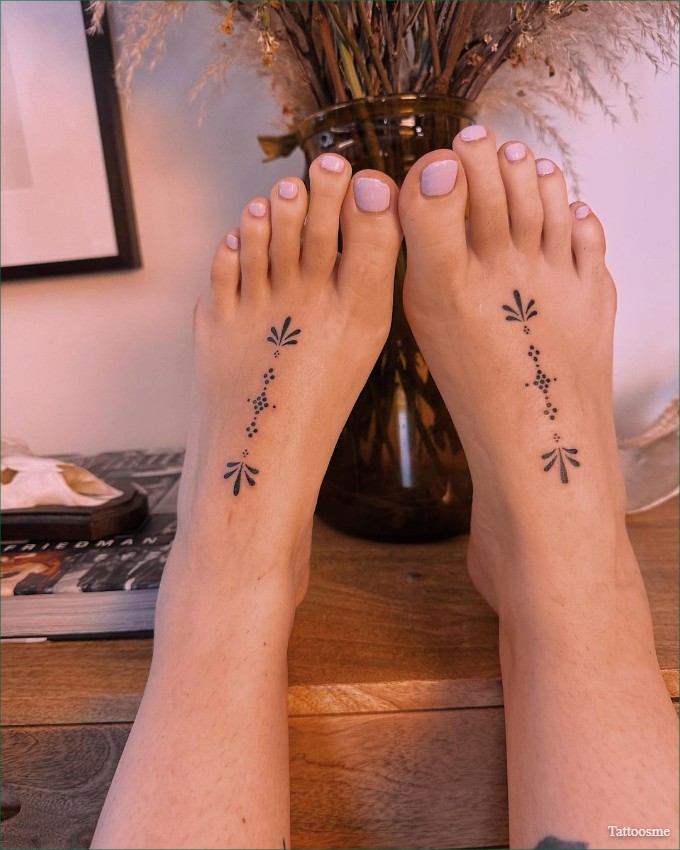 26. Rosary Tattoo Ideas For Foot
Take a look at this very beautiful rose foot tattoo for females.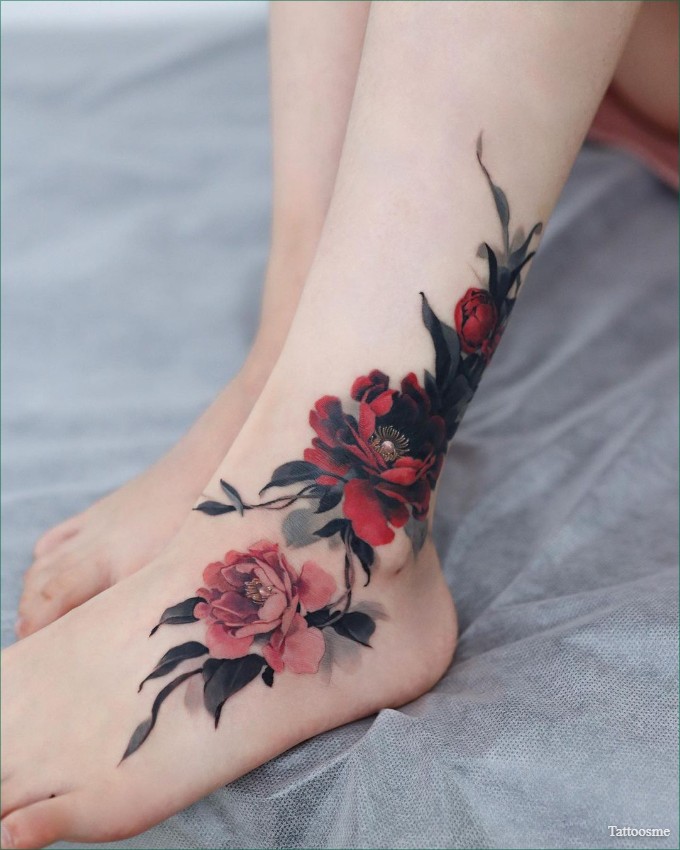 27. Cross Tattoo on Foot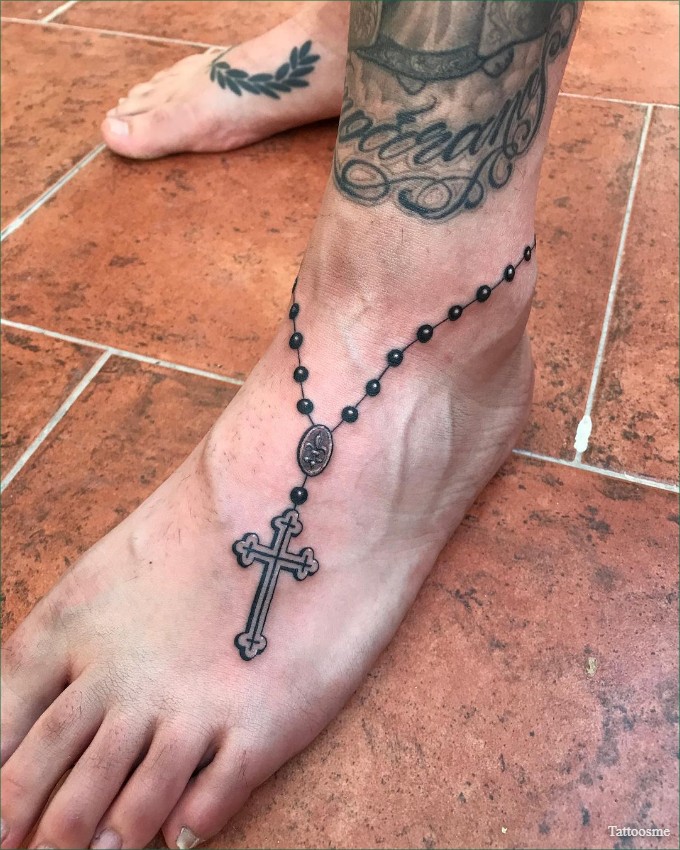 28. Feather Tattoo On Foot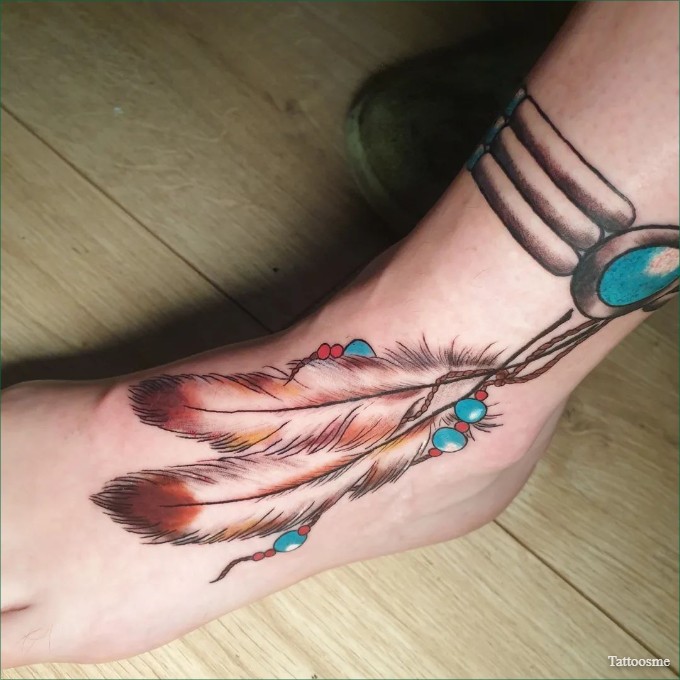 29. Anchor Tattoos on the Foot
Anchor tattoos on your foot are very meaningful they symbolize your strength to hold on in every critical situation and never fall back.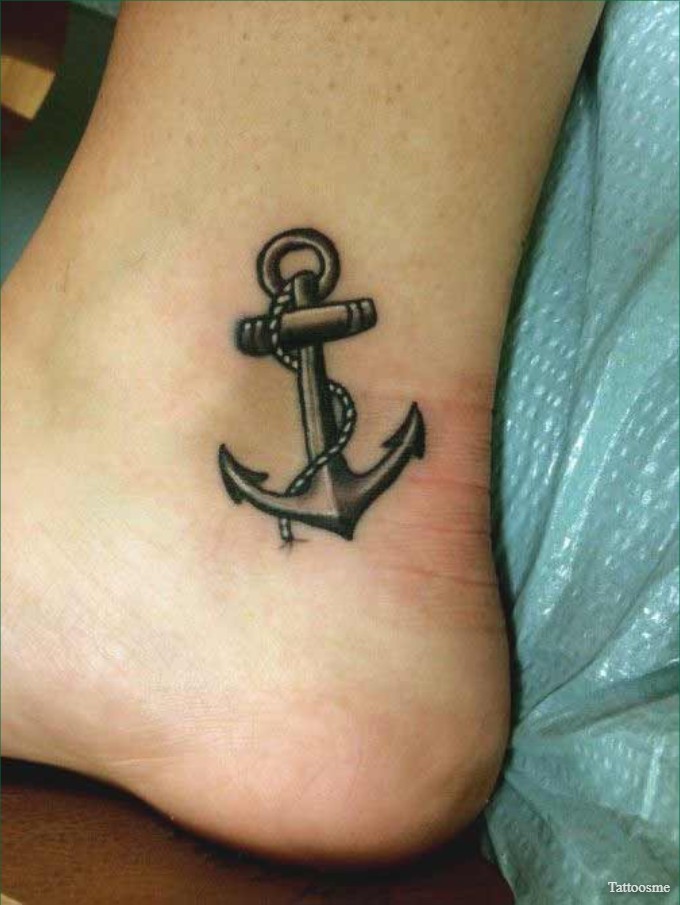 30. Birds Tattoo on Foot
Some birds on your feet are a good idea for those who want a unique tattoo design. birds tattoos are the symbol of Freedom and independence.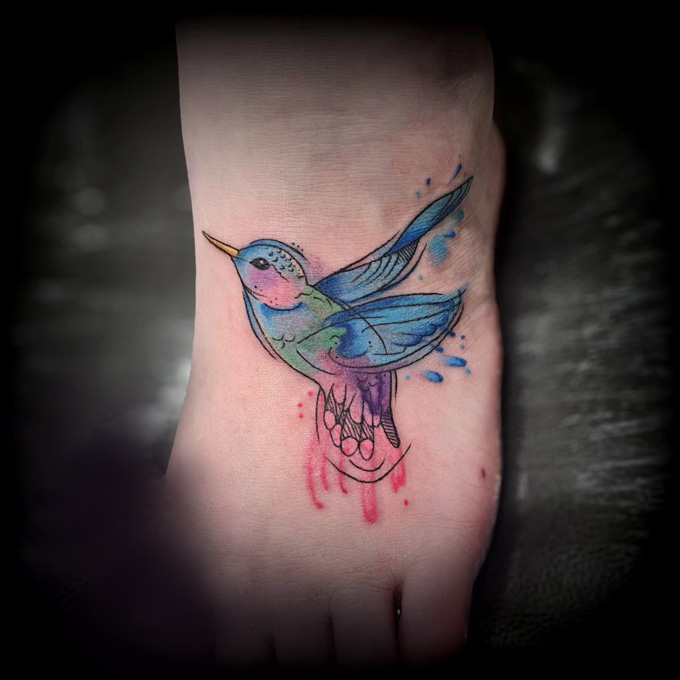 Sun And Moon Tattoo on Foot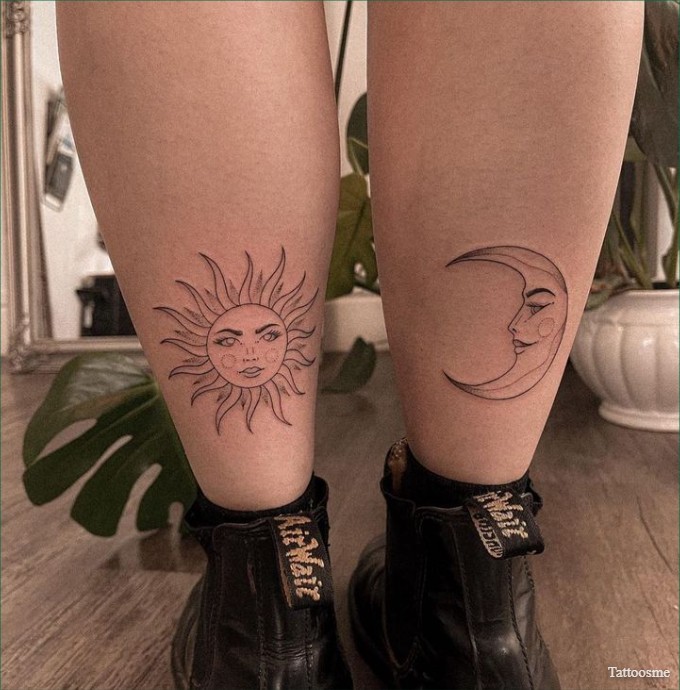 Dragonfly Tattoo on Foot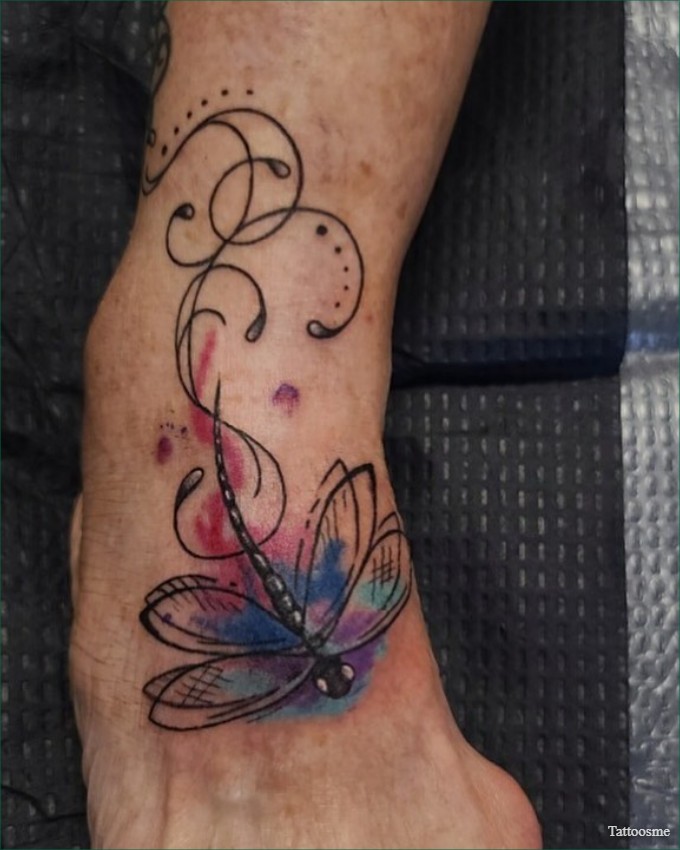 ---
Img src: Pinterest, Instagram, And Tumblr.
Foot Tattoo Aftercare
Cleaning and Moisturizing
Dressing the Tattoo
Avoiding Infections
Sun Protection
Choosing the Right Tattoo Artist
Researching the Artist's Portfolio
Reviews and Testimonials
Hygiene and Safety Measure
Foot tattoos are different from other tattoo because of placement and unique designs which comes with amazing creativity. There are various designs and ideas available which are also relatable to cultural significance, which represents a massive request for tattoo lovers around the world. But you must consider choosing a skillful tattoo artist who is an expert in his field and guide you properly on how you can take care of proper aftercare for your new tattoo. By doing so, you can ensure your foot tattoo becomes a cherished and enduring piece of art.