Cute and Lovely Tattoo Designs and Ideas For Girls
Tattoos for girls: The world is moving towards fashion. Day by day, Fashion growing among the young generation. Girls and boys are crazy about their looks and personality. They use many different styles and accessories. Fashion is not just about stylish clothes and new hairstyles. It's also about decorating your body. Yes, Here we are talking about body art, body painting, and Tattoos.
In fashion, Tattoos have the biggest part of life. Tattoos have become more and more popular among boys and girls. Before, Tattoos were considered only for men, but time has changed and girls and women also started getting tattoos on their beautiful bodies. While men have their own reasons to get a new tattoo design then so many girls also have many reasons to get a new tattoo design on their body. There are so many reasons why girls love tattoos. A tattoo for girls is linked to fashion and tells the story of the symbolic meaning they carry. There are various tattoos for girls with various meanings and symbols.
Best Tattoos For Girls.
Girls are beautiful, so they want beautiful and lovely tattoos for their bodies. Some girls want a simple tattoo design, especially if they are doing it for the first time. Tattoos are going to remain the same and permanent on the body so they must be special and very important to those people who are going to wear that tattoo designs. Most girls want small tattoos because they are cute and easy to hide. But some girls are open-minded, so they are looking for those kinds of tattoo designs that have a special meaning and have some special message.
What tattoos are most popular for girls?
Girls love those kinds of tattoos that have some emotions like affection, love, joy, happiness, freedom, and symbol of their feminism like butterfly tattoos or mermaid tattoos. A suitable location or can say Selecting a perfect body spot for a tattoo design for girls' bodies is very important. Because the tattoo is going to stay for a long time on your body. So you must select a flattering and tasteful spot to get tattoos.
 1. Heart Tattoos :
This might be the most popular tattoo for women of all time. A simple heart design can represent love, loss, or a significant other. You can get a heart tattoo in almost any color, but red is usually the most popular choice. If you want something a little more unique, try a black heart tattoo.
2) Butterfly Tattoos:
Butterflies are a popular choice for tattoos for women, and it's easy to see why. They're beautiful, elegant creatures that have long been associated with femininity. Plus, there are so many different ways you can design a butterfly tattoo, making it a versatile choice for any woman who wants one.
3) Tribal Symbol :
This is a great tattoo for women who want something small and dainty. The design is a symbol of strength and courage. Plus, the placement on the wrist is perfect for girls who want a tattoo that's easy to hide.
4) Daisy Tattoos:
A daisy tattoo is a classic choice for girls. The meaning of daisies can vary depending on the color, but they are generally seen as symbols of innocence, purity, and new beginnings. If you're looking for a tattoo that is both feminine and has a deep meaning, a daisy tattoo is a great choice. Check Out Daisy Tattoos.
5)  Ribbon or lace tattoos for girls
Ribbon and lace tattoos are super feminine and can be designed in a variety of ways. They can be small and delicate or large and dramatic. Plus, there are so many different meanings that can be associated with ribbon and lace tattoos. Here are eight ideas for girls who are thinking about getting a tattoo:
1. A small ribbon tattooed around the wrist or ankle is a subtle way to show your personality.
2. A bow tattoo looks cute on the shoulder or collarbone.
Check Out Bow Tattoos Here.
6) Bird tattoos for girls
 Birds are a popular choice for tattoos for girls because they can represent freedom and a carefree spirit.
There are a lot of different bird tattoo designs to choose from, so you can find one that fits your style perfectly.
 If you're looking for a tattoo that has meaning, you can choose a design that represents your family, friends, or even your favorite place.
Bird tattoos are also perfect for girls who want a small and delicate tattoo design.
7) Floral Design designs for girls
Flowers are one of the most popular tattoo designs for girls. They can symbolize femininity, beauty, and nature. There are many different flower tattoo designs, and each has its own meaning.
There are many more designs available for tattoos for girls like angel tattoos, sunflower tattoos, flower tattoos, matching tattoos, sister tattoos, etc designs available here on the tattoosme.com search section. Just type your keyword and search your design.
Are tattoos attractive on females?
There is no doubt that tattoo looks so attractive on females. Because of their skin tone, fair complex, and the right selection of design. There are a lot of different tattoo designs that are popular among girls. Some of the most popular include flowers, hearts, stars, and butterflies. These designs can be simple or complex, and they can be placed on any part of the body. Tattoos are a great way to express your personality, and they can be a lot of fun to get. If you're thinking about getting a tattoo, make sure to do some research first to find a design that you'll love for years to come.
What Are The Best Placement For Tattoos For Girls?
The placement of a tattoo can be set according to tattoo designs. Tattoo placement also depends upon tattoo designs. A wrist is the best part for the girls to get a small and cute tattoo design. You can put a quote or word tattoos and smaller tattoos. While the ankle is also one of the best places for girls to get tattoo designs like hearts, stars, and anchors are On the wrist, arms, forearms, upper back, legs, ankle, and thighs.
Tattoos are beautiful and amazing. Tattoos have many designs and categories which also related to many things and give a beautiful meaning to the symbols. Tattoos have an attention-grabbing capacity which everyone knows. For girls who are trying tattoos for the first time, we suggest getting a small tattoo design because it's cute and easy to hide and sometimes they are easily covered up with other designs when you get bored.
What is a good first tattoo for girls?
That depends on whether you like koi fish or flying birds better, of course. It also depends on the meaning behind your tattoo design, which can be a lot deeper than what you'll find with typical tattoos for men and women. Here we have most popular tattoo designs for girls, along with the meanings behind each one.
There are so many tattoo designs for girls available like angel tattoos, flower tattoos, quotes, tribal, birds, etc designs are available and you can put those tattoo designs on places like the shoulder, back, inner arms, inner biceps, thigh, leg, and neck. Here we are with some of the beautiful 65 cute and lovely new tattoo designs for girls. I hope you will enjoy it. Please check these beautiful designs and our other related articles about tattoos for girls.
75 Most Beautiful tattoo designs and ideas for girls and women.
1. Girls are beautiful they want something interesting in tattoos. See this image of a hand tattoo design. This is a unique tattoo design idea for girls.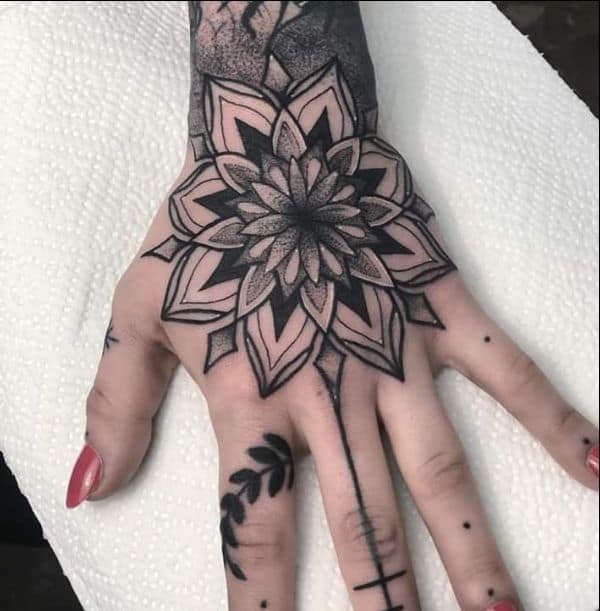 ---
2. Angel tattoo is most popular for both men and women. This is a beautiful angel tattoo design on the stomach of a girl and the wings are increasing this tattooed beauty.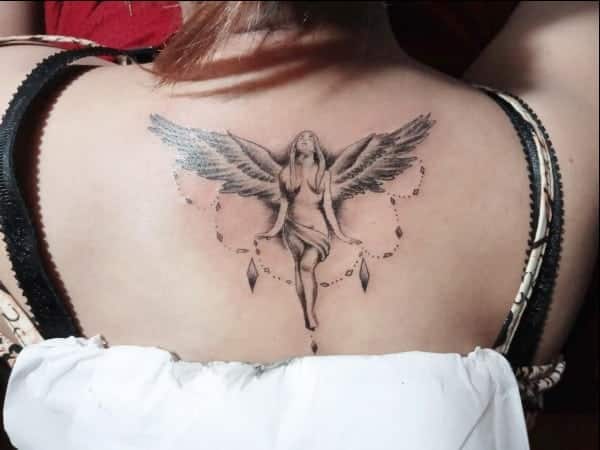 ---
3. So many places to have tattoo designs, but have you ever thought to include more than one design in one tattoo. Look at this tattoo design in which heart, cross, and anchor tattoos are looking beautiful on the Ankle of a girl.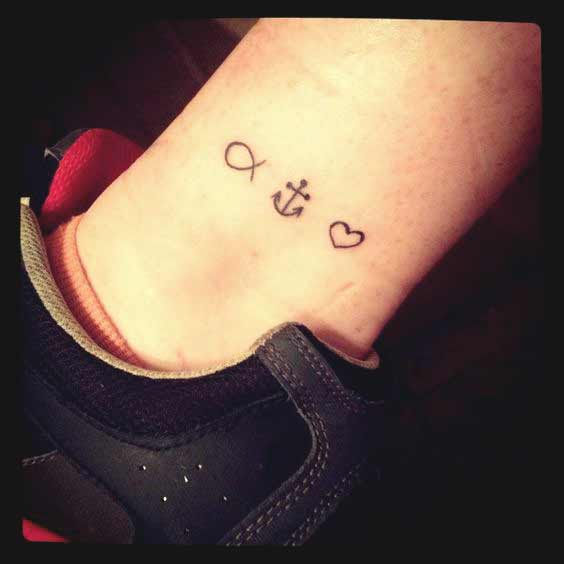 ---
4. So many small tattoo designs are available for girls and an arrow tattoo design is one of them. See this beautiful arrow tattoo design on the girl's wrist. The wrist is the best place for small and cute tattoo designs for girls.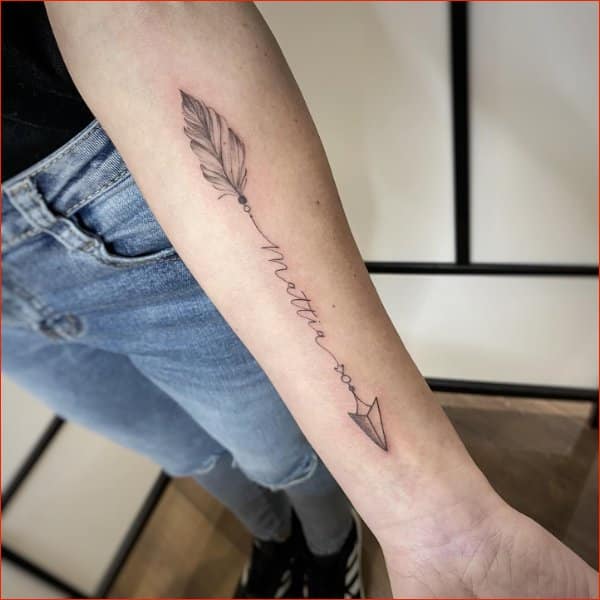 ---
5. Flower tattoos are always the best choice for girls. So many flower tattoo designs are available. See this colorful flower tattoo design on the girl's back. It's an amazing tattoo design.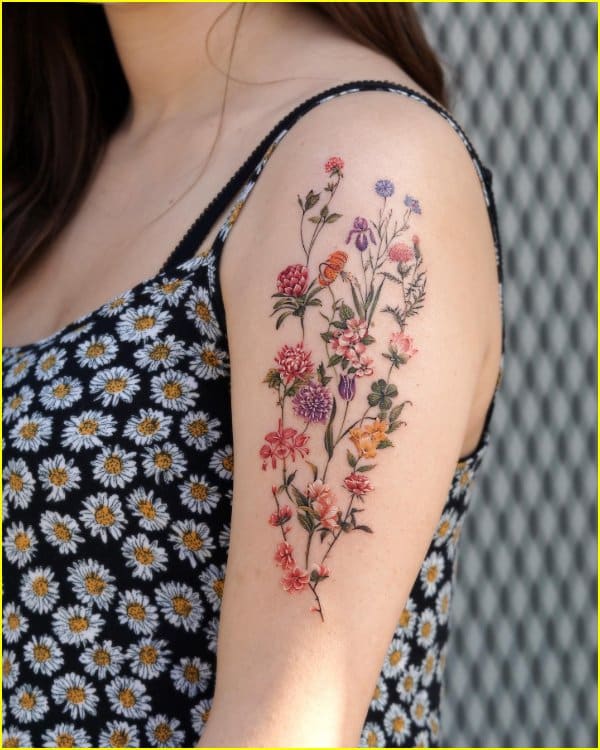 ---
6. So many places to get a tattoo design but do you think about this place for tattoos? See this butterfly tattoo design on the belly of a girl.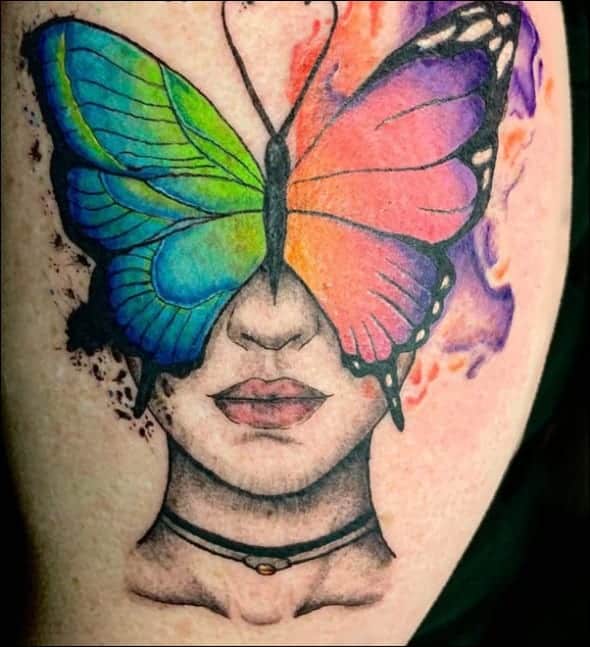 ---
7. Everyone has best friends. Here is this tattoo design shows best friends' tattoos for girls. It's a small heart tattoo design on five wrists of friends. This is a symbol of friendship.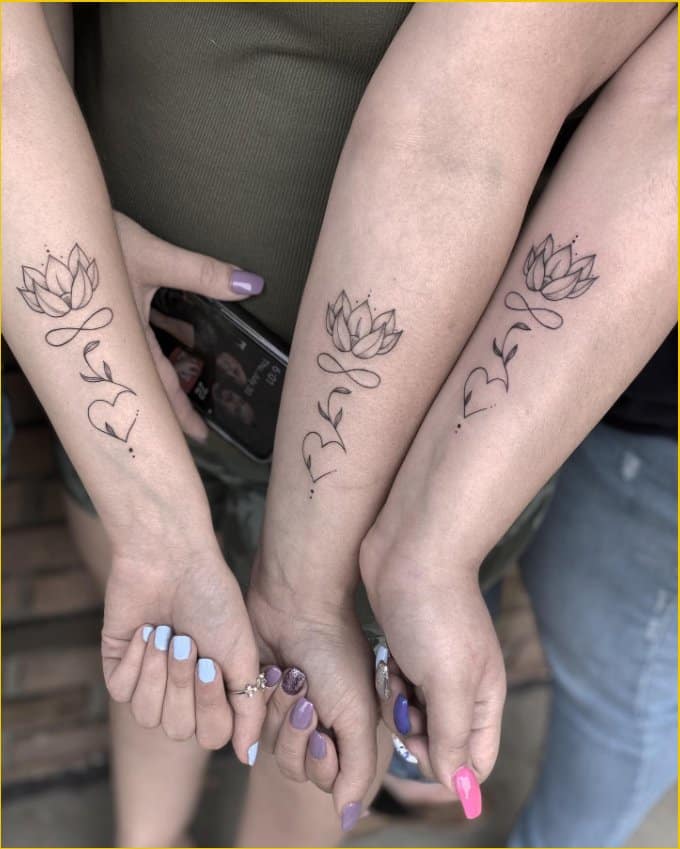 ---
8. This is a unique kind of flower tattoo design. These types of designs are popular now. See this beautiful flower tattoo design on women's backs.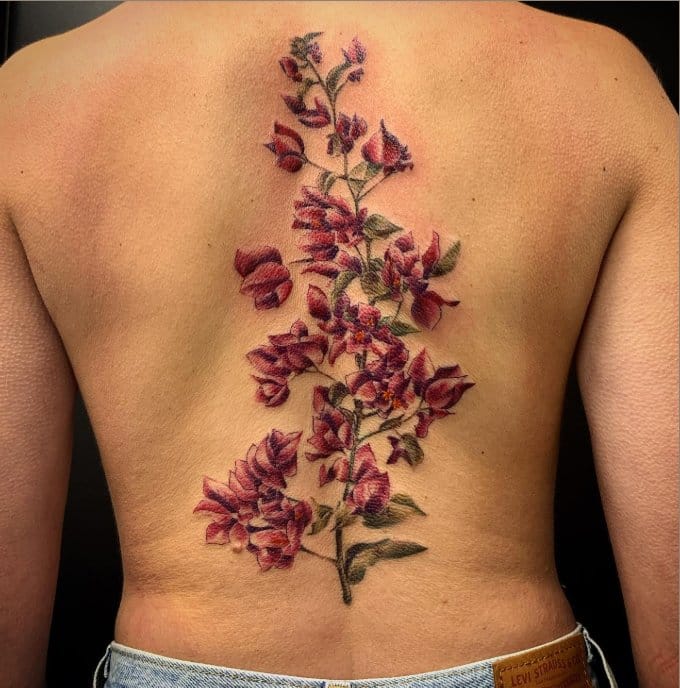 ---
9. Birds' tattoos are also popular among girls. They are cute flying objects which are loved by everyone. See this Crow Bird tattoo design on the upper back of a girl.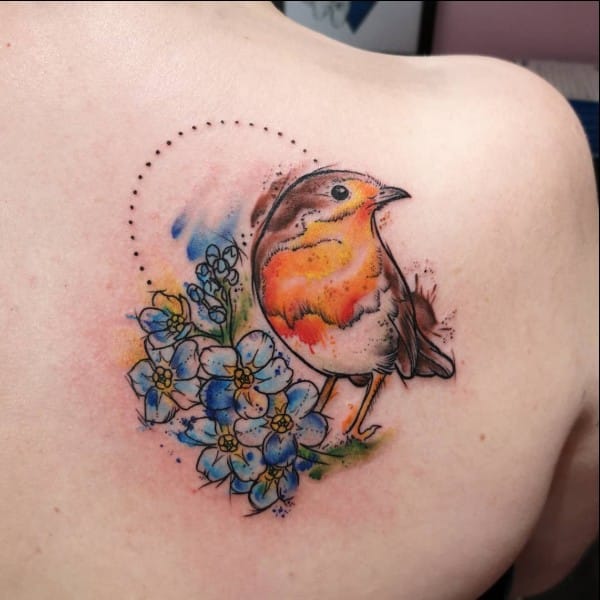 ---
10. Everyone loves the red rose. But do you ever think about getting a black rose tattoo design on the collar bone?