Best & Lovely Sister Tattoos Designs & Ideas
Sister tattoos: Tattoos are not just the coolest designs. Sometimes they are more than that. When we talk about something in tattoos for deep meaning and something related to someone. Tattoos can play a wonderful role in that. Here we are going to talk about sister tattoos. There are some tattoos that are specifically designed for sisters. These tattoos show that there is a strong connection between the people who have those tattoos. Sisters are the closest friends. They are bound together with blood relations which make it a very strong relationship.
What are the benefits of having a sister tattoo?
Sister tattoos are like promises to each other that can't be broken. There is nothing more beautiful than those tattoos between sisters. Throughout history, Sisters always have held special bonding between them. Sister tattoos have some similarities like the same size, same designs, and color blend and they will be placed in a similar spot by the wearers.
Your sister may be one of your best friends and closest to you, but you still haven't gotten matching tattoos. If you're looking to create a meaningful, long-lasting piece of art on your skin, Here we have some cool and stylish sister tattoos designs that will make you wish you had a matching pair. Whether your sisters are far away or just across town, there's no reason why you can't get your ink game on and get creative with these awesome sibling tattoo ideas. With these beautiful tattoo designs, you'll be able to show the world how strong your bond really is with your sister.
These 8 Sister Tattoos Designs Will Make You Wish You Had A Matching Pair
What do you get when you combine your love of tattoos with your deep, unbreakable bond with your sister? A matching pair of tattoos, of course. The fact that these sister tattoo designs are so unbelievably adorable will make you wish you had an identical twin. We've rounded up some creative ideas for you to use as inspiration when designing your own set of matching tattoos with your sister or BFF. Here are the 8 best sister tattoo designs we could find.
1.  Hey, love matches Tattoos
If you're searching for sister tattoos designs and want some matchy-matchy inspiration, these are all super cute. Plus, it's hard to go wrong with matching tattoos. After all, what better way is there to say that we're sisters.  We'd argue that if you do find an artist you like and who is willing to work with your sister and you.  Then there really isn't anything better than getting a matching set. It's fun and sweet.
2.  Birthdate tattoos.
If your sister has a specific birthdate, there's no better way to represent it than with matching tattoos. But even if she doesn't have a specific birthday, you can still get her inked with something that symbolizes her relationship with you and/or your shared history. Maybe your initials will work as a reminder of your special bond, or, conversely, why you don't always see eye-to-eye. Maybe it's a date in honor of when you were born. Whatever type of design matches up well with either of these ideas is worth looking into. Here are some sister tattoo designs that we love.
Sister tattoo designs can be similar or different depending upon their choices. But their placement should be the same. You can have sister tattoos on the wrist, legs, back, shoulder, etc places according to the tattoo design. Most girls go for tattoos on their wrists. Here we collect some of the best and cool tattoo designs and ideas for sister tattoos. Please take a look at these sister tattoo designs and get your tattoo ideas.
---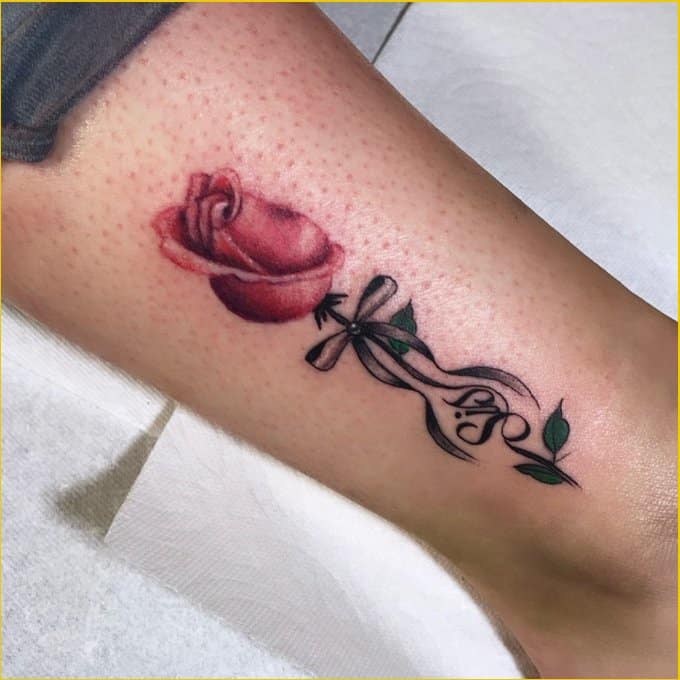 3.  Twin characters from favorite shows or movies.
It's fun to do a little detective work here and try to guess what each sister has in mind for her tattoo. Could it be a portrait of her sibling? Might she choose some sort of family crest or slogan? Maybe she'll include something that reflects both sisters as individuals, like their favorite sports team or hobby. If there's any room left on her body, she might just have one big tattoo that represents both sisters, like two small suns representing Sol and Luna from Once Upon a Time. No matter what you choose, everyone agrees that matching tattoos is a great way to express your sibling's love.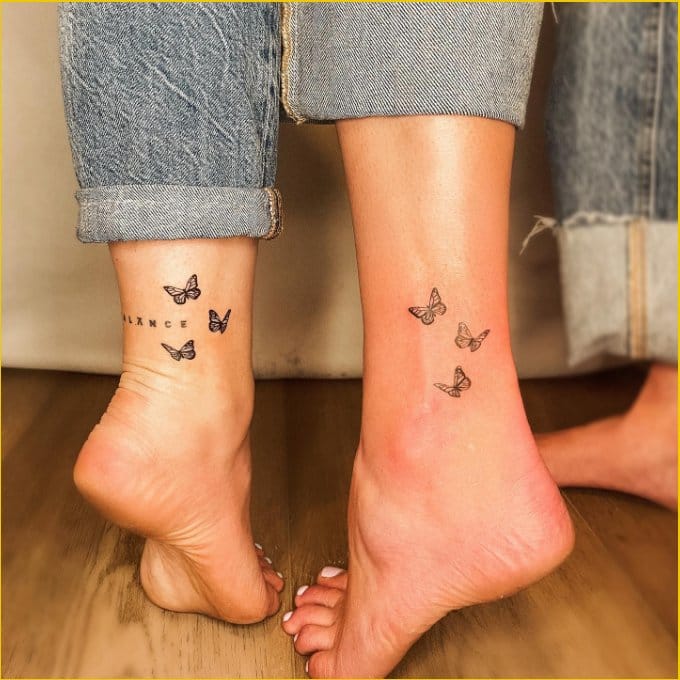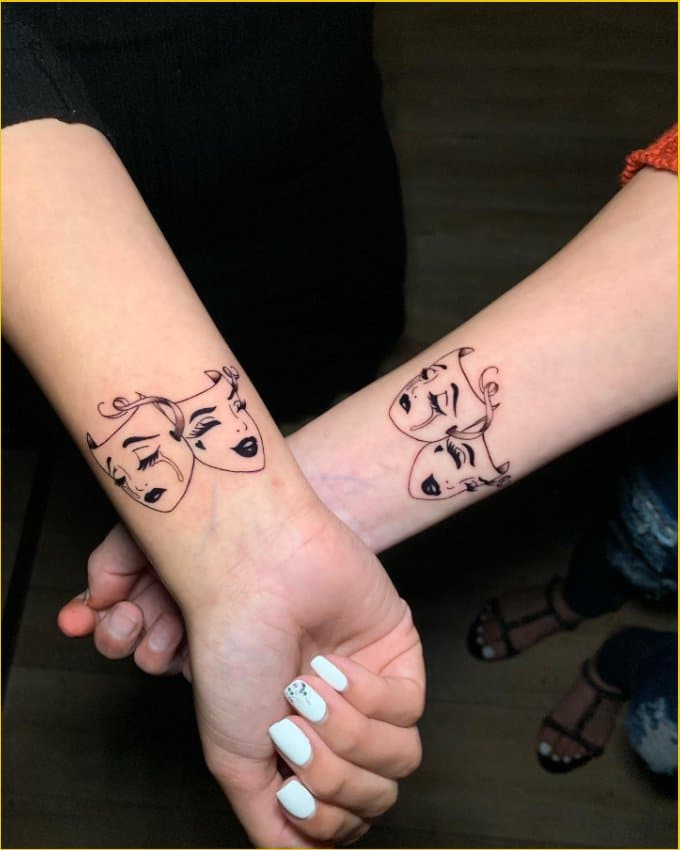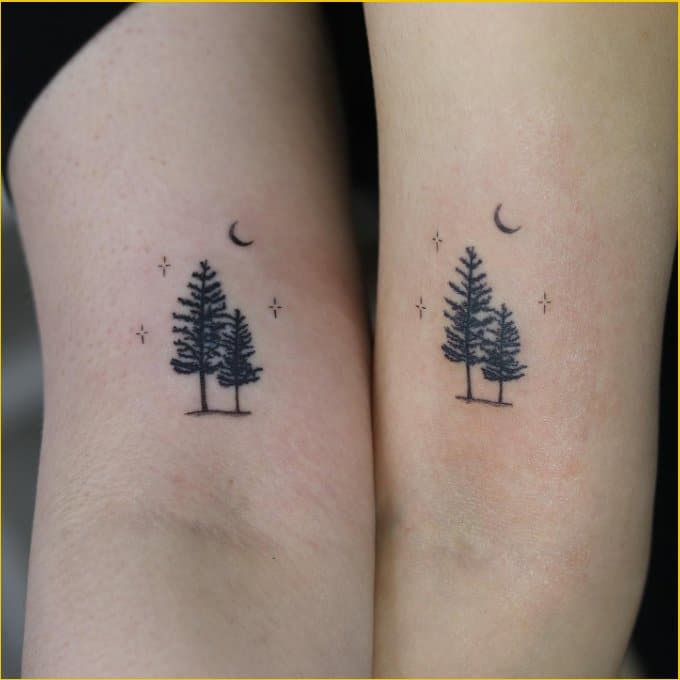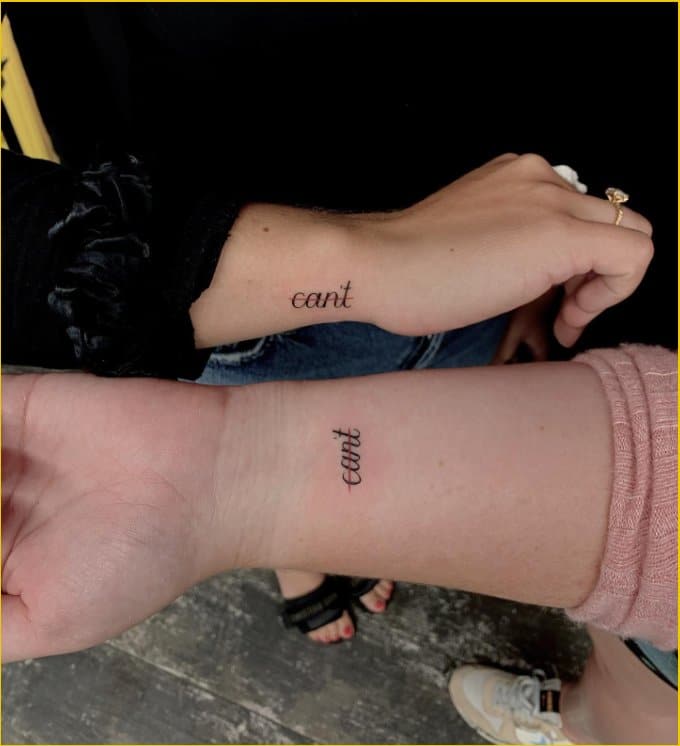 4.  Simple symbols with cute sayings
Some of our favorite sister tattoos are simple symbols with matching or complementary sayings. These are easy to order from your artist and work well for a smaller tattoo if you're not sure how you'll feel about it in a few years. Whether you choose matching hearts, ribbons, hands, or butterflies, these tattoos will show your love for each other without compromising your individual style.
If you want something bigger to fill up some skin space, look at symbols that stand for something deeper than just sister. The infinity symbol might be cheesy but it's a great reminder that nothing in life is final and nothing is wasted. This tattoo is an ever-expanding sign of everlasting love and affection between sisters who've been together through thick and thin.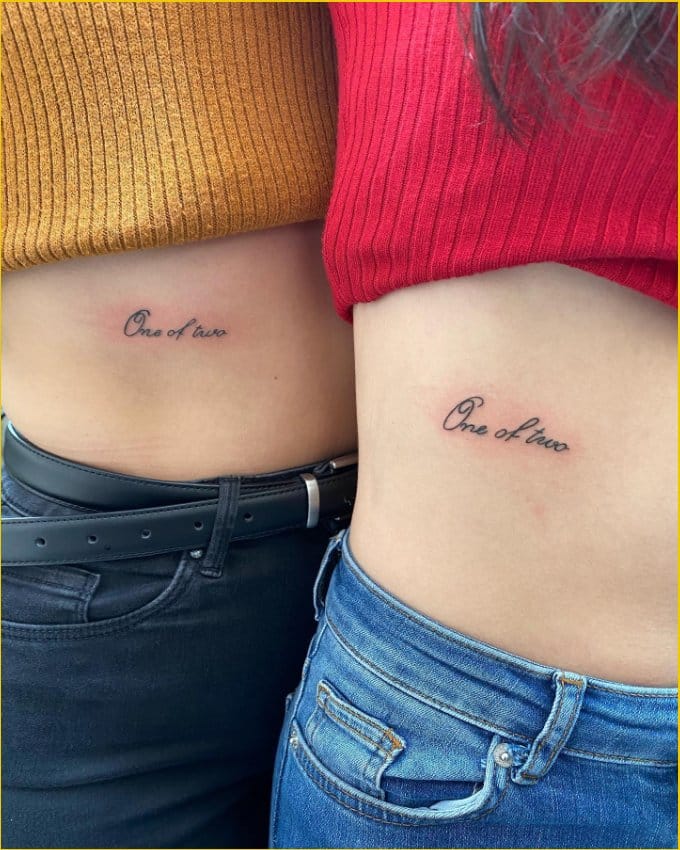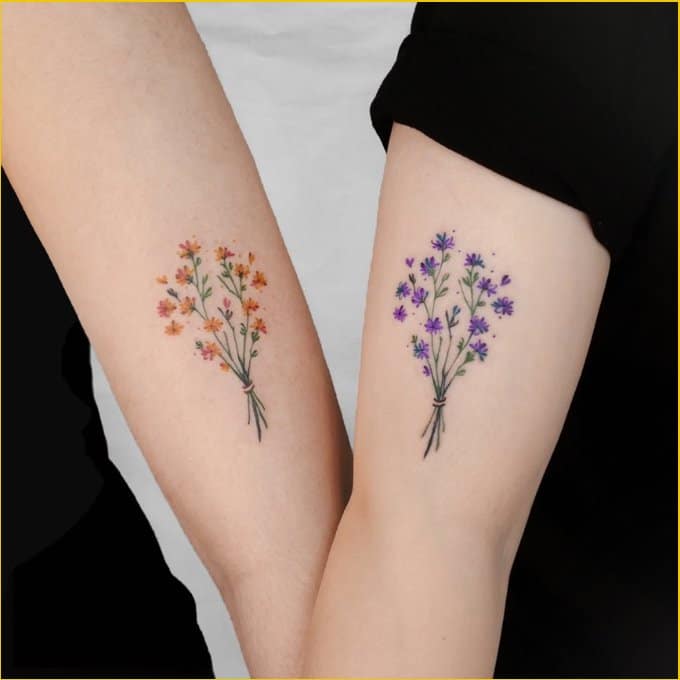 5. Cute sister sayings
Sometimes your sister is more than just a friend. She's your best friend, your most trusted person, and, above all else, your family. But don't let that last point get lost on you. Show her how much you appreciate having her in your life by getting matching sister tattoos that perfectly capture what she means to you.
Trust us, not only will it remind you of what an awesome bond you share with each other but it will make for a great gift idea. Scroll through below to see some of our favorite sister tattoo designs. These are sure to inspire some ink-based bonding between sisters everywhere.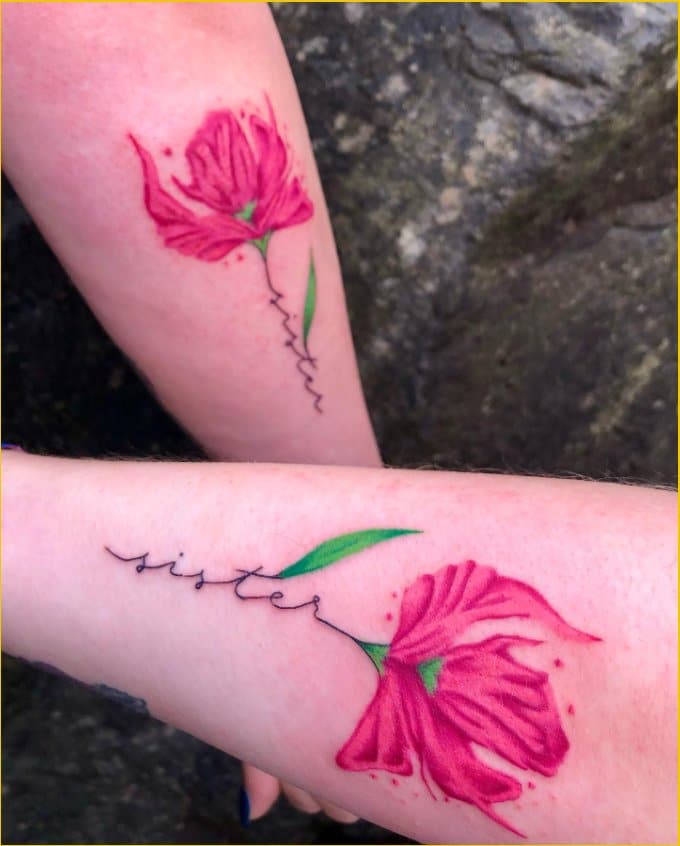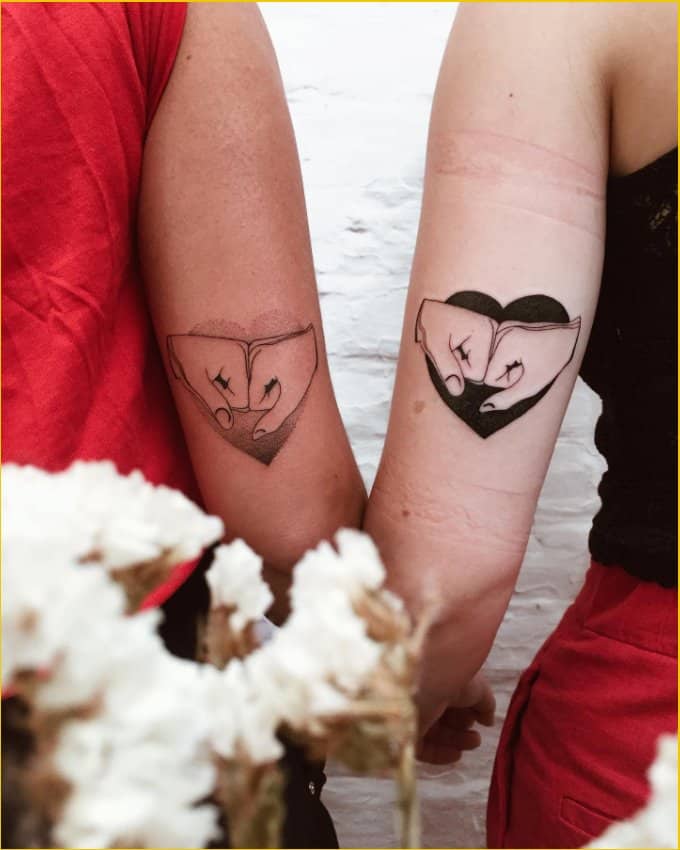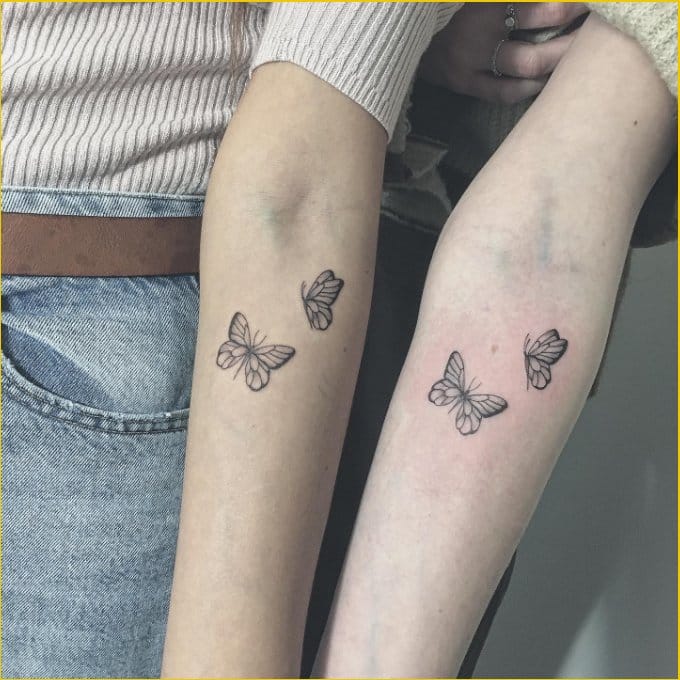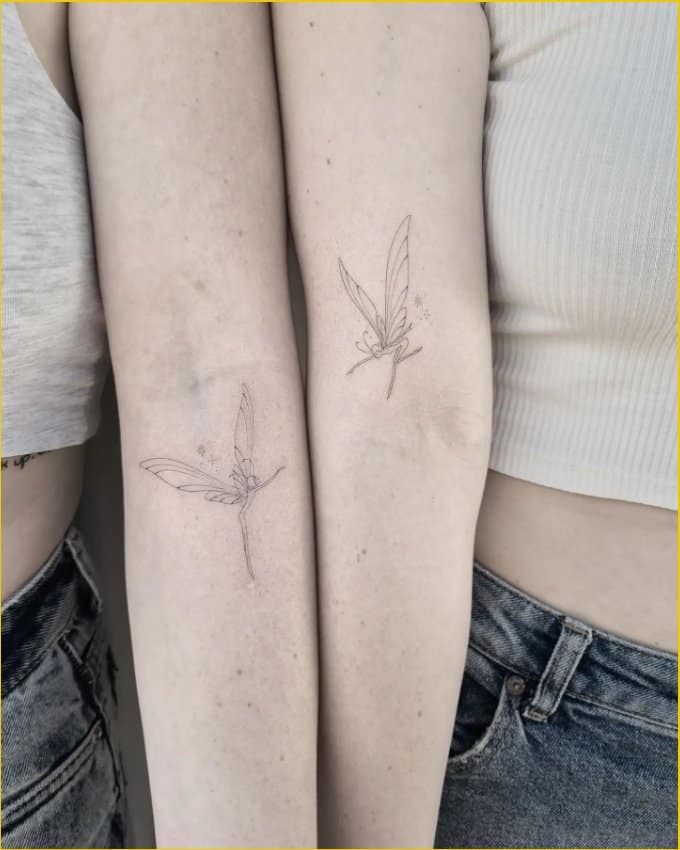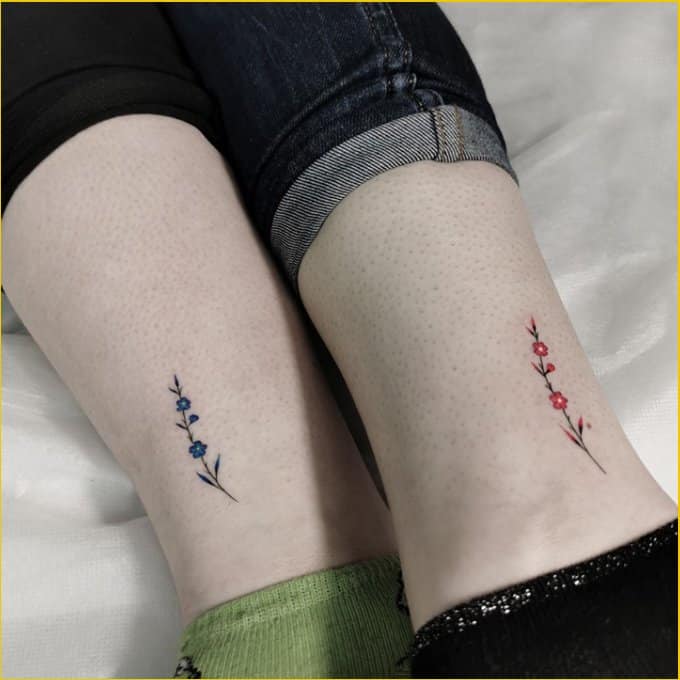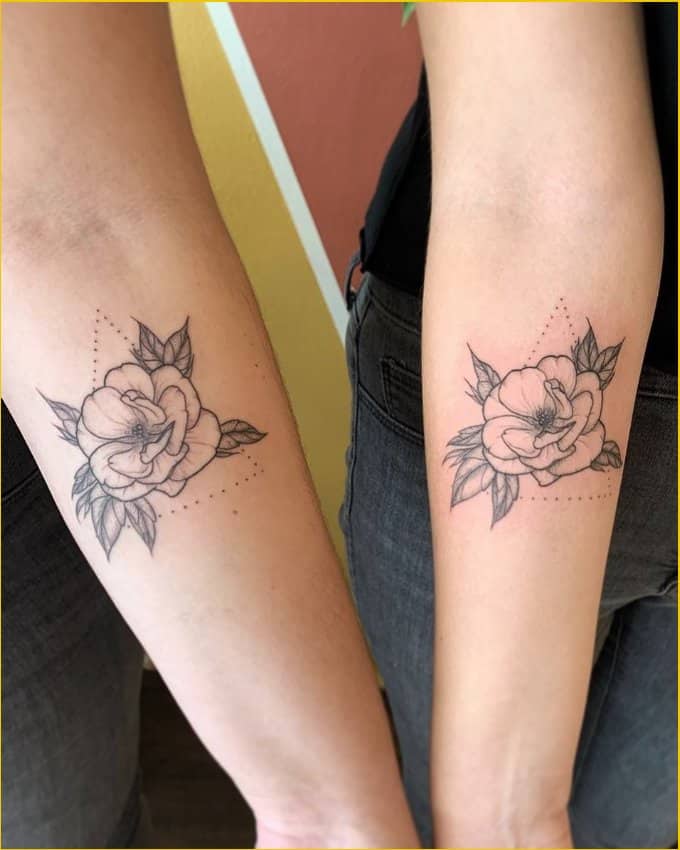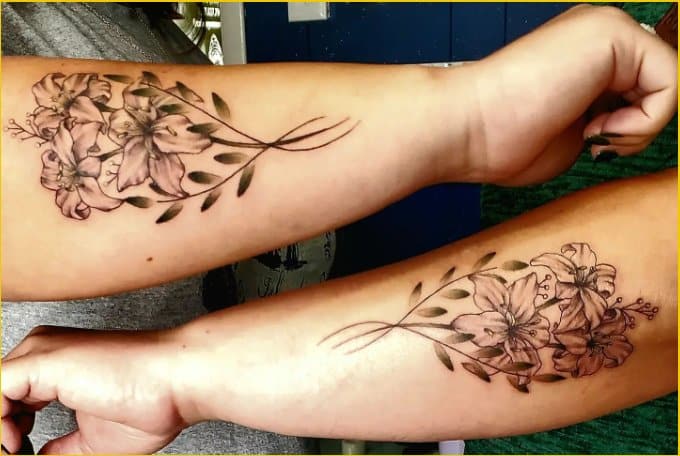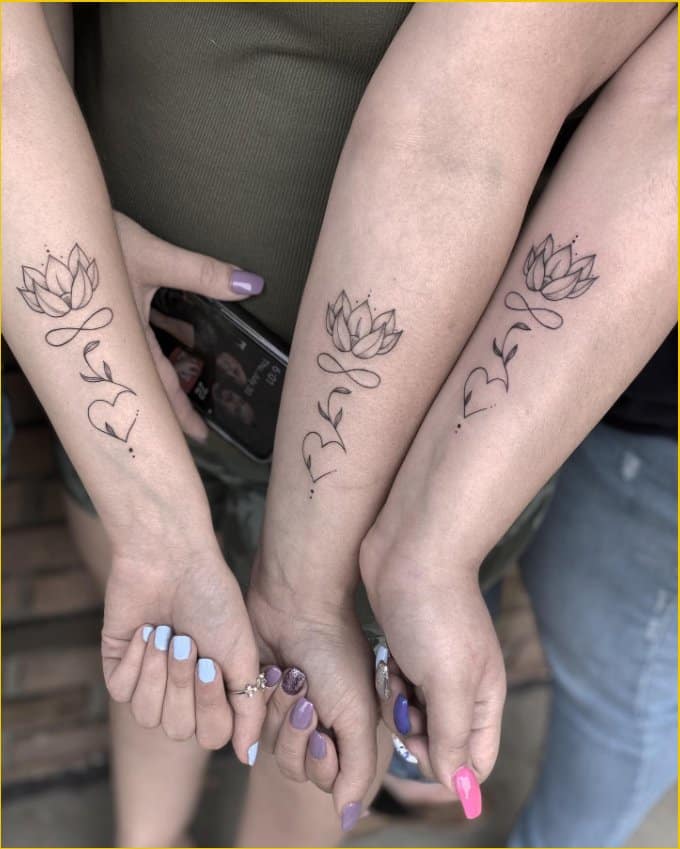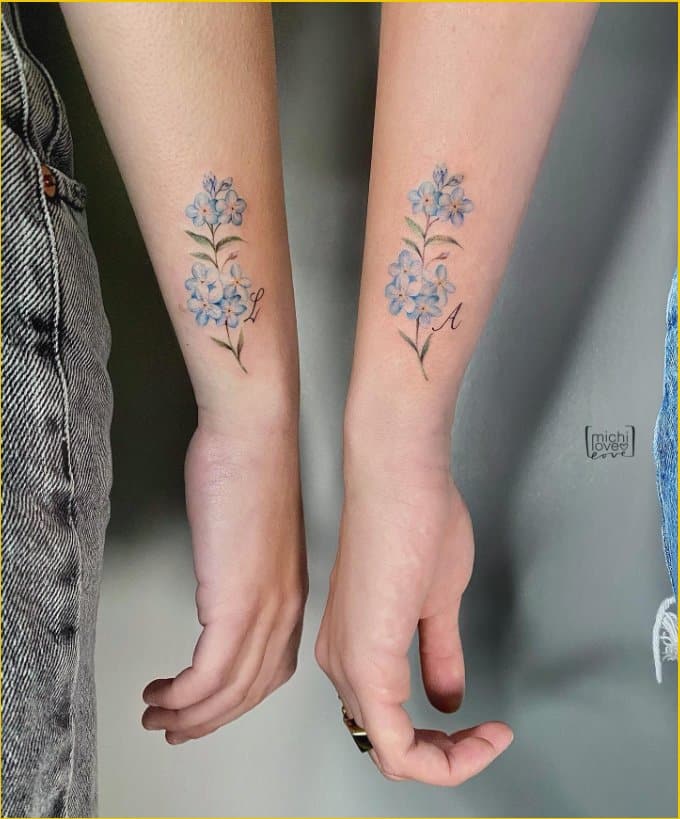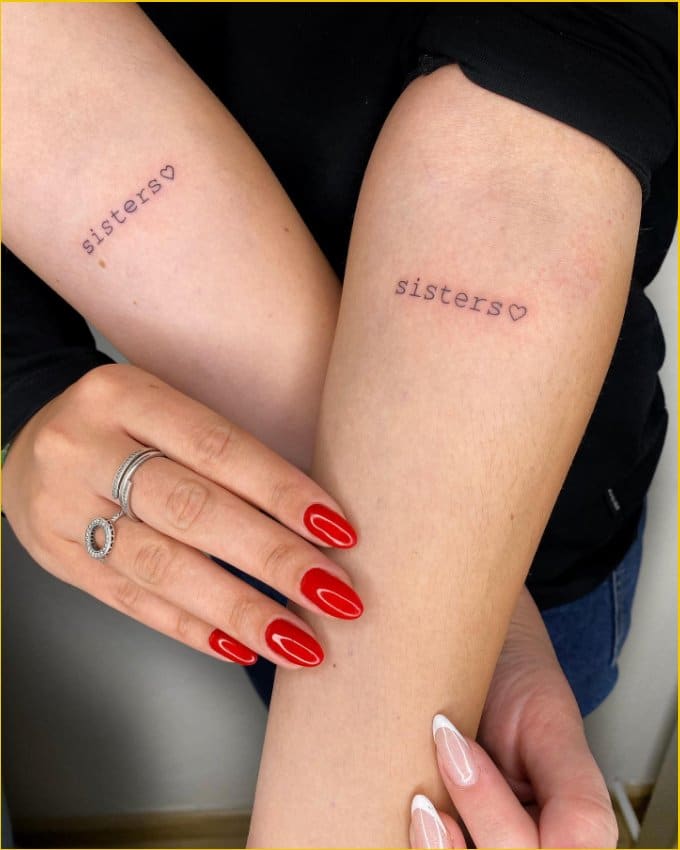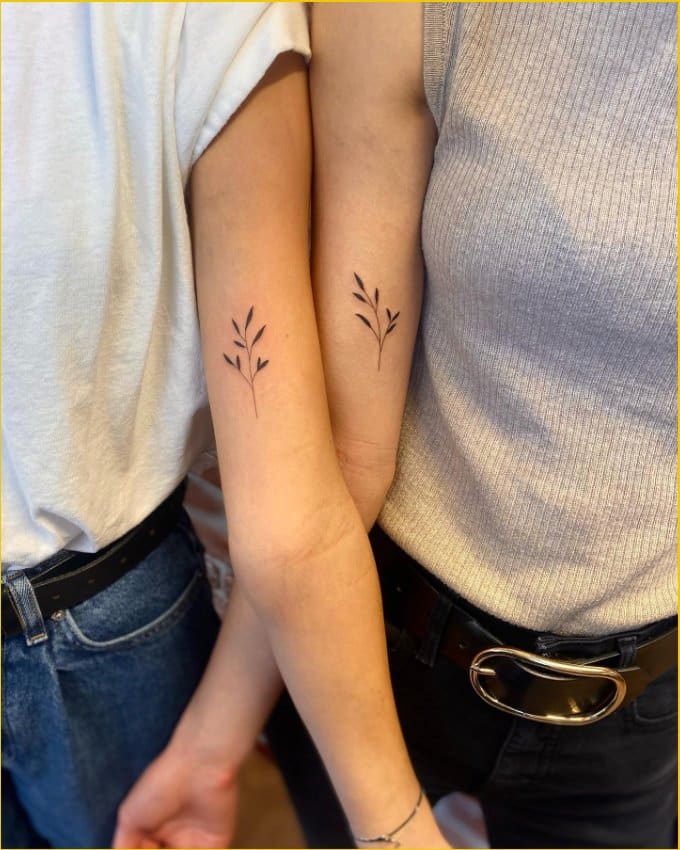 6. Another couple's name – inspiration for many more couples.
Although sister matching tattoos are popular, they're not that common. That's probably because most people don't have a sister to match with those who do, though, get tattoos of something special to them. Here are some great sister matching tattoos ideas.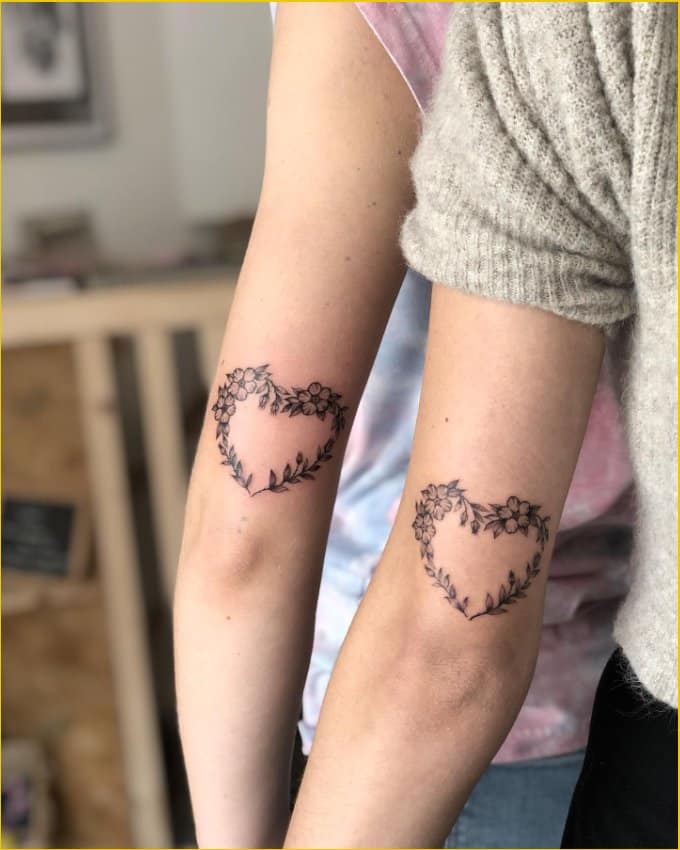 7.  Script, flowers, and other feminine elements.
The most popular tattoos for sisters are those that symbolize their connection to each other. A simple, small matching script tattoo can say a lot about your relationship and works well with both short and long sentences. If you're looking for something that's not quite as permanent, choose a bracelet instead, Two flying birds, a matching rose, and flowers. Some options include arm cuffs, fish-tail cuffs, and ribbons of all types. Just make sure to check with your sister before getting inked. you don't want to get an awesome tattoo only to realize later that she won't want it on her body.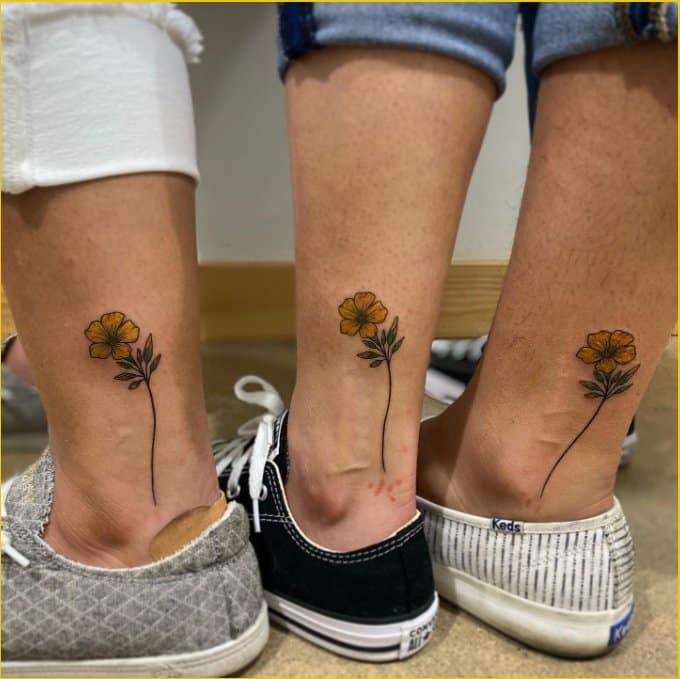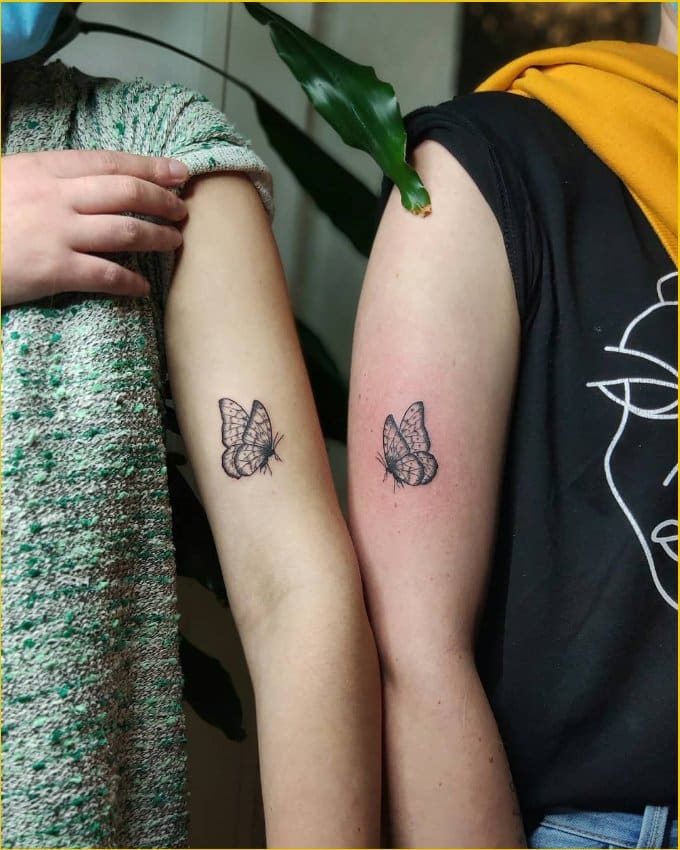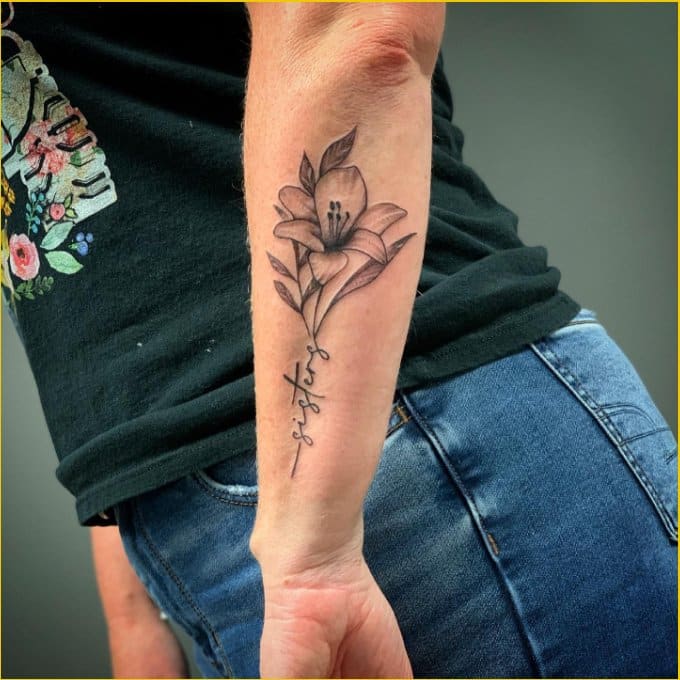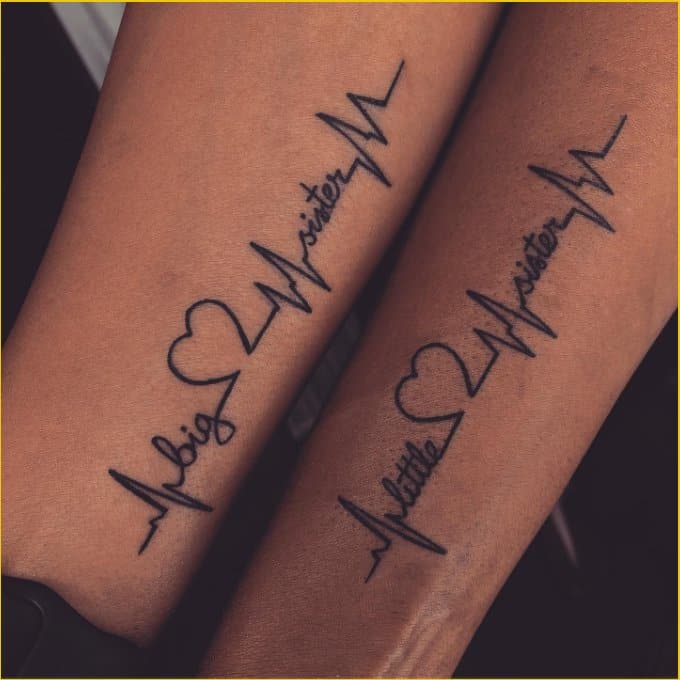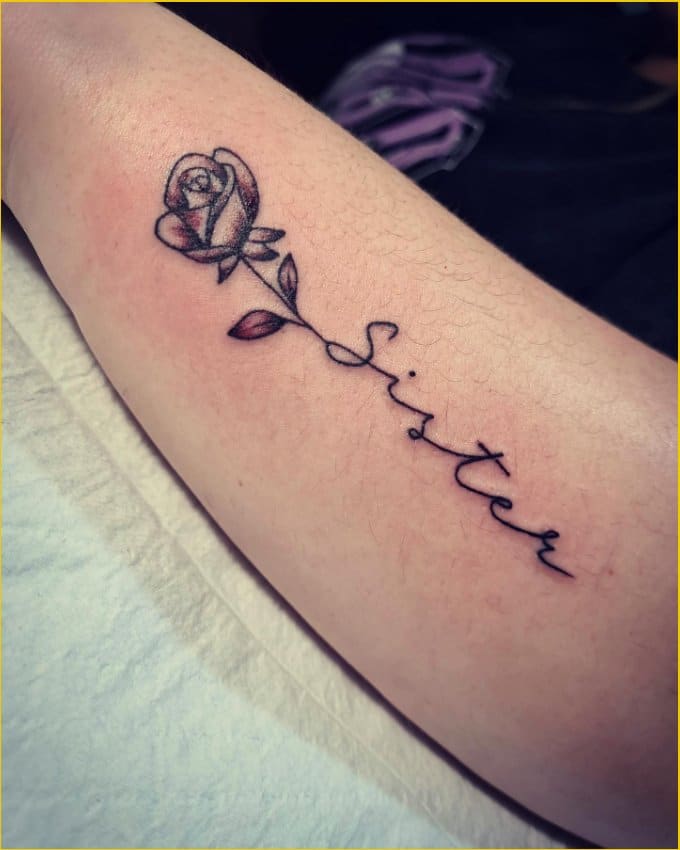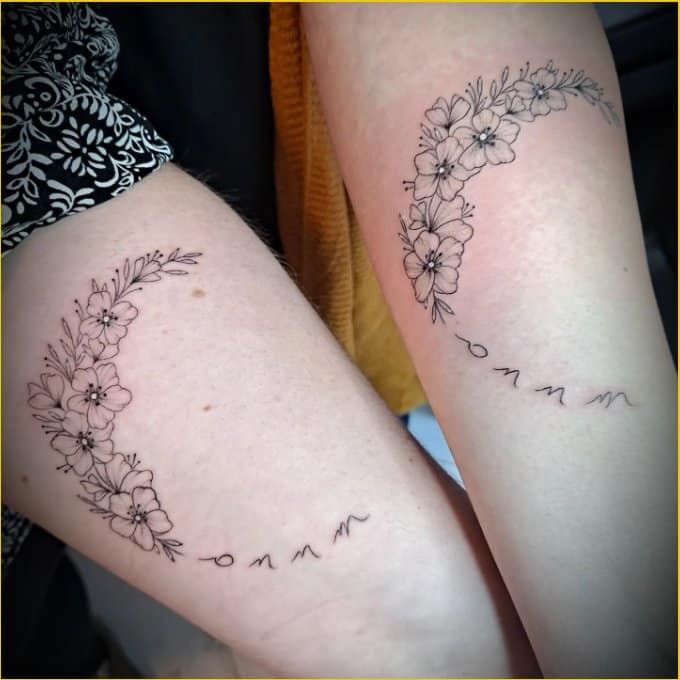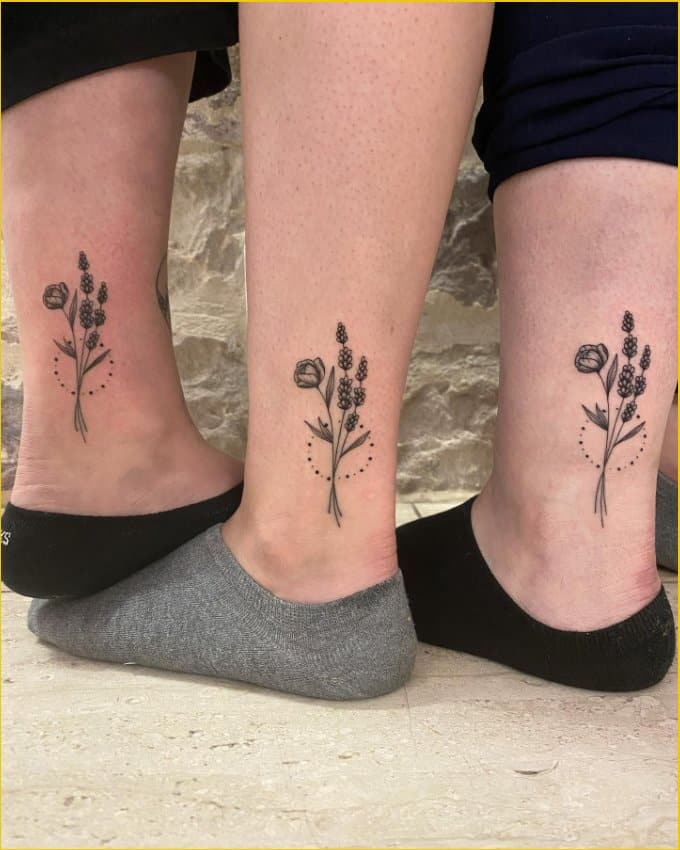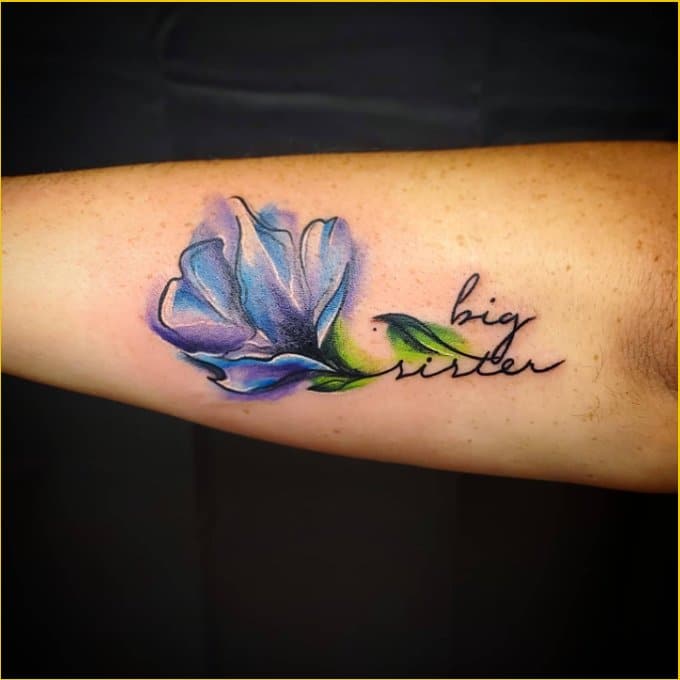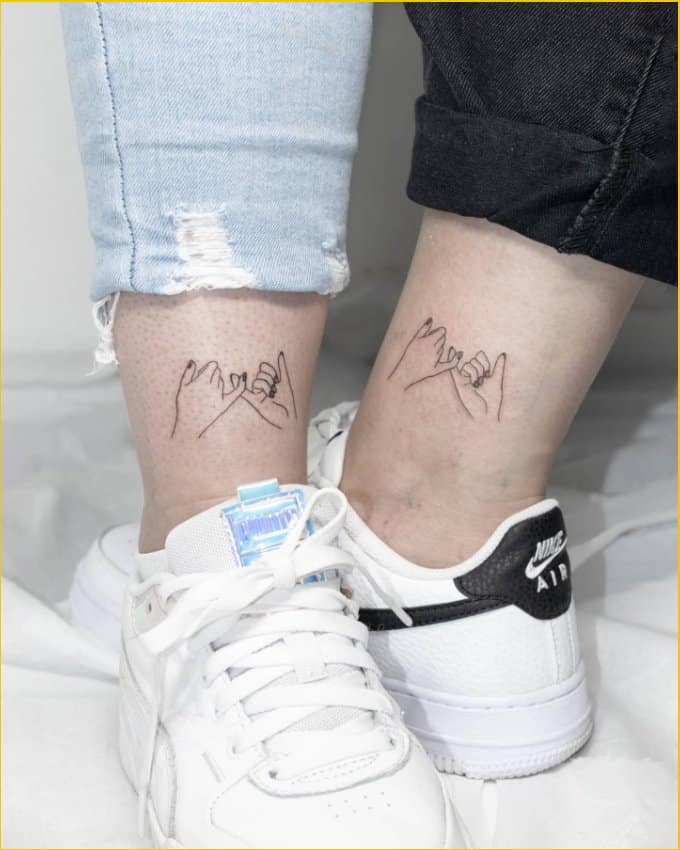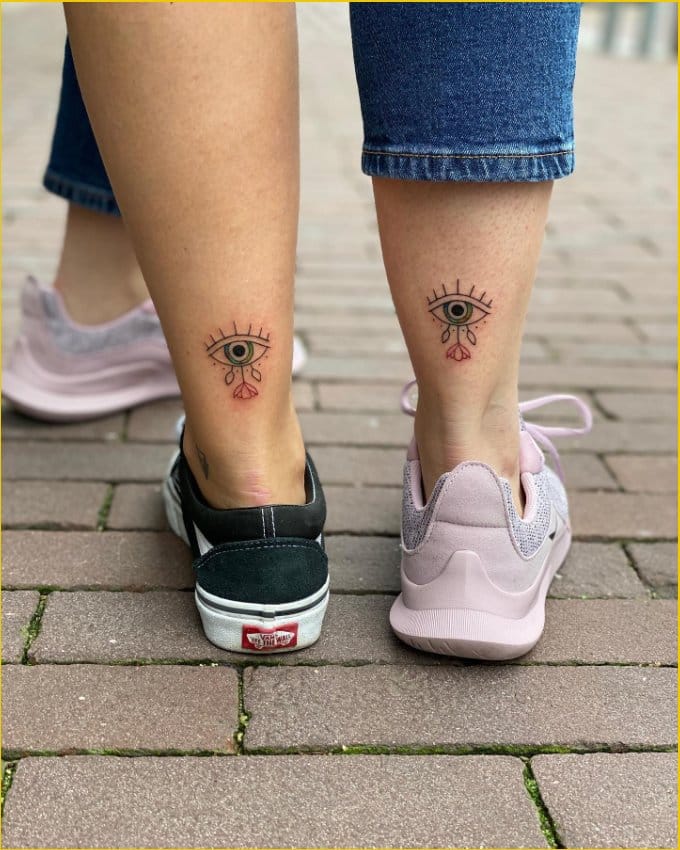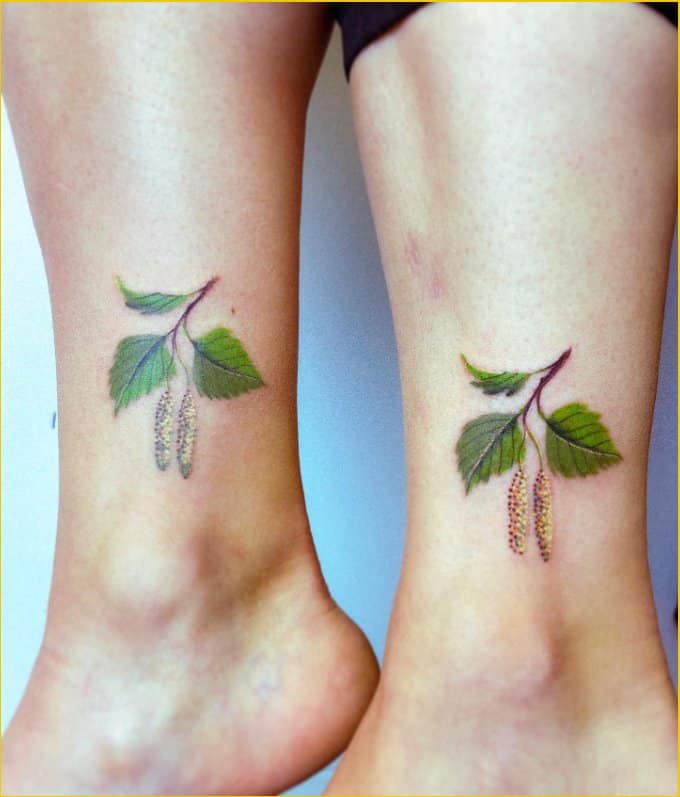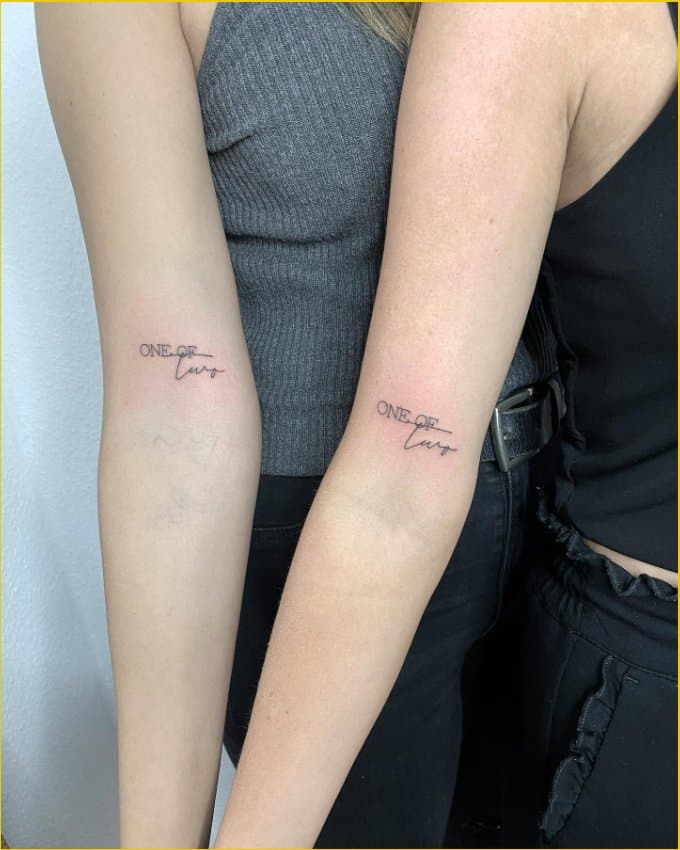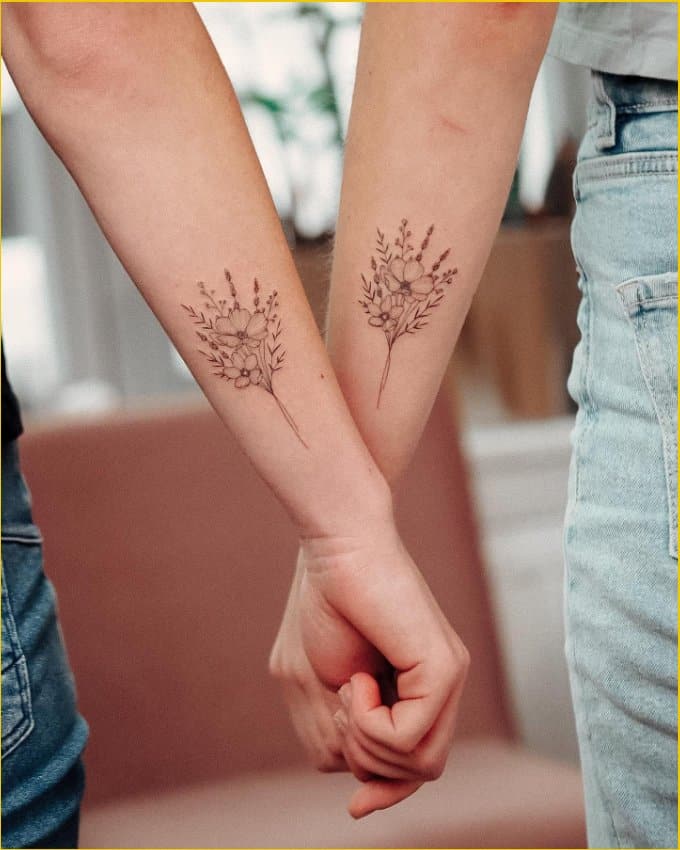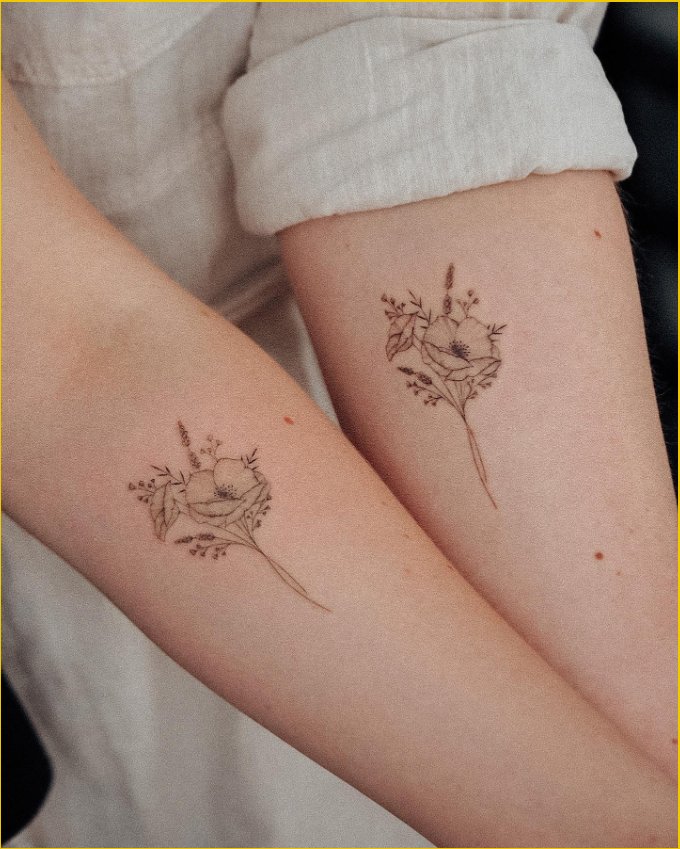 8.  Symbols representing something special about your relationship
If you and your sister have something unique about your relationship that you'd like to show off with a matching tattoo, there are a number of symbols you can choose from. The infinity symbol is popular for showing how special or eternal your bond is the two loops create an endless loop when placed next to each other. Another common choice is a pair of birds, not only do many people consider birds symbols of freedom, but it also represents how siblings take flight in life. Other popular options include butterflies, hearts (true love), arrows (strength and speed), and musical notes.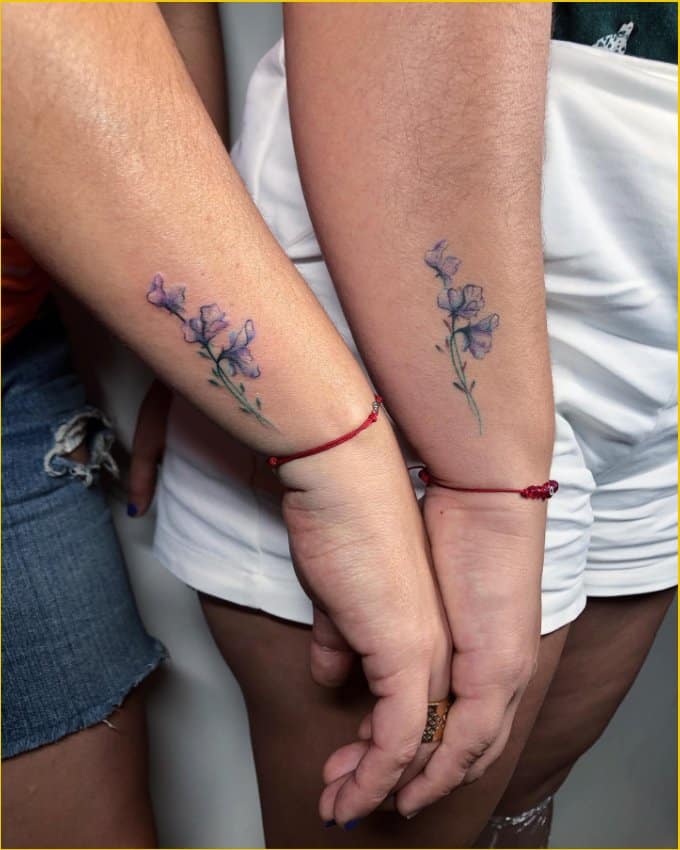 Img Src: Pinterest And Tumblr.