Flower Tattoos Designs and Ideas for Men and Women.
Flower Tattoos: Flowers are cute lovely and beautiful. They have a beautiful fragrance. Flower Evoke a universal feeling in all humans the grace, beauty, delicate and sensual energy of mother nature. Girls love flowers. Flowers like Roses, Lotus, Orchids, Lily, Sunflower, Hawaiian, jasmine, etc many more flowers. All types of flowers are beautiful and sweet. But one Interesting about flowers is that each flower has its own meaning. Not all of them convey the same message.
Are Flower Tattoos Basic?
Let's take the example of a rose. Rose is a beautiful and so cute flower and it is a symbol of love. But it has thorns on its stem that's why it can say that this flower is conveying the message which says that true love comes with sacrifices. Like this one, every flower has its own meaning. Mostly girls like flowers. So Flower tattoo designs are unique in design and style and come with many others designs as well which goes perfectly with flower tattoo design.
Are Flower Tattoos Girly?
Due to the beauty of flowers and have special meanings so people think about getting flower tattoo designs on their bodies. But who says that flower tattoos are only liked by women. Flowers have so many categories and varieties. So that is why men also like flower tattoos. Men also love flower tattoo designs on their bodies. As you can see below in the flower tattoo gallery.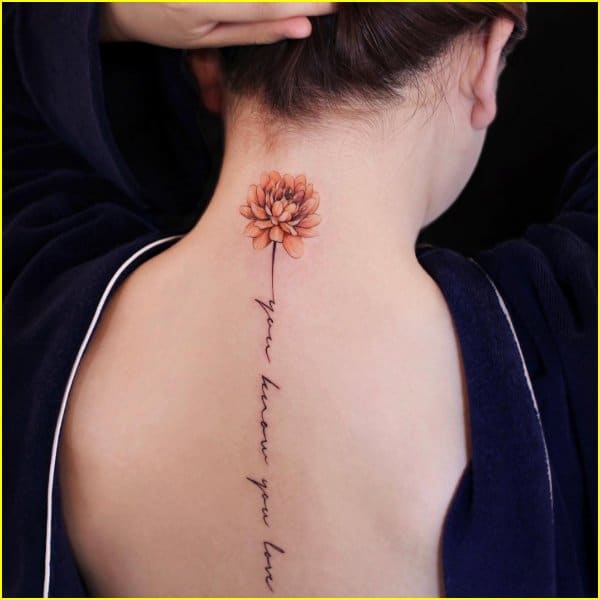 Flower tattoos have a wide range of varieties. One of the best things about flower tattoo design is that they can mix up with other designs. Like you've seen designs like a flower with skull, flower with butterfly, and other designs like a snake, tiger, birds with cherry blossoms, and koi tattoos are done with lotus of peonies are mixed with flower tattoos and balance the beauty of any design.
Flower Tattoos
Flower Tattoos are a great choice for both men and women both. Men are also interested in getting flower tattoos but not so much as women or girls. Some of the designs of flower tattoos are so beautiful and eye-catching. They are so colorful which attracts everybody to take a look at your design. But before getting a flower tattoo design on your body you must also know the meaning behind that tattoo design. Look at this beautiful mixed flower tattoo.
Flower tattoos are among the most loved and most popular kinds of tattoos that people can get on their bodies. There are many reasons that people choose to have flower tattoos, such as the symbolism behind some flowers, or simply because they like the way that certain flowers look. No matter what your reasoning behind getting a flower tattoo might be, this article will give you some great ideas about different kinds of flower tattoos and where to find them. There are many Types of Flower Tattoo designs available with their meanings as well explained below.
Lotus Tattoos – what do lotus flower tattoos mean?
The lotus flower is associated with Hinduism and Buddhism. It's a symbol of reincarnation, growth, purity, resilience, and strength. Lotus flowers are delicate but strong and can bloom even in murky waters. Some people like to get them tattooed on their arms for their strength. If you want to get a lotus flower tattoo, it's best to place it in an area of your body that represents growth for you personally—for example, if you were born in summer or near water.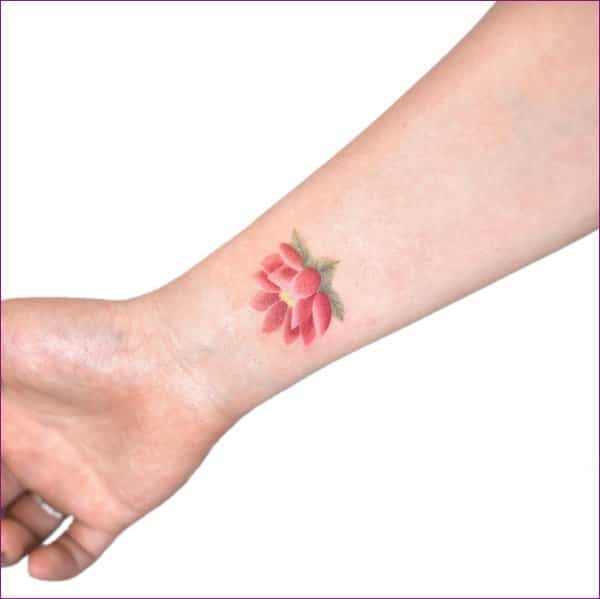 Rose Tattoos – what do rose tattoos symbolize?
Every flower like a Rose flower is red and a symbol of love so it's perfect for those who are in deep love. Like this one Other flower design tattoos also have beautiful meanings and designs. In this case, your tattoo artist will help you. The placement of flower tattoos is also important for you.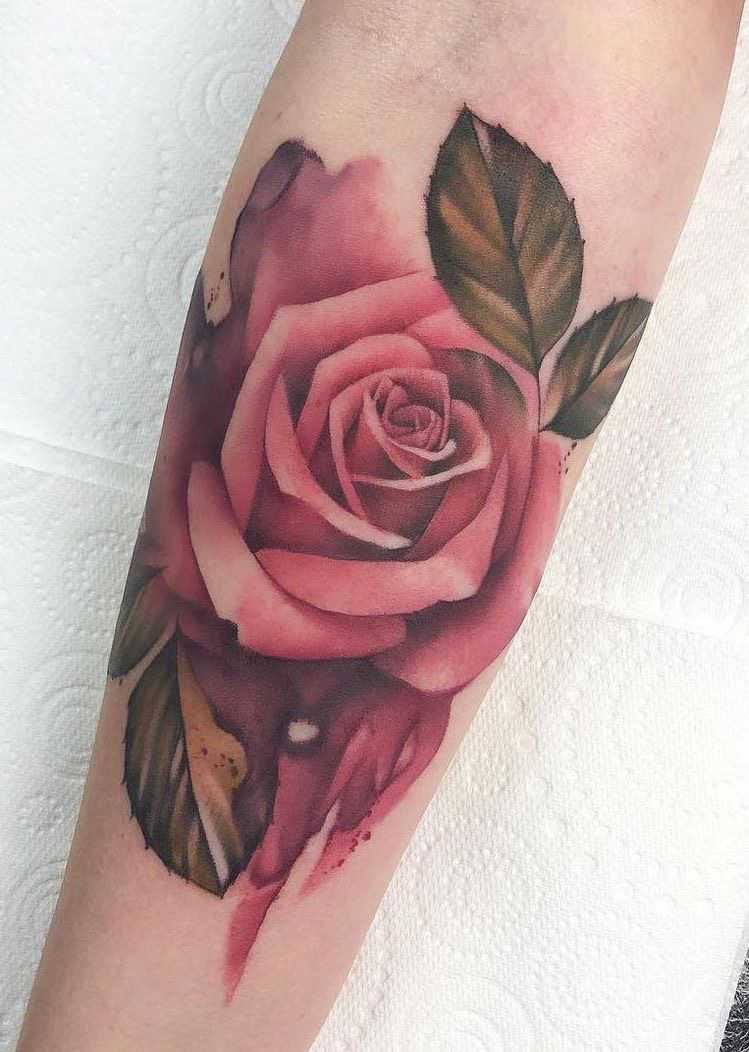 Bird on a Flower
The bird on a flower tattoo is one of our favorite flower tattoo designs. The sight of such a small, delicate, and pretty bird sitting on such a big and intricate flower create an image that's both beautiful and thought-provoking. What could be more satisfying than to have a little piece of nature right next to you? To create your own bird and flower tattoo, choose your favorite colors, doodle some simple designs in pencil, ink them in when you get home and then finish with color.
Lily Flower Tattoo – Lovely Lily Flower Design & Their Meanings
In Chinese, Lily Flower is read as Lan Hua. For some cultures and in some parts of Asia, lily flowers symbolize purity and are often used for weddings and ceremonies to symbolize peace or longevity. So if you are planning to get a flower tattoo design, you can pick lily flowers as your inspiration since it is popular amongst many Asian countries and has a very strong meaning behind them.
Thistle Flower Tattoo Idea for Men
Thistle flower tattoo design is loved by many men because it can be drawn in a big size. And, at first glance, it looks like a picture of a knight with his sword and shield! Isn't that cool? Thistle flower tattoo designs are popular among young men. If you want to show your male side, you should go for thistle flower tattoos. It has amazing meanings and is recognized all over the world.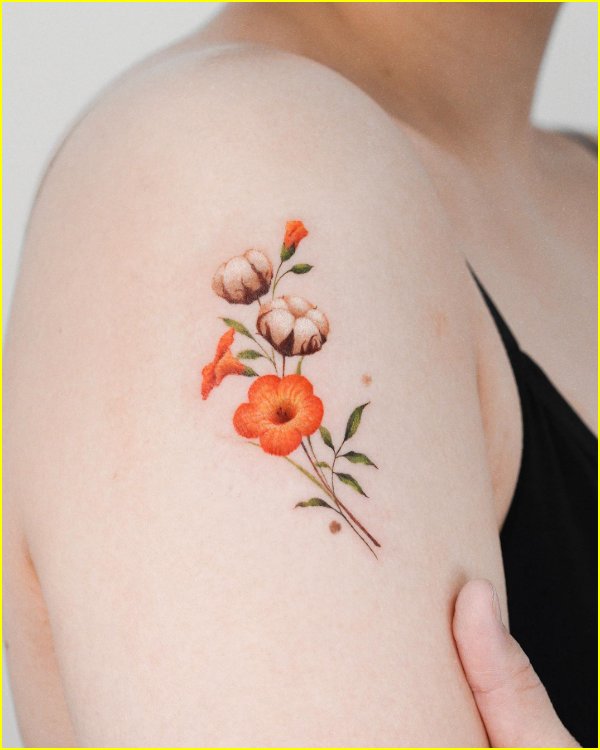 Size & Placement For Flower Tattoo Designs
Flower tattoos can be placed anywhere on your body. You will want to consider where you are going to get it and what it is going to look like next to other tattoos. It is also important that you take into consideration that there are different types of flower tattoo meanings. For example, an orchid means something different than a daffodil or daisy. Knowing what kind of flower you are getting will help you choose just where and how big it should be.
Flowers have different sizes and shapes so there is no need to worry about placement. It will be very easy for you when you choose what kinds of flower tattoo design you wants. Here We have collected some of the 50 most beautiful and attractive flower tattoos and designs that give you the best tattoo idea for your flower tattoos. Let's find out why & indulge in these beautiful & timeless flower tattoos for men & women, with facts, trivia & meanings. Enjoy.
See the Image Gallery of Flower Tattoos
1.  Women are just crazy about the design of flowers. So they are never stepping back. See this beautiful rose Flower tattoo temporary design on the full upper arm of women.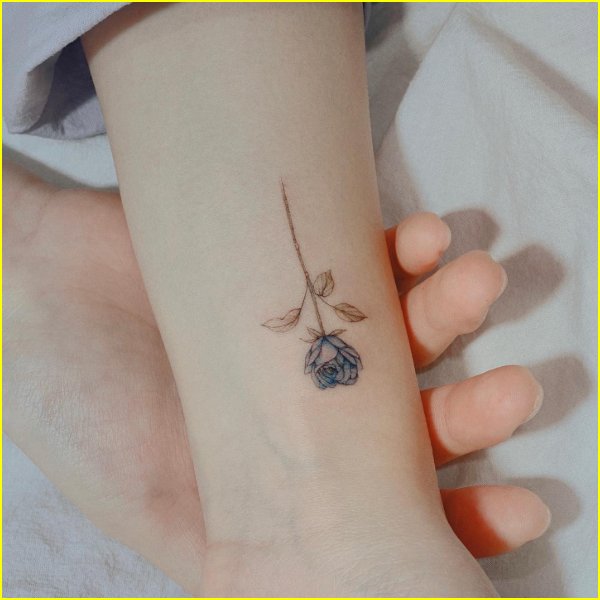 ---
2.  Flowers can be mean something special to someone. As shown in this one image. Here is this one covers the full sleeve of women. It's a great idea for those who want to cover up their full hand.

---
3.  Hawaiian iris flower tattoos design on full back of women.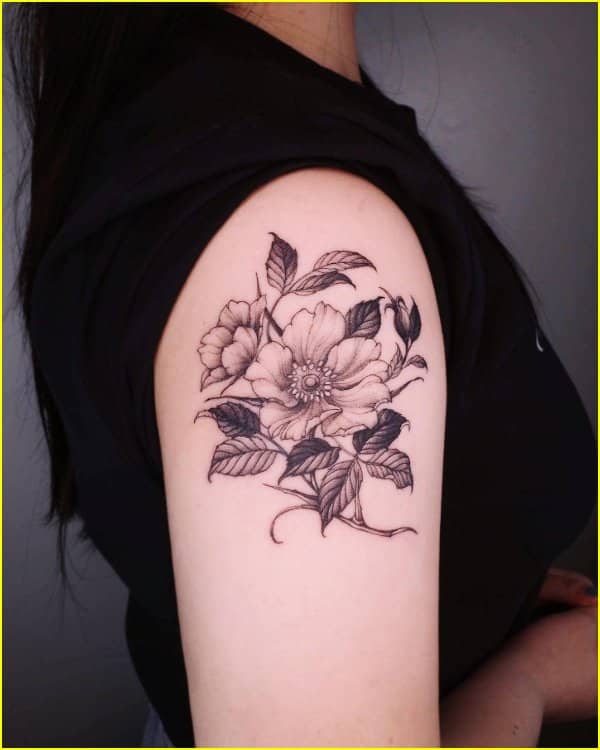 ---
4.   Acacia daisy Flower Tattoo design on shoulder and neck of women.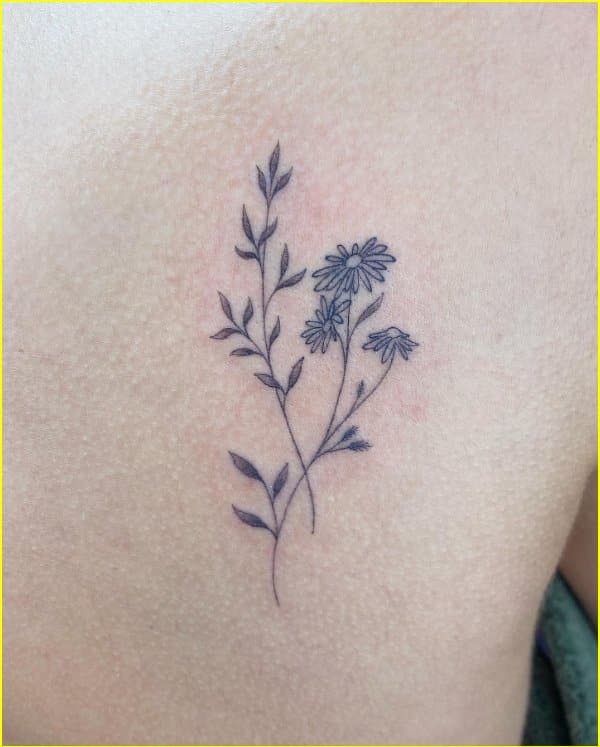 ---
5.  Girly sunflower tattoo design for girls.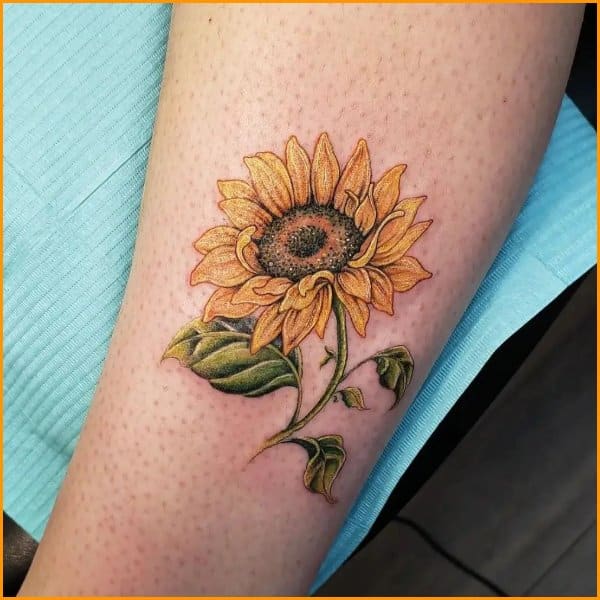 ---
6.  Black Flower with eye tattoos on the inner bicep.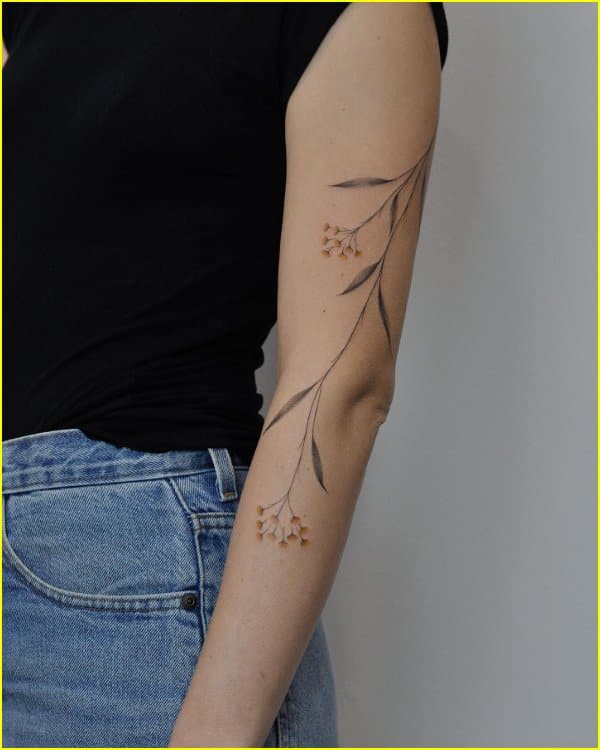 ---
7.  Beautiful flower tattoo ideas with butterfly in it.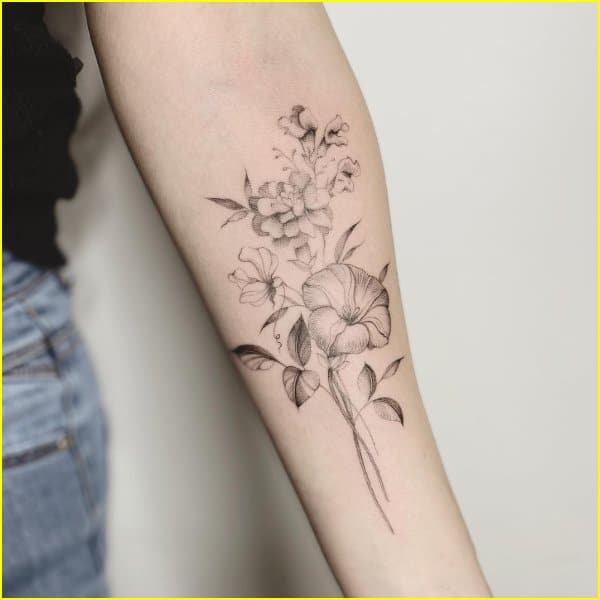 ---
8.  Flower tattoos on chest and on the shoulder are the best places for women.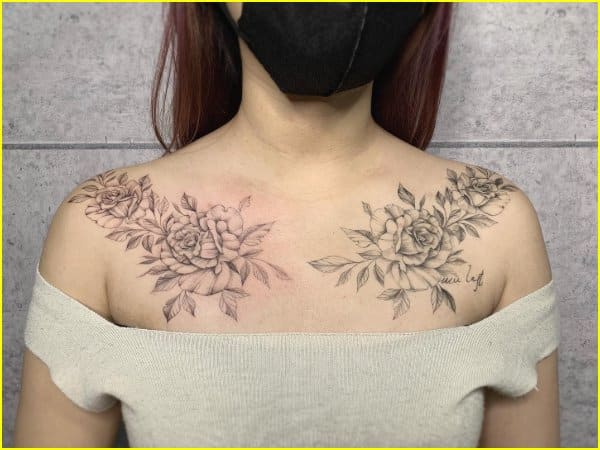 ---
9.  Flower tattoos on full back. By seeing this image it seems that flower tattoos are the cover-ups tattoos.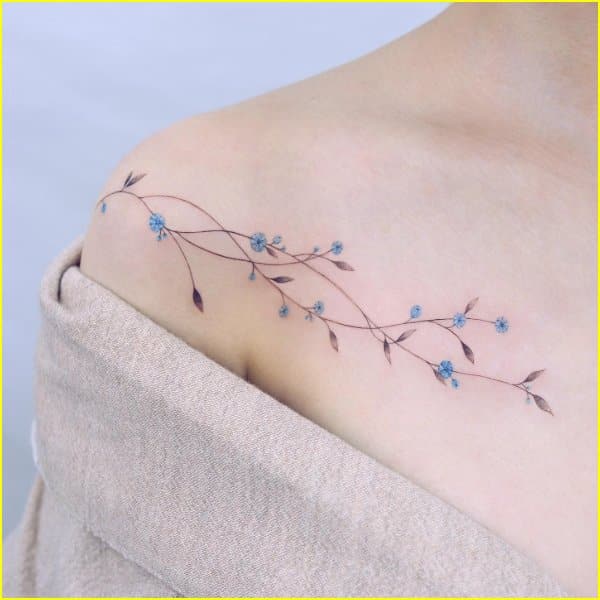 ---
10.  Blue rose tattoo design around the neck and covering the chest part. This one is the best tattoo idea for girls who want tattoos on their upper arm.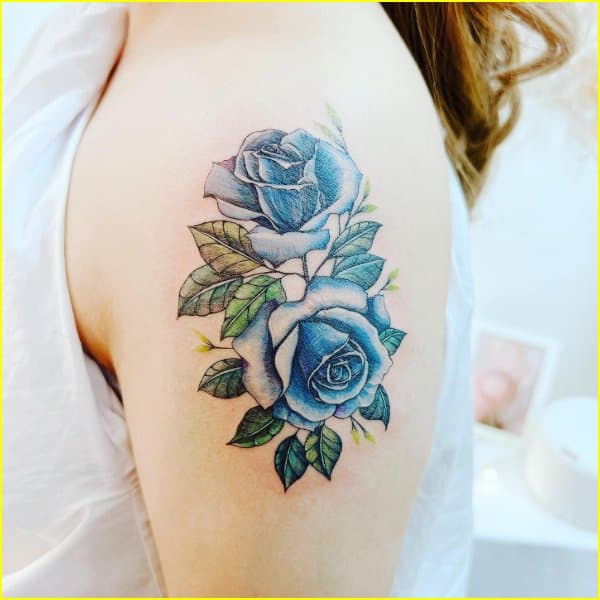 ---
11.  Today people have some different thinking. Like They want some special tattoo design for the birth month.  For example here this cool daisy flower tattoo design is known as September month flower tattoo design.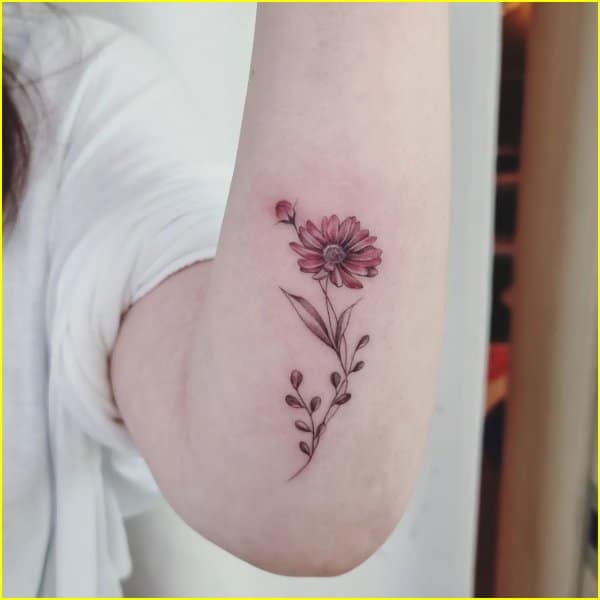 ---
12.  Daisy Flower tattoos designs with quotes on the shoulder.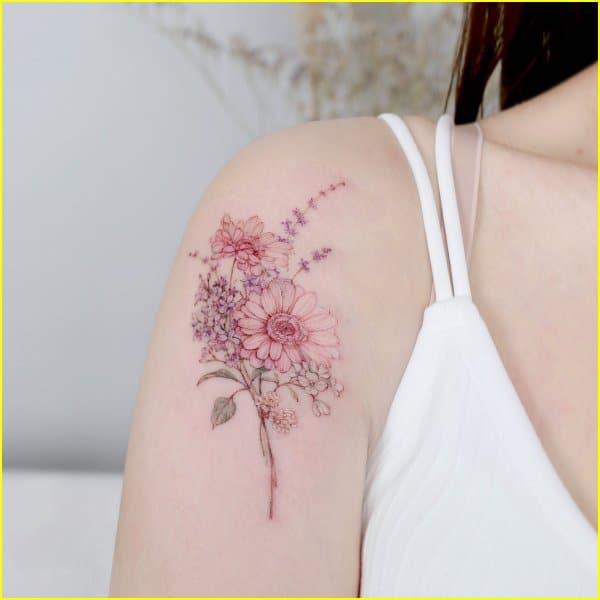 ---
13.  Flower outline tattoo design on the back of a girl.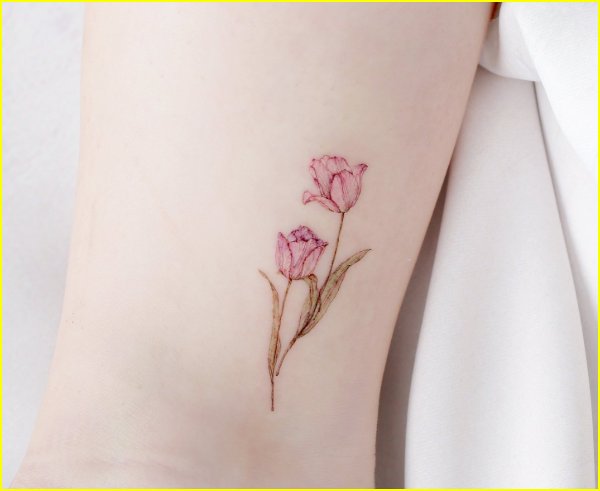 ---
14.  Flower tattoos design on forearm.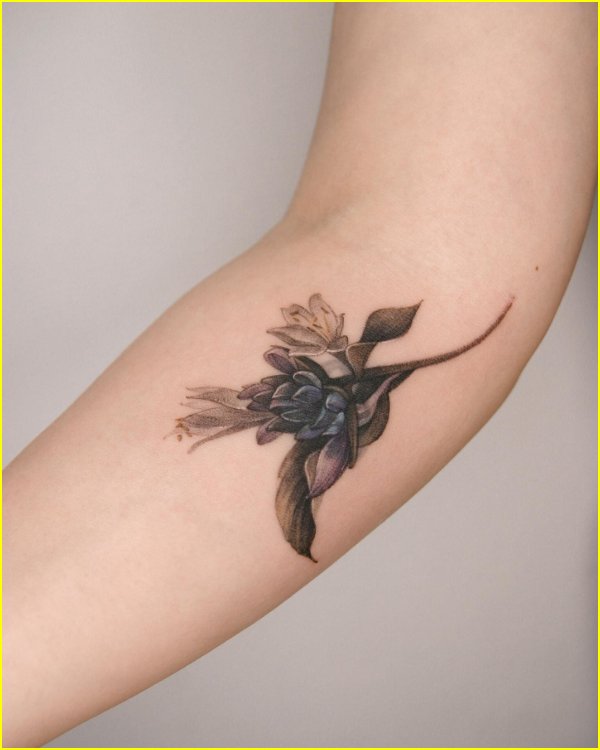 ---
15.  x-ray flower tattoo design on thigh.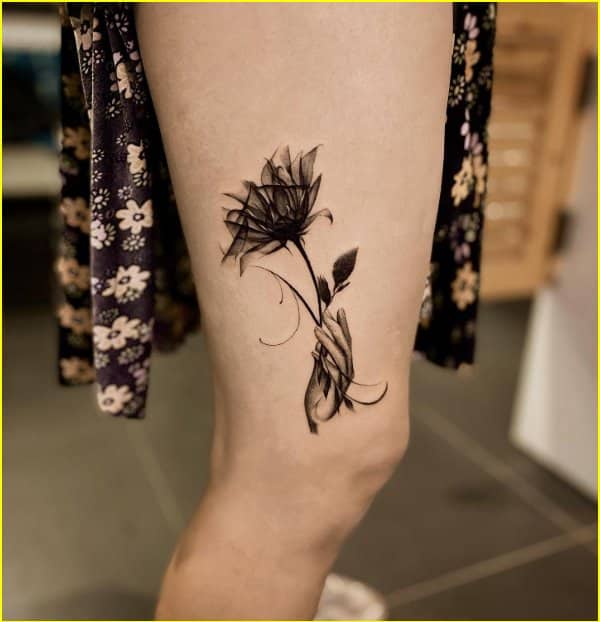 ---
16.  Beautiful Peone Flower tattoo design on the rib cage of a girl.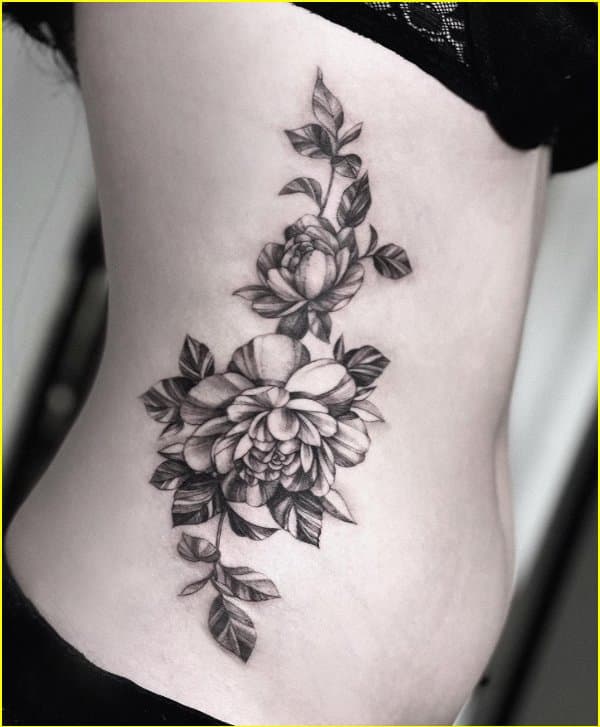 ---
17.  Korean flower tattoos is a great tattoo idea for women.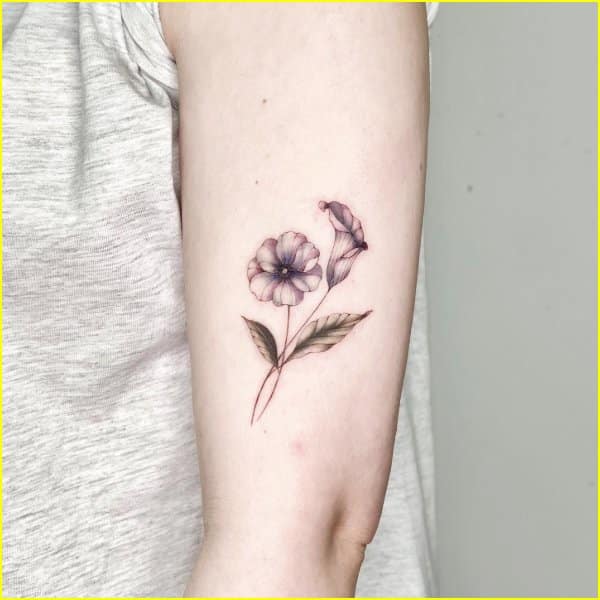 ---
18.  Vintage Korean X ray Flower tattoos on the side rib cage.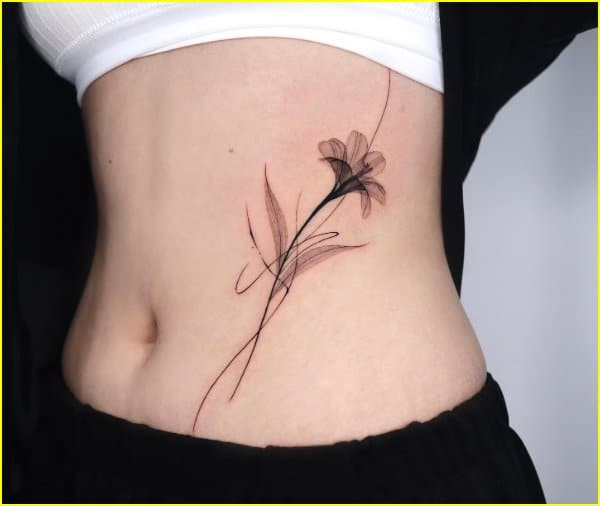 ---
19. These kinds of lily tattoo designs are traditional tattoo designs. See these tropical and traditional manly Flower tattoos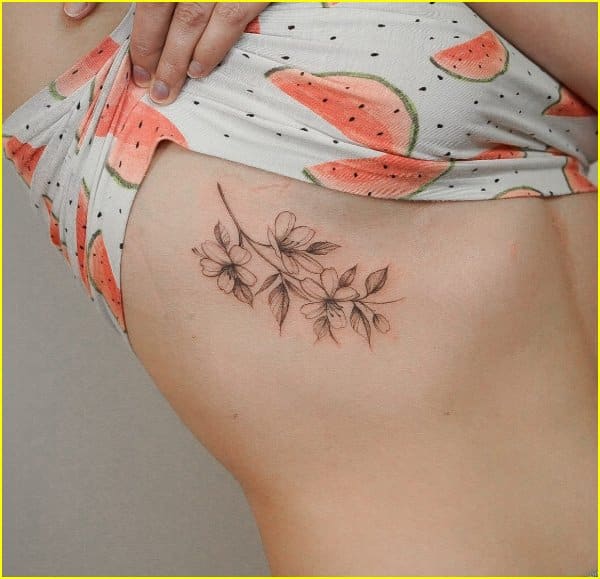 ---
20.  Pretty Gladiolus flower tattoo design on the lower back.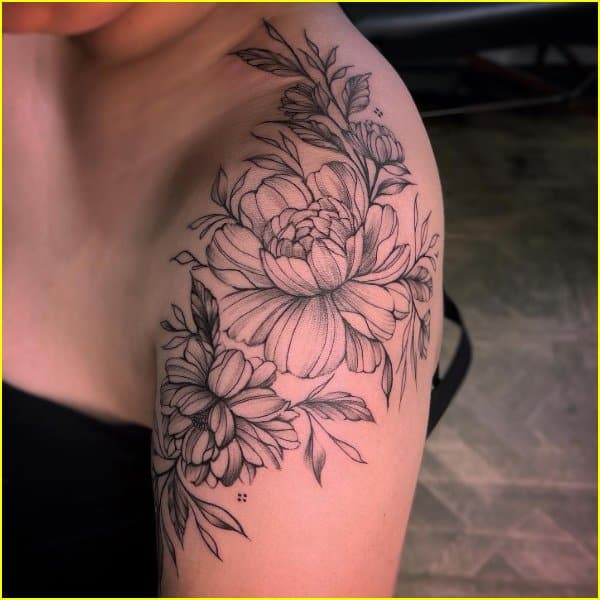 ---
21. Resilience  – Hawaiian Dahlia Flower tattoo design on shoulder and upper half sleeve of women. This design can be a good koi design if this has a fish in it.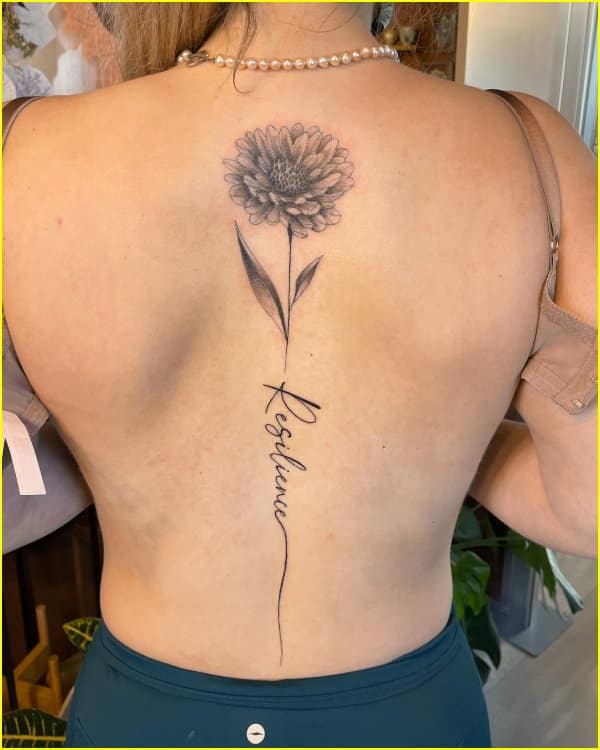 ---
22.  Exotic jasmine Flower tattoo design using black and grey ink for girls.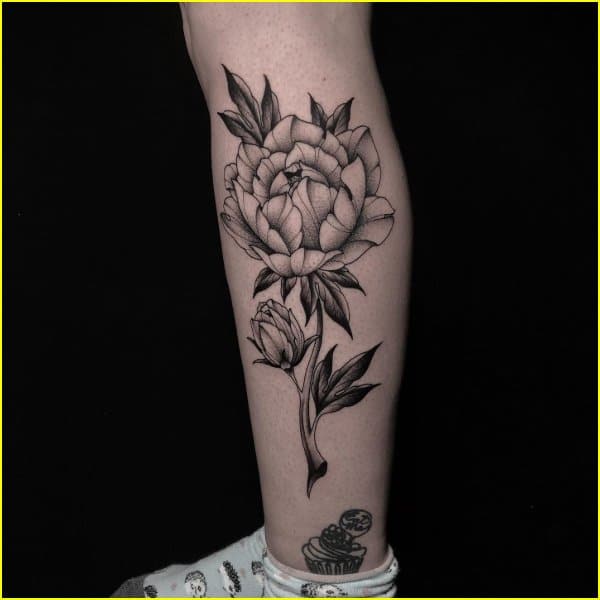 ---
23.  Grey Ink using poppy Flower tattoo design on side rib cage for men and women.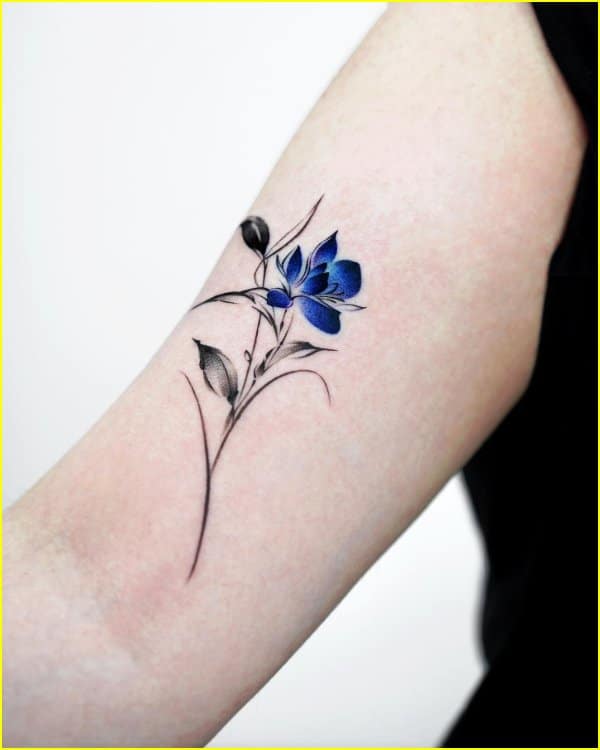 ---
24.  Small and many Lily flower tattoo designs on arm and shoulder.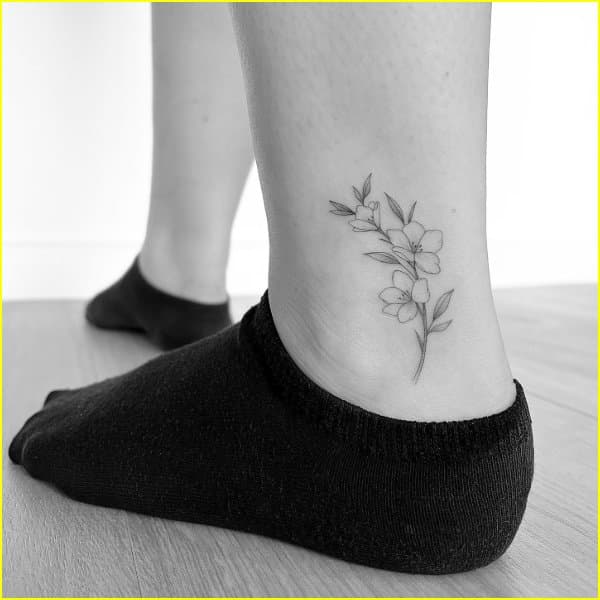 ---
25.  Violet color lily Flower tattoo design on foot.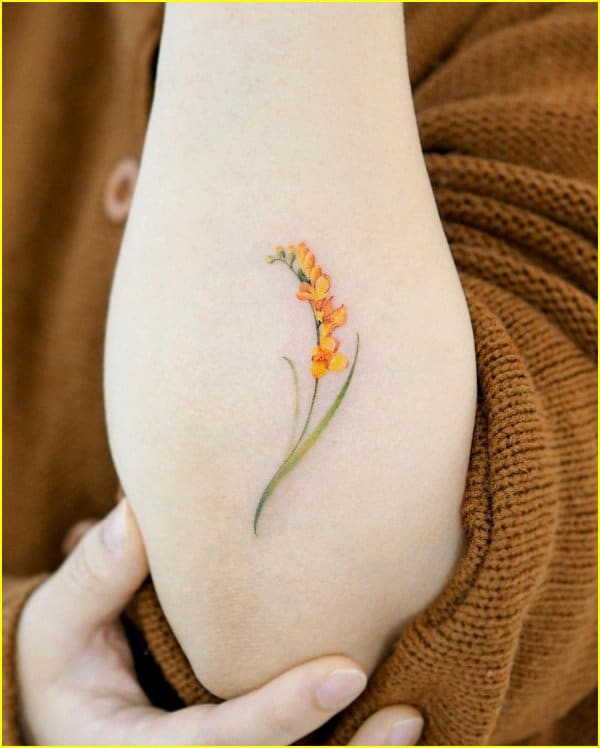 ---
26.  GladiolusFlower tattoos are also known as the flower of life.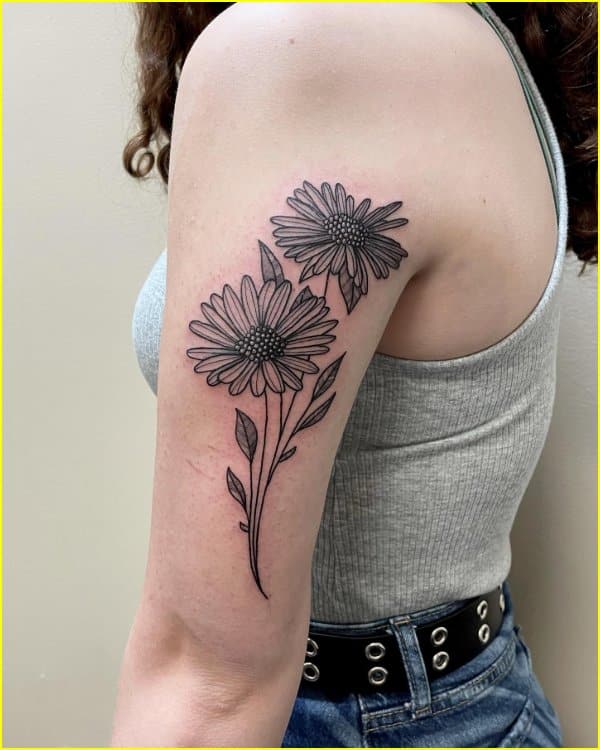 ---
27.  Amazing and cool lotus Flower tattoo design on the lower back of a women. Lotus flower is liked by females.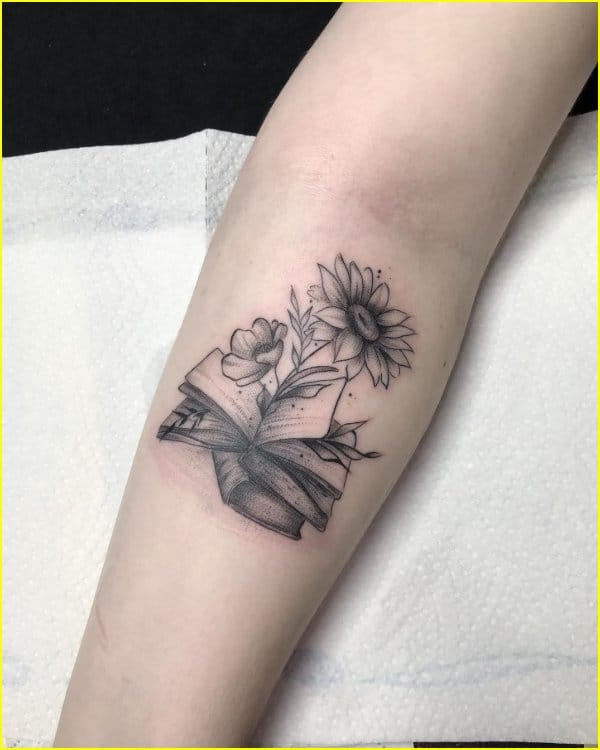 ---
28.  Peony Flower tattoo design on the forearm.  and also they symbolize the nature of the feminine.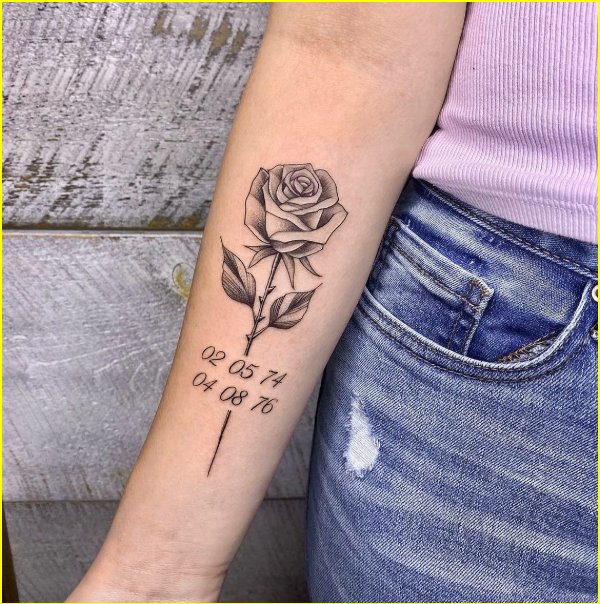 ---
29.  Violet and blue color rose flower tattoo design on upper back neck .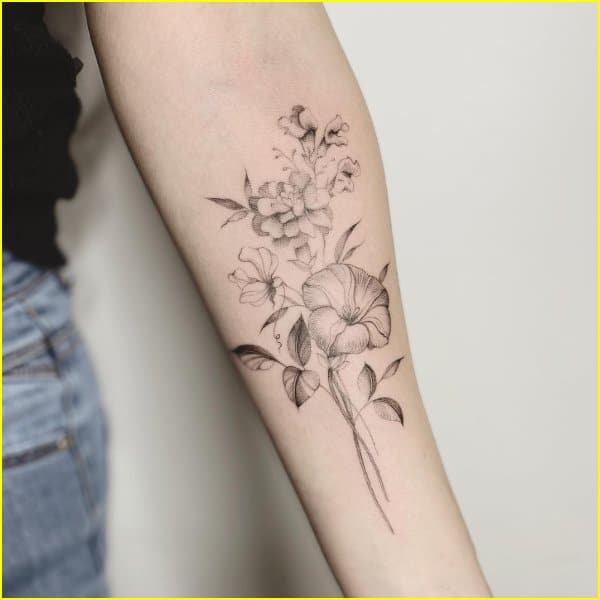 ---
30.  Beautiful lotus flower tattoo design for men and women.

---
31.  Magnolia Flower tattoo design on the chest of a woman containing two red rose and blue on the shoulder and nautical star tattoo design in the middle with some more beautiful and small daisy flower tattoo designs.

---
32.  Rose is the best in all flower designs. So everyone wants flower tattoos with some extra more designs like this one. It's showing a bird tattoo design sitting on a tree with a red rose behind it .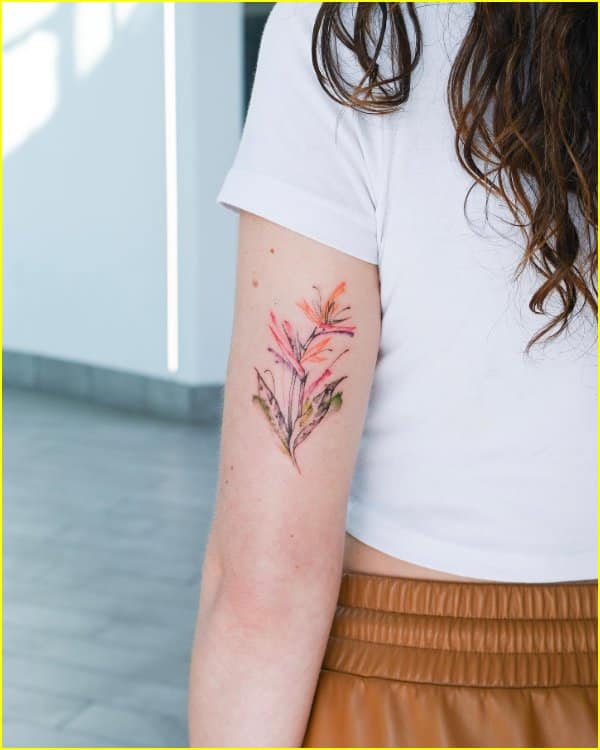 ---
33.  Rose tattoo design with gun tattoos. This can be a cool tattoo idea for guys. They love to get this kind of design on going upside leg.  This is inspired by games.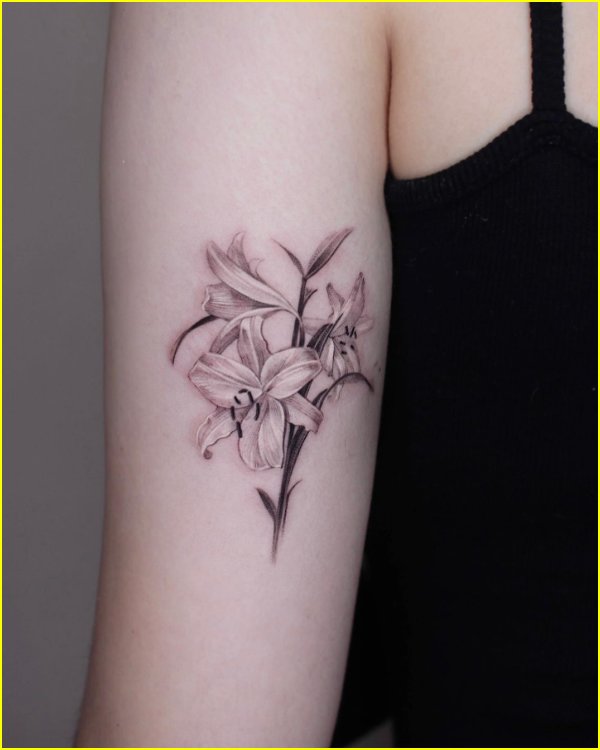 ---
34.  Using Grey ink for flower tattoos is getting popular now. See here is a gallery in this article where mostly tattoos of flowers using grey and black white ink. Here using black grey ink to design a rose tattoo on foot.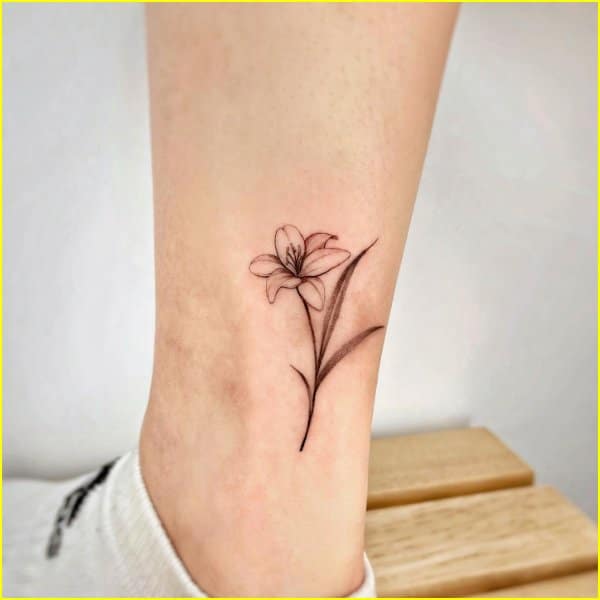 ---
35.  Some think about getting a flower tattoo design on the hip and side hip bone. But I think that is not a good idea. See these pictures and you will get a beautiful tattoo idea for your placement.  You can have a tattoo design on the stomach and around the belly button as shown.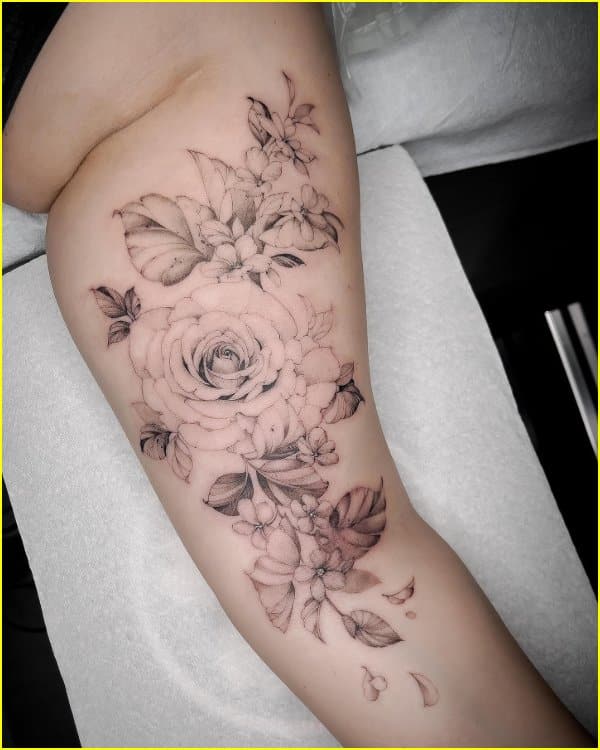 ---
36.  Here we have a Red rose exotic flower tattoo design on shoulder images. Picture was taken from Instagram.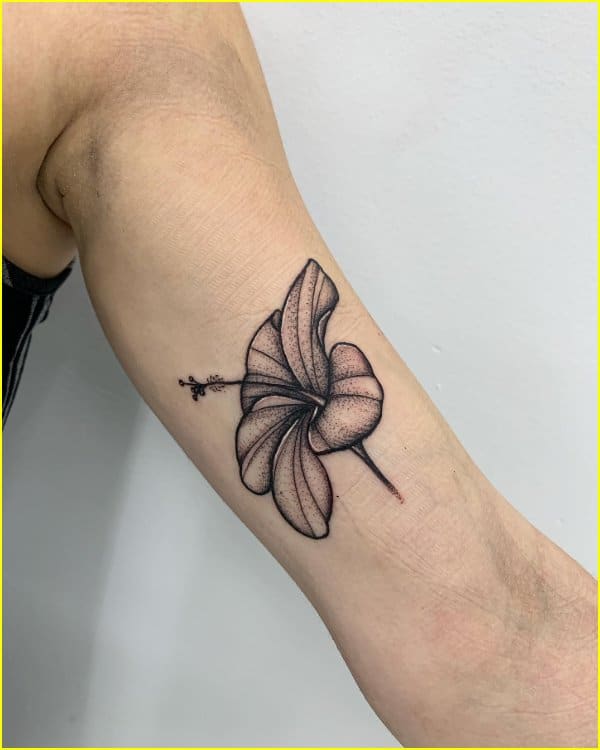 ---
37.  Japanese flower tattoos are quite popular designs. They come with different designs and are able to cover-ups full body parts.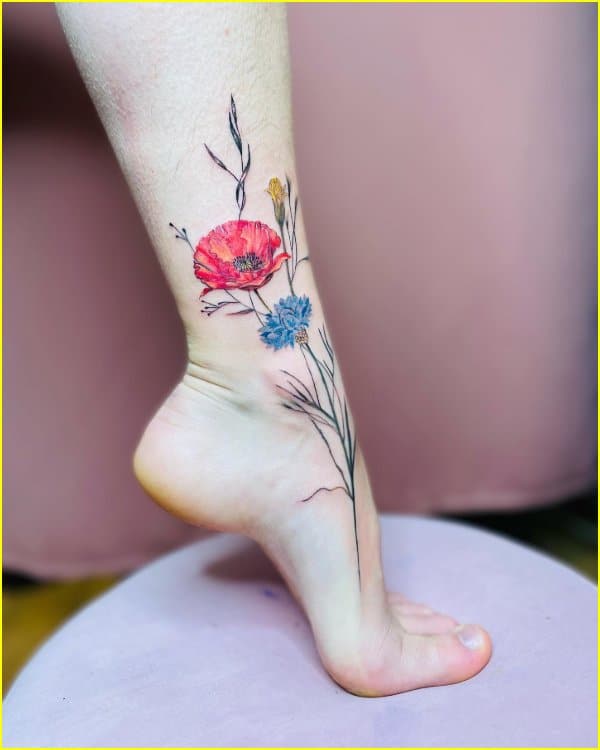 ---
38.  Watercolor red rose tattoo design on shoulder. Jessica alba is a popular Hollywood celebrity who also has a flower tattoo design like this on her body.
---
39.  Red rose tattoo pics with quotes on foot. People want these designs for their months like January, June July, august. They are also used for zodiac tattoos designs.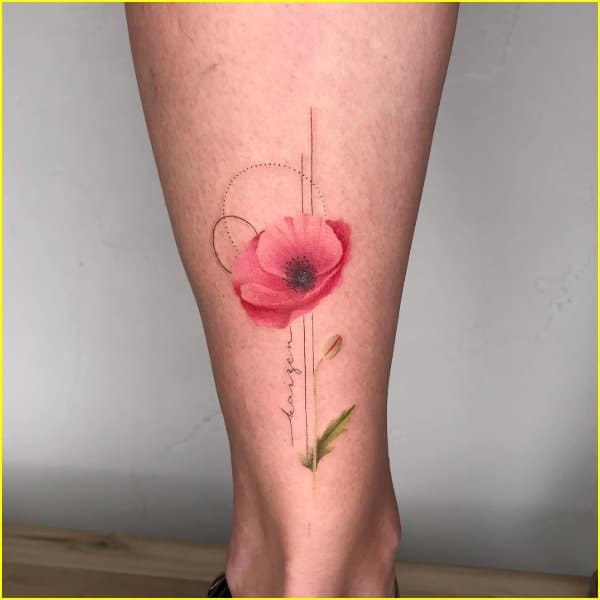 ---
40.  Tribal flower tattoo design on leg .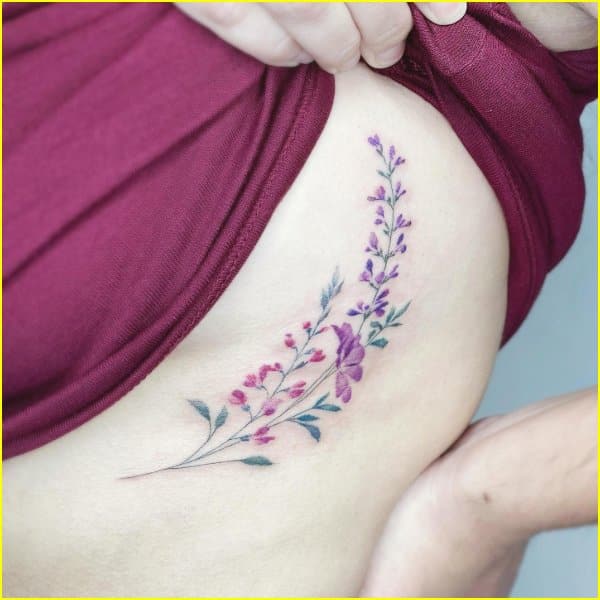 ---
41.  Small and cute aster flower tattoo design on wrist.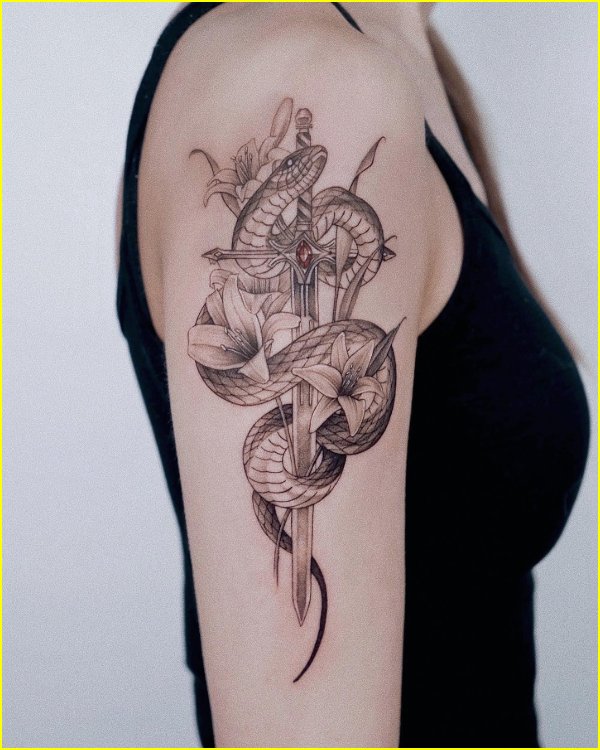 ---
42.  Sunflower tattoo design on the back .  Sunflower designs is the best for sketches .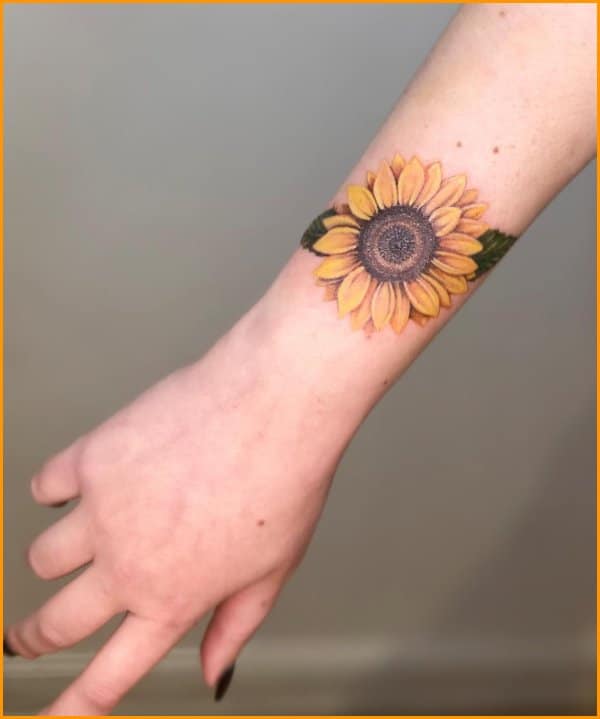 ---
43.  Flower tattoos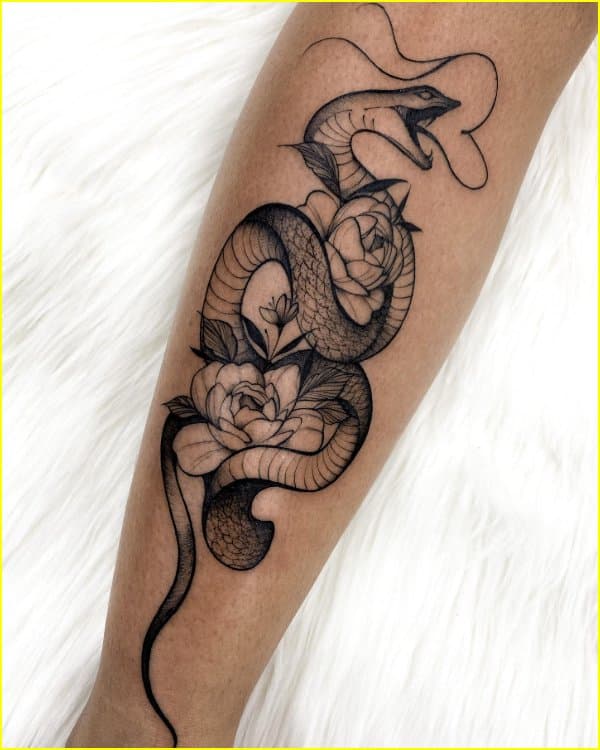 ---
44.  Sunflower tattoo design on a cute girl shoulder.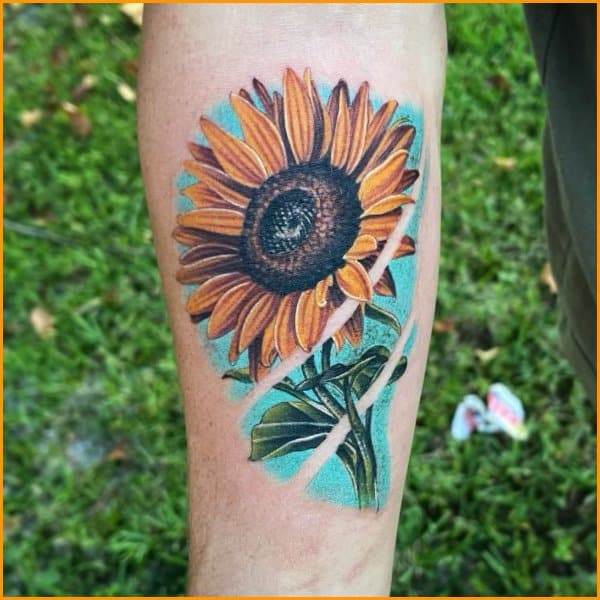 ---
45.  Sunflower tattoo design on foot.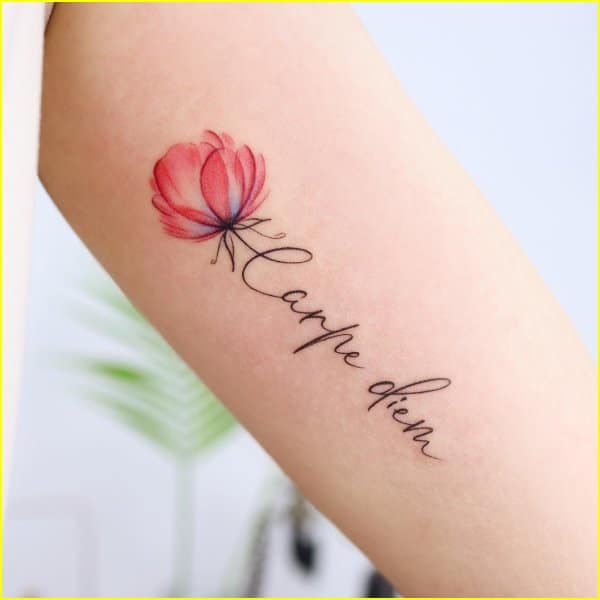 ---
46.  Cute and small Flower tattoo on foot.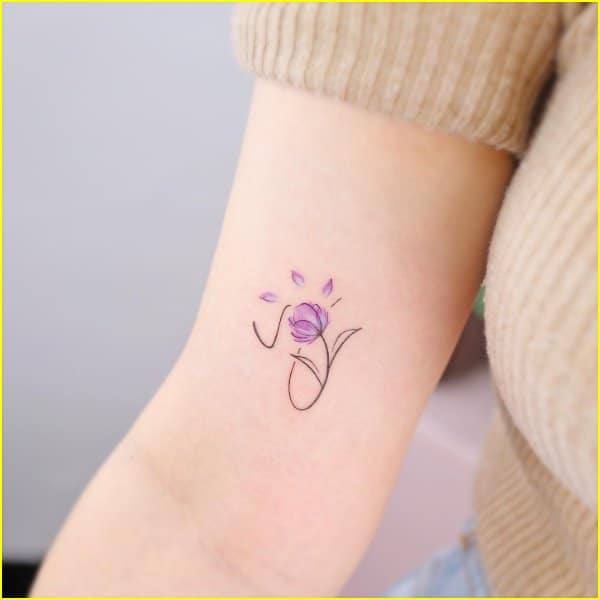 ---
47.  larkspur sunflower tattoos on side stomach.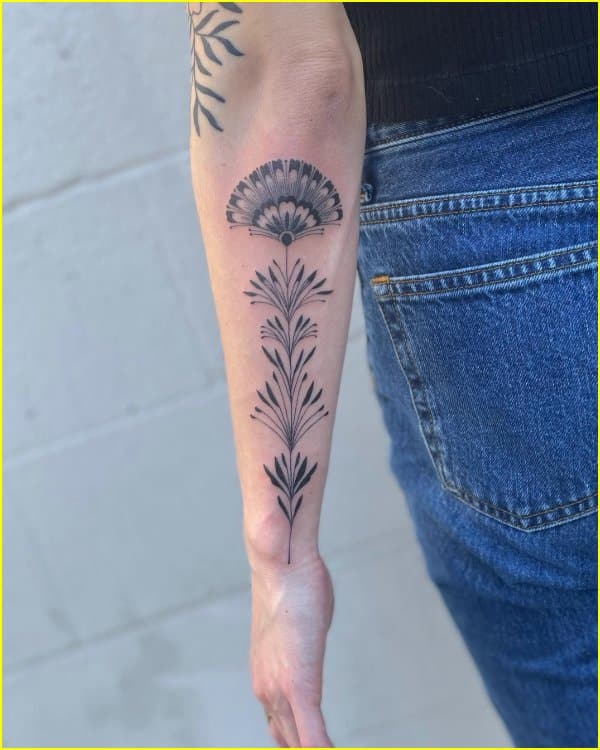 ---
48.  Black ink sweet pea Sunflower tattoo design.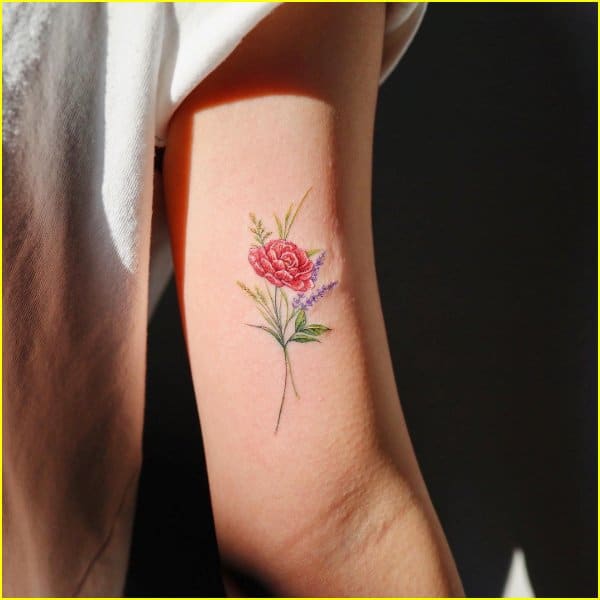 ---
49.  Cute and nice narcissus red white ink rose tattoo on wrist.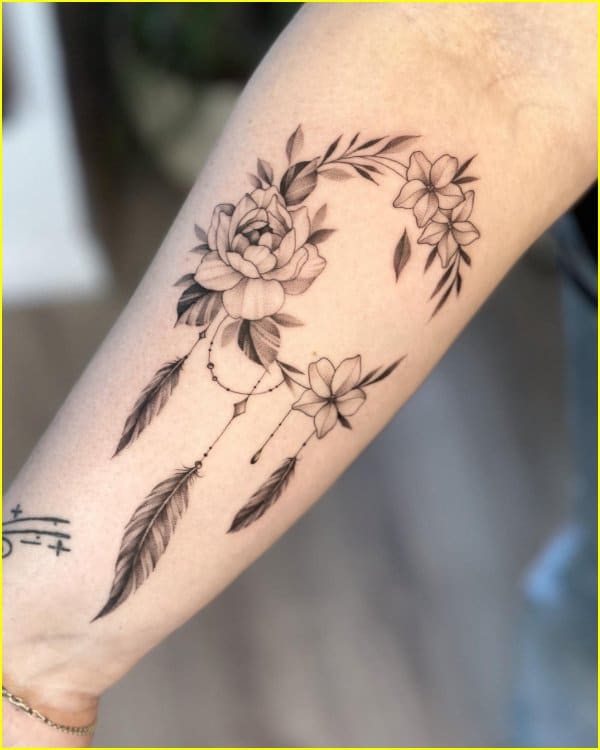 ---
Check out more flower tattoos for girls here.
50.  This one is the best ever plumeria rose tattoo design under the category of flower tattoos using yellow and blue colors with water drops.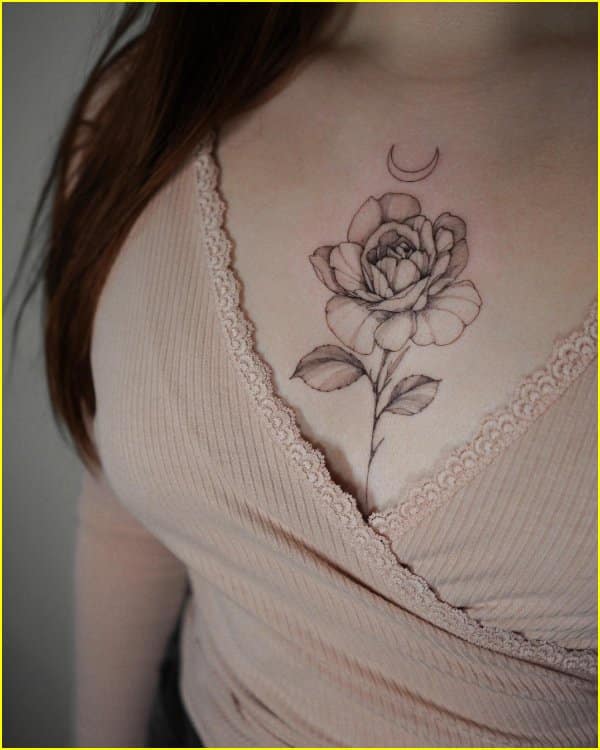 ---
All Image Credits Goes to Pinterest & Tumblr.